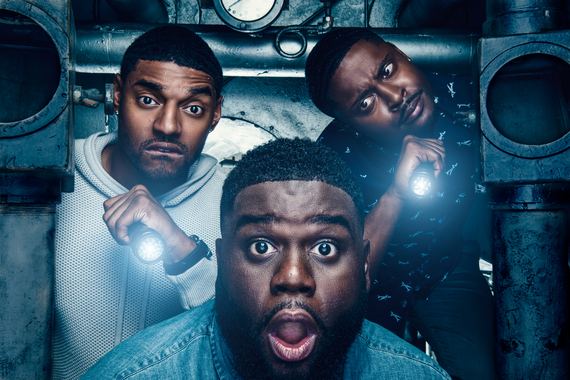 The spectrum of diversity in television continues to widen as shows like Scandal, How to Get Away With Murder and Blackish prove that programs with African-American casts do not have to have a singular narrative. "Destination America" is elevating this concept to another level with a brilliant new show premiering on April 15 featuring TV's first African-American paranormal investigation team.
This addictive show entitled "Ghost Brothers" consists of two fashion designers and a barber - all raised in religious households - who tour a series of allegedly haunted houses in America to find the truth behind the local tales. " Although messing with ghosts" is taboo in the African-American religious community, Dalen Spratt, Juwan Mass and Marcus Harvey's curiosity overpowers their skepticism.
"The best part about GHOST BROTHERS is that THIS time, the black guys make it out of the haunted house alive!" said Dalen Spratt
Jane Latman, general manager of Destination America which is the leader in paranormal programming, said, "We are excited to bring diversity to this space with the very first African American ghost hunting team on television."
The six-part series of GHOST BROTHERS is set to premiere on Friday, April 15 at 10/9c, on Destination America. Both comedic and disturbingly chilling, I recommend that you watch this show with a group of friends. See what happens when the GHOST BROTHERS disturb the spirit of an overseer who is still salty by the idea of equality. Check out the exclusive clip below.