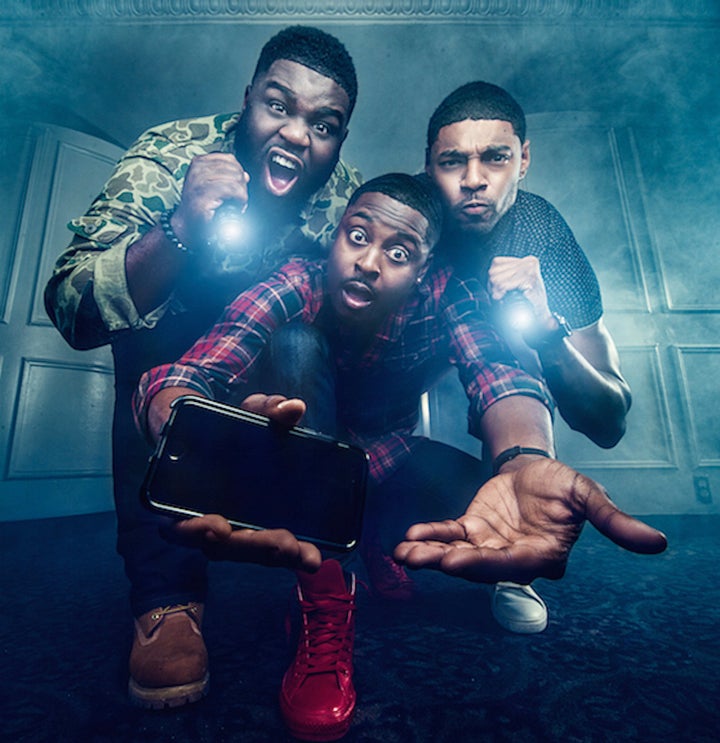 American television viewing audiences can't seem to get enough of shows where teams of paranormal investigators charge up their flashlights, audio recording devices, ghost meter sensors, electromagnetic field radiation equipment, digital spirit voice detectors and, well, you get the idea.
Ahead of the long-awaited reboot of 1984's original smash hit, "Ghostbusters," arriving in theaters this summer, the art, seriousness, humor and, sometimes, terror of ghost hunting has just stepped up a notch with a new TV series, "Ghost Brothers."
Yes, "Ghost Brothers," as in TV's first African-American paranormal investigation team. Destination America has brought together two fashion designers and a barber, three best friends Dalen Spratt, Juwan Mass and Marcus Harvey -- all raised in religious households -- who were brought up believing that messing with the dead is dangerous.
"For years, I used to watch all the ghost hunting shows, all the horror movies -- just everything," says Spratt. "I just loved being frightened, but I always noticed that there wasn't a representation of us on any of these shows. There were no black people doing any of these ghost investigations," Spratt told The Huffington Post.
The possible big-screen exception to that lack of black spirit hunters could very well have been actor Ernie Hudson, who portrayed fictional character Winston Zeddmore in the two original "Ghostbusters" films. But those guys were just characters in a movie. These "Ghost Brothers" are actually trying to find ghosts.
The most recent episode took the brothers to an Ohio mansion to investigate reports of unsettled spirits lingering in the property barn, as shown in the following episode clip: 
The new ghost-busting trio are wending their way, through six episodes, across America, hitting spots like a Louisiana plantation where deceased slaves still reportedly practice voodoo in the afterlife.
They will then head down to Washington, Georgia, to investigate alleged hauntings of The Fitzpatrick Hotel, that just happened to be built on top of the town's first cemetery.
"I was raised in church, so I grew up with a spiritual background, and as I got deeper into church, when I got older, I started really being a little more drawn to the heights of spirituality," Harvey told HuffPost. "As we've been doing these investigations, not only has it opened me up for the spiritual aspect, but even just having your mind outside the box. People are perplexed when they hear 'black dudes, ghost hunting.' But to even know that we did it -- we could do any other thing we want to do."
Some members of the cast acknowledge that the United State's racially charged atmosphere had an impact on the production. 
"I think it just happened to fall that way," said Mass. "The crazy thing was, we understood -- being black ghost hunters -- that it puts this racial thing on the forefront. With us shooting this season, and the airdate for it, I just think all that happened to fall right into place."
Harvey, a former barber, says the ethnic component sets this show apart from others. 
"We bring soul, compassion, honesty and a new lens to look at the paranormal. And I think that's something that's going to be welcomed. People didn't know that you could be funny, but that's how you get a reaction out of people who are alive. We're investigating things we have to dig deep into, and we have to care about it to do our jobs the right way."
The "brothers" reflected on their individual fear factor while shooting the series:
SPRATT: I was on a slave plantation and they put me in the slave quarters by myself. I could hear footsteps in this cabin with me. No one else was in there. I heard footsteps walking all around me, and I was like, Lord, this is it. If I see anything right now, I will literally pass away, and no one's in here to help me.

MASS: On a lot of other paranormal shows, you get guys who try to be egotistical, tough guys -- but not me. I'm probably the scaredest one of all of us. Nobody wants to show that raw emotion of being scared, being fearful, right? But we really embrace that humanizing effect.

HARVEY: We also meet this with skepticism. We are educated brothers. We bring all of that in. We're funny and we have chemistry because we've known each other for years. We try to always debunk ourselves, and we have to make sure the area is safe. All of these places are crime scenes in a grand scheme: something happened in this spot and we're trying to figure out why life was lost and a spirit stayed.
"Ghost Brothers" airs Fridays at 10 p.m. / 9 Central on Destination America. Check your local listings.
Calling all HuffPost superfans!
Sign up for membership to become a founding member and help shape HuffPost's next chapter
BEFORE YOU GO
PHOTO GALLERY
Ghost Images Through The Years