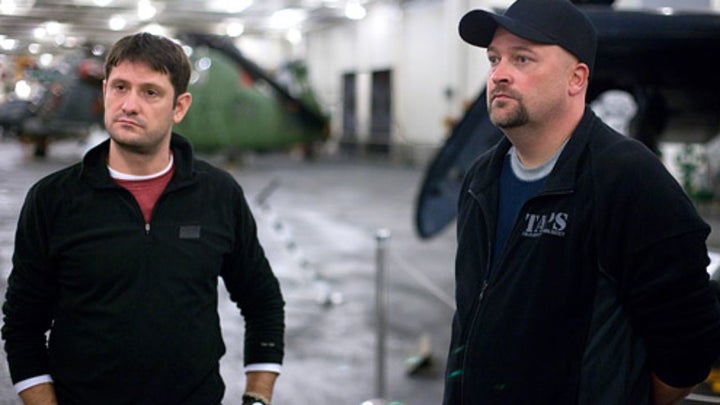 It is one the more spirited and anticipated reunions of the paranormal world, and it's about to happen on radio. Grant Wilson, formerly of Syfy's Ghost Hunters, will reunite Monday, Aug. 1, with former cast mate Jason Hawes to kick off the former's new partnership with Entercom radio stations on his show Beyond Reality Radio.
Wilson's appearance marks the first time he will join Hawes publicly since leaving the popular reality-TV series in 2012 to focus on his successful tabletop gaming company Rather Dashing. Hawes, who remained on the show he launched with Wilson, announced the end of the long-running Ghost Hunters last month ― and currently co-hosts the paranormal-themed Beyond Reality with TAPS Paramagazine publisher J.V. Johnson. The reunion is set to celebrate the radio program's debut on Entercom, the fourth-largest radio broadcasting company in the U.S., which will continue to be carried Mondays through Fridays, 12 midnight-2 a.m., on stations KJCE/Austin, WRKO/Boston, WBEN/Buffalo, KEZW/Denver, WSKY/Gainesville, WYRD/Greenville, KMBZ/Kansas City, WWL/New Orleans, KNSS/Wichita and WILK/Wilkes-Barre. The show will also be available online on those stations' sites.
Jason Hawes joined me to discuss the reunion, and the new Beyond Reality home on Entercom. He also teases that Ghost Hunters will continue, though not on the Syfy network, following Season 11. While details on that remain to be seen, and no doubt involve a lot of negotiations, check out what Hawes had to say below.
Explain the set up and concept behind this radio show, and how the new partnership with Entercom is good for you guys.
Hawes: Beyond Reality Radio is designed to be a natural extension of the TAPS and Ghost Hunters paranormal mission, with the added benefit of providing a more intimate and direct way to interact with people who have experienced paranormal activity, and the experts in the field.
Entercom has not only been a tremendous supporter of our efforts to bring BRR to terrestrial radio, but their integrity and reputation as a broadcast company and their enthusiasm and energy as an organization will make BRR and our partnership an even stronger force in the paranormal and radio communities.
This is big news, so why do it now?
Hawes: With the introduction of the final Ghost Hunters season on Syfy, we were looking for a new and more intimate way to connect with fans, and people who have had their own paranormal experiences. Radio, with its leadership role in market reach, provides the perfect way to take that next step.
What is the first thing you think you'll ask Grant? Is there anything you're looking forward to discussing on the show?
Hawes: We are excited to have Grant share his favorite Ghost Hunters moments and memories with us and the audience. As a co-founder of the show, Grant has some unique stories to tell.
How do you think the show changed after Grant's departure, and what was something you missed about him?
Hawes: Anytime a cast member leaves there is a change in the dynamics of the team – sometimes good, sometimes not good. But either way it makes us all learn to be better investigators, and learn how to fill holes from whoever has departed. Grant's shoes were big shoes to fill and he is certainly missed.
What is your favorite memory of you two guys while working on GH?
Hawes: From a paranormal perspective it was when we both had an opportunity, together, to witness a full-bodied apparition descend a flight of stairs at the Birdcage Theatre. From a personal perspective, he provided a nice balance in our partnership.
What do you think is the state of paranormal TV now that GH is going to conclude after this season?
Hawes: GH is not concluding after season 11. It is only concluding on SyFy. In addition to the radio show we are looking for other outlets to continue our work and Ghost Hunters.
Why is radio a good home for you, JV, and the TAPS group?
Radio is the leader in market reach. It eclipses TV, print, and internet reach by a long shot. In addition, radio is immediate, and gives us a real-time, direct, one-to-one contact with paranormal enthusiasts and other people who have had their own experiences. And, with Entercom as a radio partner, we are working with the best.
Support HuffPost
The Stakes Have Never Been Higher
Related
Popular in the Community