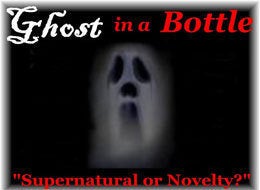 If you've ever had a hankering to own your very own ghost, a Floridian man is selling the handily packaged "Ghost In A Bottle" for a very reasonable price of $20.
The owner says he partnered with actual ghostbusters who catch the spirits around the country in haunted homes and graveyards. The ghost catchers turn over the ghouls to him and he sticks them into bottles.
And don't worry about any poltergeist-esque occurrences, according to owner John Deese, the Ghost In A Bottle is perfectly safe because "spirits are not that scary if properly 'bottled.'"
However, all bets are off should you decide to ignore the prominently displayed "open at your own risk" warning. According to UPI.com, "That would let the ghost back out, said John Deese, who vows that his team finds the ghosts in "haunted establishments, cars, hotels, maybe even graveyards."
People who have opened the bottles claim that "strange stuff was happening in their house."
Popular in the Community