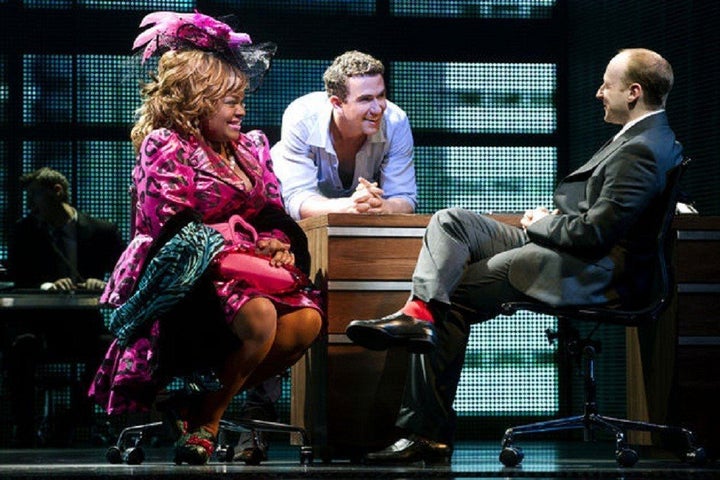 Nearly 22 years after its box office debut, the two-time Academy Award winning film, "Ghost" has risen again. After thrilling the theater scene in Manchester and London recently, the blockbuster's musical adaption premiered on Broadway this week, starring Richard Fleeshman, Caissie Levy, Bryce Pinkham, and Da'Vine Joy Randolph as Oda Mae Brown.
For theater newcomer Randolph, 25, the soulful, powerhouse vocal role came naturally.
"The biggest thing with this character is that she fits the play," Randolph told The Huffington Post. "And I think with all roles, at least where I come from, when I'm about to dig into a piece I look at where am I, who am I as a person, where do I come from, what are my resources, how can I tap this into the character, and what does this character bring me. So for me, just hearing the language in just how she talks is 'funny Christian' to me. She's the type of character who wouldn't take the lord's name in vain, but yet, she's cursing all over the place.
"So for me, my environment is where I pull this from. It would be different if another person, no matter what color they are, but I think for me, growing up in Philadelphia, growing up with Motown music, and growing up in the church, it just came natural for that this would be the character that I would began to create who has soul and a sense of religion."
Randolph's journey from Philadelphia to master's degree at Yale University's School of Drama in 2011 and the Broadway role of the storefront psychic -- played by Whoopi Goldberg in the motion picture -- began in November. Upon learning she'd be joining the Broadway cast, Randolph discovered there was also an opening for the role of Oda Mae Brown in London's version of the production.
"The day that they were supposed to announce [my Broadway role] publically, they had called me and was like, 'Listen, we need you to go to London. The woman [Sharon D Clarke] got hurt and we want you to take over the role until your contract in New York starts,'" Randolph recalled. "So they told me on a Friday, I then flew into London on Sunday, and they gave me the script at the airport, went into rehearsal on Monday and then the director said, 'You're going to go on Friday night.' But miraculously, when you're on your grind, it's amazing of what you're capable of doing. If someone would have asked me to do that in advance I would have said there's no way. But I think the opportunity arose and I knew that I had to get myself together and rise to the occasion."
One of the most intriguing elements of the production is the masterful use of LED technology and onstage illusions to help project the story. Randolph said she anticipates the technology will revolutionize theatre.
"It's amazing, I really feel like it's so appropriate for this show. If you think about it, when 'Ghost' was done as a movie, that was the first movie where we had these new special effects being introduced into the genre of movies," she said. "So in a way we're doing the same thing, but now we're taking it to a different level for theatre.
"You don't have to have the big chunky sets anymore," Randolph said. "You can literally just project it and then, boom. That's it. All you need is a couch and a refrigerator and there you go. You have a complete set. I hope it creates a movement in theater where more people will tap into this."
"Ghost: The Musical" is playing at Broadway's Lunt-Fontanne Theatre, and is scheduled to premiere in Melbourne, Australia, in August 2013.

Calling all HuffPost superfans!
Sign up for membership to become a founding member and help shape HuffPost's next chapter