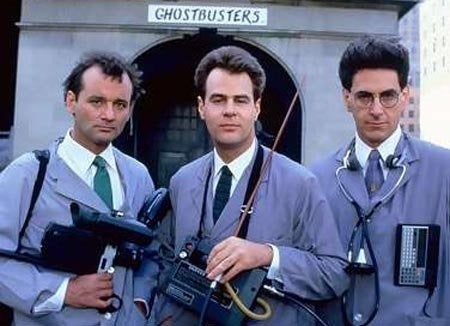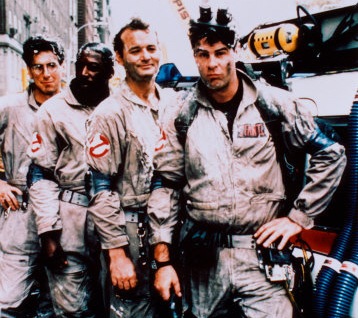 A recent Variety report has been released stating that Columbia Pictures has hired "The Office" co-executive producers Lee Eisenberg and Gene Stupnitsky to write a script for a new Ghostbusters movie. This latest news has been the tip of the iceberg with recent new Ghostbusters movie talk. Rumors are flying everywhere, from an "Apatow" crew remaking the film to a full CG movie bringing back the cast that we all know and love. While all of these rumors and news are exciting, I am not holding my breath.
Now anyone that knows me, or has listened to my podcasts knows that I am a severe "GhostHead" (a term used to describe a fan of the Ghostbusters franchise a la a "DeadHead," which was coined in the late 90's by one of the founders of the Ghostbusters online community Norm Gannon.) Since I first discovered the Internet way back when in 1997, my first instinct was to find all the Ghostbusters info I could. To my surprise, news about a 3rd Ghostbusters movie was being discussed. The rumor at the time was that Dan Akroyd and Harold Ramis were writing a draft for a 3rd film. I was giddy as a schoolgirl to find out my favorite film/television franchise was getting another movie. The next three years were filled with more and more rumors. More details came out on Dan's unfinished script about a parallel "Hell" version of New York sweeping the city and the original cast was to train new recruits to battle demons from hell.
Sadly, Dan Aykroyd reported that Columbia opted not to make the 3rd film due to the big budget the script required. Dan and the studio bitterly parted ways, and the Ghostbusters fandom's hearts were broken. Since then, "GhostHeads" have been wise to all of the rumors. They have seen Sony/Columbia poorly handle a franchise that has many devoted fans. Thanks to misfires on comic books, new cartoon shows, action figures, and poor DVD transfers of the popular 80's cartoon spin-off "The Real Ghostbusters," You can't blame the Ghostbusters online community for being hesitant and not ready to believe.
Ghostbusters has been making quite a positive stir lately. A new video game has been in the works with a script penned by Dan and Harold. It is also bringing the original cast - including the elusive Bill Murray - back to their loved roles. I have played the game myself at San Diego Comic Con this year and I must say it's quite impressive. Although the original publisher, Activision, has opted not to publish the game, Sony will easily find another publisher, and has planned for a 2009 release in lieu of the 25th anniversary. "The Real Ghostbusters" cartoon show is also getting a DVD release that's worthy of its quality by TimeLife. New books and comics are in the works as well. So maybe, just maybe, these new movie rumors are true. Maybe Ghostbusters fans young and old will get to enjoy another action/sci-fi/comedy romp on the big screen. I'll point out that I emphasize maybe.
Take it from a long time "GhostHead". I, among many others, have heard very promising talk for over 10 years and am still anxiously waiting. So in the meantime, I suggest popping in that Ghostbusters DVD and enjoy a true comedy classic to help the wait... It may be a while.
For those who would like to stay updated on the subject, be sure to check out Protoncharging.com, a news site strictly dedicated to Ghostbusters. It is the most level headed and trusted source when it comes to the many, many rumors that have been circulating since 1995. Also be sure to check out the massive Ghostbusters.net site that's run by Chad Paulson, who helped provide the sources to this article. The site features just about everything Ghostbusters related and has the original Ghostbusters forum.