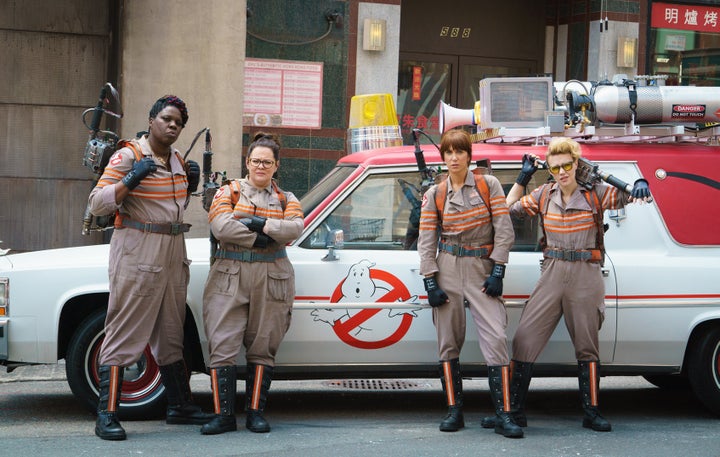 To boot, the movie hasn't exactly been a box-office smash. After generally positive but not very fervent reviews over its July 15 opening weekend, the film has been inching toward recouping its reported $144 million production budget by claiming $158.3 million in domestic and international tickets so far.
The new "Ghostbusters" has been a hit in one respect, though: It's recruited a bunch of new fangirls. Director Paul Feig told The Huffington Post he's received "thousands and thousands" of supportive messages on social media since the movie debuted. Parents of young girls have told him that their kids want to be scientists and shared photos of their kids dressed up in homemade Ghostbusters gear, while some grown women lamented the fact that the movie had not been released when they were younger.
As a self-described nerd, the director of other projects including "Bridesmaids" and "The Heat" loves the idea of a Hollywood film sparking girls' interest in STEM fields. ("It's that whole thing, 'If you can see it, you can be it,'" he noted.) The first time he received a photo of a young "Ghostbusters" fan, taken by her father, posed with her proton pack and wand, looking "all fierce and cool," Feig said he "completely burst into tears." 
Months later, a viral tweet would also encapsulate the film's impact on tiny viewers:
"Up until then it was me just dealing with a bunch of angry dudes," he explained, adding, "There's a whole generation of kids and young people who didn't have their own 'Ghostbusters,' who, to them, even though it's a great movie, it's an old movie."
So, would he call it a success?
"I would, yeah. Yeah, I would," Feig told HuffPost, suggesting that the real test will be the movie's long-lasting impact on audiences ― and acknowledging that "obviously, you want, from the moment it comes out, to be a gigantic hit." But fans' positive reactions so far, Feig said, made all the trials and tribulations throughout production worthwhile.
"It's such a validation for the years of false controversy," he said.
So far, so good: Sony's marketing and distribution chief, Josh Greenstein, didn't wait long at all after the film's debut before stating "there absolutely will be more" to the "Ghostbusters" franchise. And perhaps any sequels will be less plagued by controversy. Feig, for one, never understood the hate to begin with.
"I don't know why all this was controversy leading up to this, because heroes are heroes," he said. "It doesn't matter what gender they are." 
Calling all HuffPost superfans!
Sign up for membership to become a founding member and help shape HuffPost's next chapter
BEFORE YOU GO
PHOTO GALLERY
Ghostbusters Turns 30