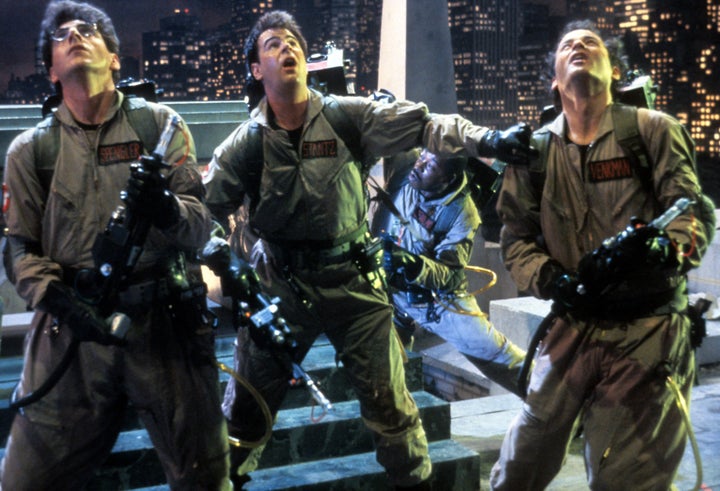 Happy "Ghostbusters" Day!
32 years ago, the world was first introduced to the band of misfits who saved New York City from a paranormal apocalypse. In July, an all-female cast will reboot the franchise, introducing "Ghostbusters" to a new generation. 
This is the best of times. 
To celebrate the anniversary, "Ghostbusters" casts old and new are set to appear on "Jimmy Kimmel Live" Wednesday to commemorate the occasion. 
"Seeing the original and new 'Ghostbusters' all together [will be] like being in the presence of the comedy gods on Mount Olympus," "Ghostbusters" director Paul Feig told USA Today in a statement. "This is an epic summit of some of the funniest people on the planet. Long live the 'Ghostbusters'!"
Before the appearance, however, Feig gave a social media sneak peek of the reunion, featuring Melissa McCarthy, Kristen Wiig, Kate McKinnon and Leslie Jones in the same photo as Bill Murray, Dan Aykroyd, Ernie Hudson and Annie Potts.
"I mean, c'mon, how can this picture NOT make you happy?" Feig captioned the snap. "This is an epic group of people. Happy Ghostbusters Day!    ."
After fans inquired why former cast member Sigourney Weaver was absent from the photo, Feig told his followers that although the actress was missing "she was with us in spirit."
Although the reboot has proved to be controversial among some ignorant die-hard fans, the old guard has welcomed the newbies with open arms. In fact, Hudson, Aykroyd, Murray and Potts all reportedly have cameos in the new flick, making the continuation a family affair, according E! Online. 
And in case you still had any qualms about the reboot (WHY?!), let this video of the new cast performing the "Ghostbusters" theme song assuage your concerns. 
"Ghostbusters" hits theaters on July 15. 
REAL LIFE. REAL NEWS. REAL VOICES.
Help us tell more of the stories that matter from voices that too often remain unheard.
BEFORE YOU GO
PHOTO GALLERY
Ghostbusters Turns 30