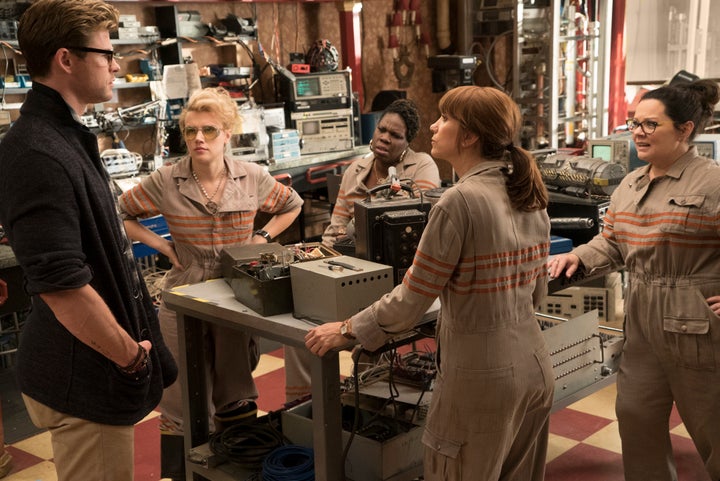 Popular culture is a sanctuary. And given the country's violent climate at this particular moment, we desperately need some sanctuary. Amid a season of box-office duds that have failed to provide the requisite joy associated with summer blockbusters, the jubilant new female-fronted "Ghostbusters" movie, which opens nationwide this weekend, offers a surefire respite from the hate that surrounds us. Everyone is invited to the party, even Fall Out Boy.
But, living in the age that we do, the ills of society are a mere tweet away. Which brings us, of course, to the blitzkrieg of online misogyny that has swept the entire development, production and promotion of "Ghostbusters," a harmless reboot unworthy of your Facebook frenemy's blind vitriol.
If you're reading this, you're probably not one of the unstable bros who thinks women starring as fictional paranormal investigators would ruin his childhood. And if you are, it's unlikely that I, of all people, will be the sensei who magically expands your puny brain. But just in case: This movie has no direct effect on your life whatsoever! You can stay home and enjoy your own proton packs because we don't want to play with you anyway! Let us have our sanctuary!
It's remarkable to see a top-tier Hollywood studio ― Sony, in this case ― greenlight a $144 million comedy with four ladies at the center. It shouldn't be remarkable, though. It should be commonplace. Something that should be equally commonplace? A widespread understanding that men and women ― as well as everyone who does not conform to a static gender identity ― can be funny in the same place, at the same time. New York Times film critic Manohla Dargis said it well in the closing sentence of her favorable "Ghostbusters" review: "Now, if we could just get women and men to be funny together, that would be revolutionary." 
She's right, because there's a dearth of gender-blind comedy in popular culture, especially right now. The early days of "Saturday Night Live," despite being a stomping ground for so many women, were famously mired in sexist backstage politics. Carol Clevelend was effectively a sidekick to the all-male British sextet Monty Python. The sole "created by" credit on "Roseanne" belonged to a male producer, even though the seminal series was based on a character Roseanne Barr originated in her long-running standup act. In Joan Rivers' 2010 documentary, she commented on an all-star comedy lineup tributing Don Rickles ― almost all of whom were men. Seth MacFarlane was allowed to perform a vile song called "We Saw Your Boobs" while hosting the Oscars, a ceremony whose 88-year history has seen all of two solo female emcees (Whoopi Goldberg and Ellen DeGeneres). I refuse to hyperlink MacFarlane's performance. Google it. Or better yet, don't.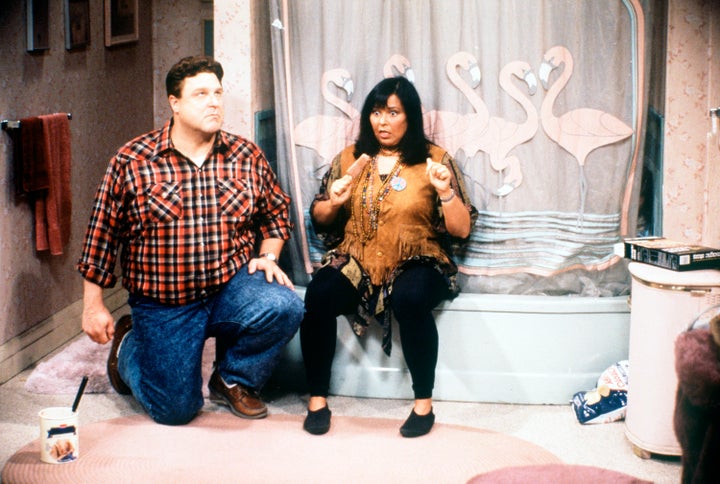 Now, we gawk when a project starring or directed by a female breaks any sort of record. It's wonderful that "Orange Is the New Black" and "Sex and the City," for example, have been such sharp showcases for women. But squint and you'll remember that modern history is peppered with comedic endeavors that allow women and men to shine, defying what has become a gendered genre.
On "The Carol Burnett Show," which predated "SNL" and ran for 11 glorious seasons, Tim Conway and Harvey Korman always appeared to treat Burnett as a monarch, and she them. Before Mike Nichols become one of our most celebrated film directors via 1966's "Who's Afraid of Virginia Woolf?" and 1967's "The Graduate," he and Elaine May were a Grammy-winning tit-for-tat improvisational duo with multiple best-selling albums. Today, Fred Armisen and Carrie Brownstein carry that torch on "Portlandia," and the cast of "30 Rock" pulled it off for seven low-rated seasons. But comedy that lets men and women thrive equally outside of a romantic or familial context is anomalous. Maya Rudolph and Martin Short just gave it a go with a weekly variety series, but that outdated format isn't about to shatter barriers.
As the dude-dominated "SNL" became the signature arena for iconoclasm in the 1970s, it seemed to create a ripple effect wherein humor was either male-driven or female-driven ― rarely both. "The Mary Tyler Moore Show" and "Murphy Brown" preached concerted, and much-needed, feminism, but despite solid supporting ensembles, they were character studies. 1980's "9 to 5" featured Jane Fonda, Dolly Parton and Lily Tomlin seeking revenge on their sexist boss, while 1996's "The First Wives Club" found Goldie Hawn, Diane Keaton and Bette Middler avenging their duplicitous ex-husbands. The original Ghostbsuters were four fellas troubleshooting the haunted apartment of a damsel in distress, and most of the buddy movies throughout the action-heavy '80s and '90s featured sparring male pals who carried tacit acknowledgement that lust for the opposite sex would be an impediment to accomplishing tasks (see: "Trading Places," "Planes, Trains and Automobiles," "Grumpy Old Men." The list goes on and on and on). "In Living Color" had a few women in its main cast, but the rest comprised a dance troupe called The Fly Girls, demarcating the male headliners and their female backup.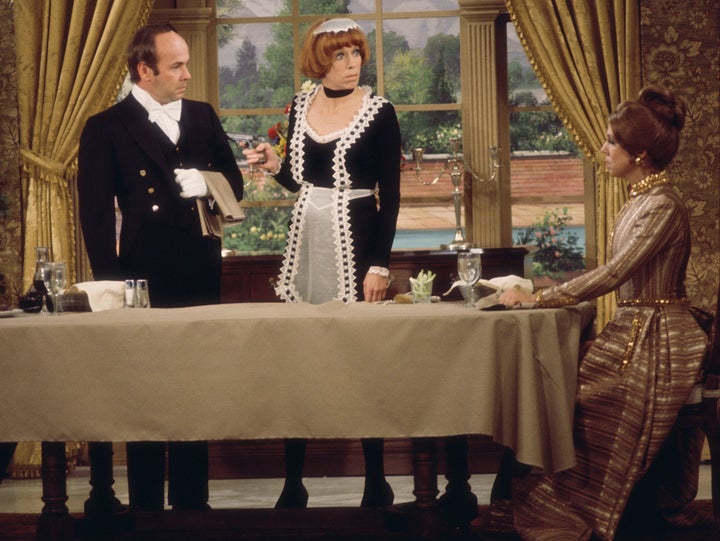 And hey, let's be clear: There is nothing inherently wrong with all-male or all-female troupes, assuming that's not the only thing studios and networks are willing to fund. One needs to look no further than Judd Apatow's résumé, the "Hangover" franchise and the purported surprise success of "Bridesmaids" to realize the genre is still a war between the penis and the vagina. The sexist "Ghost"-bros serve as unfortunate proof. Their misogyny stems from childhoods defined by comedies in which two or more men steered the humor. (I'll guess these fools didn't consider "The Witches of Eastwick" essential viewing.) And there certainly weren't movies where men and women were given equal footing ― there still aren't many of those. That means they grew up seeing humor as something divided by demographics. 
It's fantastic that, for two hours, four ambitious female Ghostbusters will help to provide an iota of reprieve from the violent society that surrounds us, with the added twist of Chris Hemsworth stepping into Annie Potts' role as the ladies' doofus secretary. Unsurprisingly, producer Amy Pascal has already hinted at "endless" sequels. I didn't love the new "Ghostbusters," but that has everything to do with its bloated action and choppy editing, and nothing to do with its remarkable cast. It's hard to think of a quartet more appealing than Melissa McCarthy, Kristen Wiig, Leslie Jones and Kate McKinnon, especially at the hands of director Paul Feig, who has become known as a lady-comedy mastermind, because men and women are not allowed to play together in harmony without a few dozen headlines to explain the phenomenon.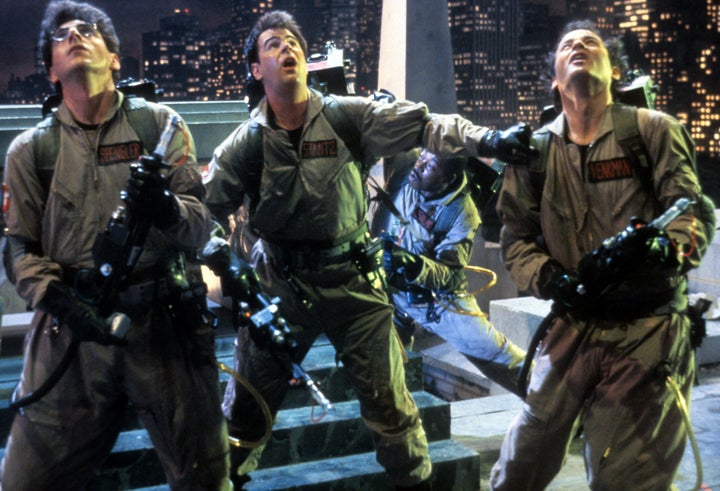 But my hope is that some future reboot of a beloved franchise ― or, gasp, the next original studio comedy or TV sitcom ― will be something that harkens back to, say, "The Carol Burnett Show," where mutual admiration and limitless characters abounded, across the sexes and beyond romantic allure. We're finally at a time when the women of "SNL" are on equal, if not greater, footing than the men. We're finally at a time when the ladies of "Broad City" and the gents of "Key & Peele" can all create cultural institutions. Keep making those projects. But one day, hopefully, we'll blur the gendered genre and savor a landscape that lives up to Mike Nichols and Elaine May's legacy. 
Hats off to you, Abbott and Costello. Thanks for the laughter, Laurel and Hardy. It was great knowing you, Jack Lemmon and Walter Matthau. Nice try, Kenan and Kel. But you created a culture of exclusivity, prompting Amy Poehler, Tina Fey and Maya Rudolph to put up a proverbial "no boys allowed" sign when they cemented their status as pioneers. Now it's time to invite everyone to the table based on their talents, because comedy is at its conceptual best when it comments on the world in its entirety ― when the context drives the plot and notions like "all-female cast" no longer seem radical.
Get thee to a theater, sexist "Ghostbusters" naysayers. Or, better yet, just let the rest of us take the reins from here. Zuul was a woman anyway.
BEFORE YOU GO
PHOTO GALLERY
Comedy Documentaries On Netflix