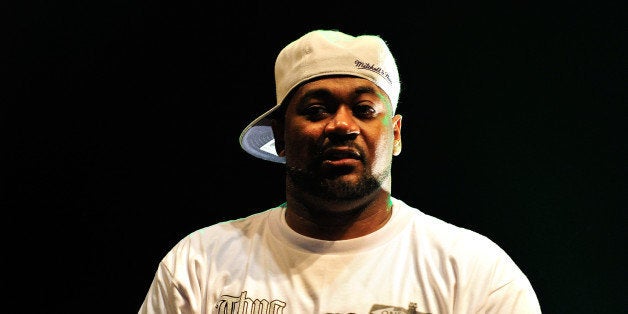 The following article is provided by Rolling Stone.
Ghostface Killah will recreate himself as a vigilante superhero on his new concept album, "36 Seasons," which will see release on December 9th via Salvation/Tommy Boy.
The Wu-Tang Clan member teased the record with "Love Don't Live Here No More," which tells the pained tale of the narrator returning home after a nine-year absence to find his girl shacked up with another man. The cut features singer Kandace Springs on the soulful hook and boasts a classic, crackling boom-bap beat courtesy of the Brooklyn band/production team The Revelations.
According to a press release, "36 Seasons" tells the story of "a hip-hop superhero for the 21st century" who returns to Staten Island in search of personal retribution and on a mission to save his community from corrupt authorities and urban decay. The album will also feature guest appearances from hip-hop luminaries Kool G Rap, AZ and Pharoahe Monch, while production duties were handled by The Revelations, as well as The 45 King, Fizzy Womack (M.O.P), Angela Johnson and Malik Abdul-Rahmaan. A full track list is below.
The CD and vinyl packaging for "36 Seasons" (which is available for pre-order now) will come with a 20-page booklet filled with illustrations from various comic book artists. The packaging was produced by Matthew Rosenberg, who created the comic mini-series that accompanied Ghostface Killah's 2013 album, "Twelve Reasons to Die."
"36 Seasons" will be released just one week after the new Wu-Tang Clan album, "A Better Tomorrow," drops on December 2nd via Warner Bros. Though it arrives in time for the seminal hip-hop group's 20th anniversary, the album took 18 months to make and was almost derailed by Raekwon, who temporarily went on strike from the group before reuniting with the entire Wu-Tang Clan on "The Daily Show."
1. "The Battlefield" (feat. Kool G Rap, AZ, Tre Williams) 2. "Love Don't Live Here No More" (feat. Kandace Springs) 3. "Here I Go Again" (feat. AZ, Rell) 4. "Loyalty" (feat. Kool G Rap, Nems) 5. "It's A Thin Line Between Love And Hate" (feat. The Revelations) 6. "The Dog's of War" (feat. Shawn Wigs, Kool G Rap) 7. "Emergency Procedure" (feat. Pharoahe Monch) 8. "Double Cross" (feat. AZ) 9. "Bamboo's Lament" (feat. Kandace Springs) 10. "Pieces of the Puzzle" (feat. AZ) 11. "Homicide" (feat. Nems, Shawn Wigs) 12. "Blood in the Streets" (feat. AZ) 13. "Call My Name" 14. "I Love You For All Seasons" (feat. The Revelations)
REAL LIFE. REAL NEWS. REAL VOICES.
Help us tell more of the stories that matter from voices that too often remain unheard.