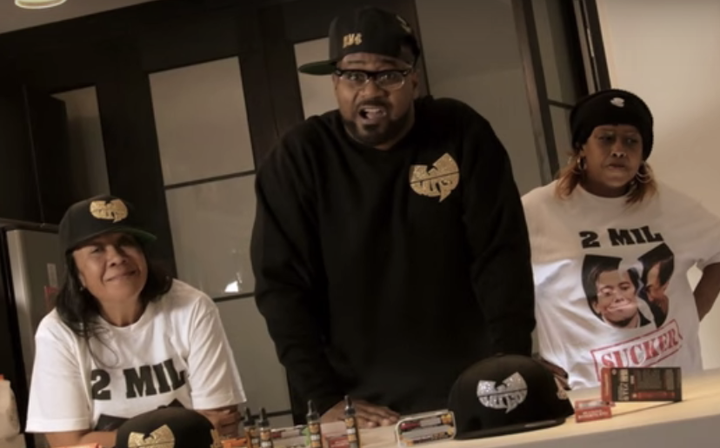 Wu-Tang Clan rapper Dennis "Ghostface Killah" Coles is officially in a beef with Martin Shkreli, but he's blasting the former pharmaceutical executive over something far more important than an album. 
On Tuesday, Ghostface released a 12-minute video denouncing the immorality of hiking the price of a drug from $13 a pill to over $700 and calling out Shkreli by name. His mother and sister join in.
"$750 for a pill, Martin? That's not right, Martin," says Ghostface, referring to how Turing Pharmaceuticals jacked up the cost of an anti-parasitic drug used to treat infections in HIV patients.
This video appears to be a response to one that Shkreli released two weeks ago "dissing" Ghostface and threatening to delete the only copy of "Once Upon a Time in Shaolin," a Wu-Tang Clan album that Shkreli reportedly bought for $2 million.
Rivalries punctuated by insult-laden songs and videos have long played a big role in the hip-hop world. Over the summer, for example, Meek Mill called out Drake for not writing his own raps. Most famously, a beef between Biggie Smalls and Tupac Shakur morphed into the "East Coast vs. West Coast" rap war. It's rare, however, for a public skirmish between artists to actually elevate a serious political discussion.
Emails made public by Congress last week from Shkreli's time as CEO of Turing show that he and his company strategized to hike prices as high as they could in order to profit off drugs that are used to treat relatively rare diseases. "$1bn here we come," he wrote in one email.
Shkreli's swaggering personality has helped draw media attention to how and why pharmaceutical companies are able to jack up drug prices with little regulatory oversight. Last week's email dump and a related congressional hearing revealed, for example, that Valeant Pharmaceuticals pursued a similar price-gouging strategy.
As Bloomberg's Max Nisen wrote after the congressional hearing -- at which Shkreli pleaded the Fifth, but made quite a few funny faces -- this really isn't about any one person being evil. It's about the American health care system being broken:
No one, not even the government, really knows what companies charge for drugs across a fragmented market. That creates dark corners where Shkreli thrived, where Valeant Pharmaceuticals (whose CEO Howard Schiller was also grilled on Thursday) devised its now publicly disavowed price-hike-focused business model, and where many others have massively boosted prices more quietly.
Producing industry-wide reform is much harder than vilifying one or two boisterous executives. There are some signs of change ahead: Citing Shkreli's antics, presidential candidate Hillary Clinton has made drug pricing a 2016 campaign issue. 
So if you were already mad about overpriced drugs or if this amazing Ghostface Killah video has inspired you, know there is a bit of political will to do something. Want to help? Call or email your congressional representative. 
Warning: This video contains a lot of profanity.
As for Shkreli, he shot back:
Calling all HuffPost superfans!
Sign up for membership to become a founding member and help shape HuffPost's next chapter