A general store in Gilford, N.H., is scaring up a lot of attention after releasing a spooky surveillance video.
"I heard this big bang," said employee Heidi Boyd, who was in a nearby room when the case smashed. "I walked around and looked and I was on the floor. It took several minutes to set in [and it's] still freaking me out," she told WMUR-TV.
The shop's manager, Lisa Giles, told The Huffington Post that Boyd texted her "in a frantic" mood.
"It didn't make sense to her," Giles said. "However, anyone who's been here a substantial amount of time has seen something. When we first opened the place, we saw the ghost of a man standing in the doorway."
Another employee once heard a man mysteriously whistling, Giles said.
Store owner Steve Buzzota later checked the surveillance tape and was shocked to see the glass tray seem to move by itself.
The video has been seen worldwide and has increased traffic to the store.
"We're getting onlookers, but I wouldn't say it's increased business," Giles said.
It's also attracted skeptics who wonder if the tray might have been moved by a string from the window opposite the counter.
That's not possible, according to Buzzota, who told WMUR-TV the window is unable to open.
"The claims that this is some type of paranormal event are more proof of people needing free advertising or adding a little 'haunt' to the biz," he told HuffPost by email. "When examining this claim, you need to apply a little common sense and examine the most likely reason, and not jump right to the paranormal explanation."
"R YOU KIDDING ME ...WE DID NOT MAKE THIS UP PEOPLE. I WAS THE ONLY ONE IN STORE!!!!! COULDNT SLIDE OFF AND LEAVE EVERYTHING UNDER IT UNTOUCHED !!! PEDASTLE HAS 3/4 "RIM AROUND THE PLATE !!! SO EXPLAINE HOW IT COULD SLIDE OFF. UMM CUZ IT DIDNT THATS WHY !!!," she wrote.
Giles said there are plans to have some paranormal researchers examine the building, which dates back to 1890.
"A guy I once worked with was a cameraman on the show 'Ghost Hunters,'" she said.
WATCH THE COMPLETE VIDEO here:
Before You Go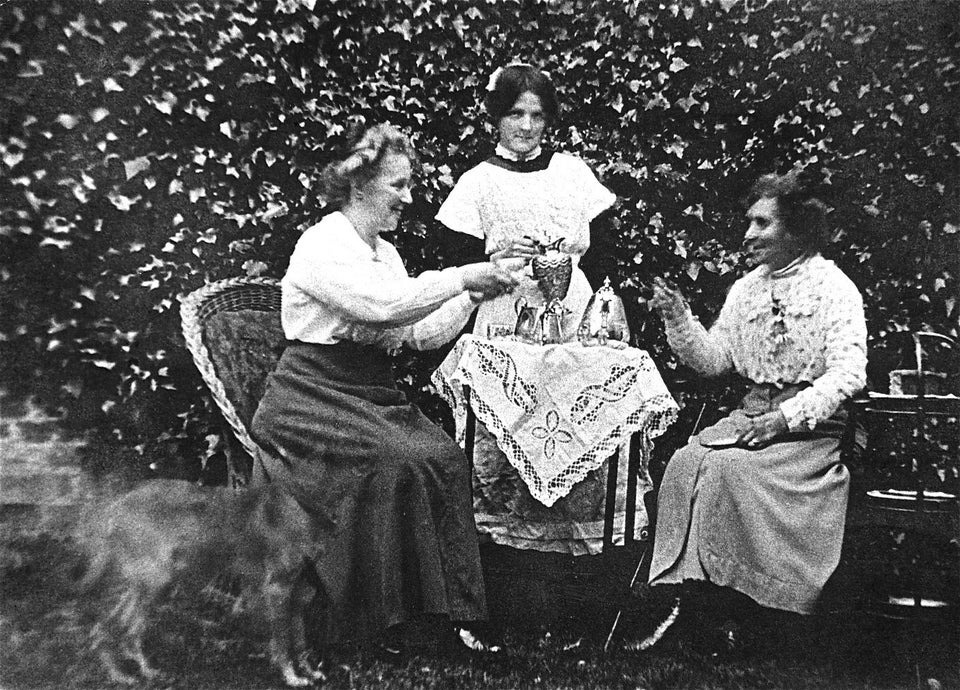 Ghost Images Through The Years
Popular in the Community