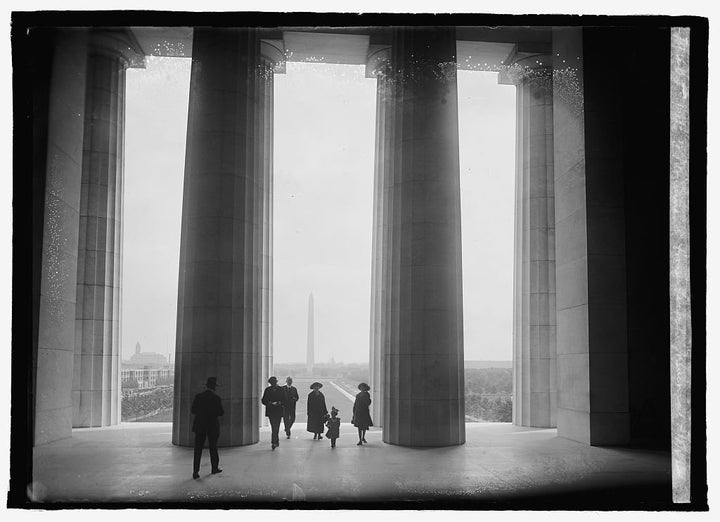 WASHINGTON -- Ghosts of DC is not a blog about paranormal goings-on in the nation's capital.
The Huffington Post caught up with Ghosts of DC's creator, new media worker Tom Cochran, to find out more tidbits about his history -- and to ask why he's not writing about actual ghosts.
The Huffington Post: How long have you been keeping Ghosts of DC? What got you interested in blogging about D.C.'s forgotten stories?
There are plenty of sources out there to find stories about the White House, the Capitol and the monuments, but places where you can find details on regular people in Washington are few and far between. I'd like Ghosts of D.C. to be the go-to source as a window into living in D.C., across generations. I want to continue to uncover and share stories about the regular people who walked the same streets we walk today and tell their story.
HuffPost: Are you from D.C.? If not, why does D.C. have such a special fascination for you?
Cochran: I was born in Falls Church [Va.], grew up in Japan and Thailand for 12 years because my father was a diplomat, finished high school in New Hampshire and college in Tennessee, but I consider myself from D.C. I first moved into the District in 2002, living in a few places in Adams Morgan. I bought a house in Columbia Heights in 2007 and have watched the neighborhood just explode with unbelievable development.
In D.C. terms, I'm a lifer being here over a decade, but there are so many other people I meet that are real lifers (i.e., the guy on my block that has been in the same house since the 1950s). This is the best place I have ever lived. And why is it so fascinating? This is the most important city in the country, arguably the world (maybe I'm biased). This is the seat of our government. And what's even more fascinating is that millions of regular people have lived as witnesses to all the events we read about in history books.
Washington is a northern city and a southern town. You can anonymously blend into a crowd or easily bump into a friend on the street.
It is a transient city and a lot of people are down on it, but I love this place and I'm proud to call it my home. I'm a third culture kid who has put down roots in this city and fully embrace this place as the city where I'm from.
HuffPost: Where do you live now? Are you most interested in the stories about where you're living, or can you find yourself equally interested in stories about any part of D.C.?
Cochran: I live in Columbia Heights with my wife and dog (I should add that my wife is extremely supportive, indulging my time-consuming hobby...and sadly, my dog gets much shorter walks now). I love it up here, but it is a little crazy how crowded it is. It really it astounding how diverse this neighborhood is. You can stand at the corner of 14th and Irving for 15 minutes and see every possible permutation of a D.C. resident walk by. And I think most people are highly interested in things they can relate to, so some of this started when I began looking into the history of my house.
I would say, the more I write, the more I'm interested in other parts of the city when I uncover some fascinating and obscure story from generations ago, long-since lost to history. So, I would say that the genesis of this blog was a general fascination with history, combined with digging into the personal history of my own home ... a little bit of an "If Walls Could Talk" on my own place.
HuffPost: How do you decide what to write about? Where do you get your stories?
Cochran: I'm inspired by anything and everything about this city. I walk by a building and I wonder what happened there. I try to think of events that were huge at the time and since faded from history (e.g., the Beatles' first U.S. concert at Washington Coliseum). Or a historical event and find peripheral stories that are less known or not known at all (e.g., President Garfield's assassin, Charles Guiteau's time in D.C. leading up to his rendezvous with the wrong side of history).
Often, I have too many ideas and it's hard to pick one direction. And in other instances, I'll have a great idea, start digging and it's actually a complete dud because there is nothing interesting about whatever I'm researching.
HuffPost: What's your favorite story that you've learned while keeping the blog?
Cochran: The last one I wrote. And it's ever-changing. I can't pick a favorite because they're all fascinating. I will say that some have more of the "ah ha" moment than others, but they're all excellent windows into life in our city frozen in time.
But, since you've asked for one, I would say my ultimate favorite character/person I've looked into is Officer Joshua L. Sprinkle. I won't go into his entire background, because you can check his fascinating story out on the blog.
HuffPost: Let's talk ghosts: Are you interested in D.C.'s paranormal history? If not why not?

Cochran: That's not my focus. I chose the name Ghosts of DC more to represent the spirit of the city (also, it has a good ring to it). This is a city with a rich history that is far greater than what happened at the Capitol and the White House.
I will post the occasional ghost tale, but this is really a history blog, focusing on the stories of regular District residents.
HuffPost: Are most of your readers in D.C.? What types of stories seem to interest your readers the most?
Cochran: Yes, overwhelmingly so, followed by the greater D.C. area -- according to Google Analytics. The biggest audiences outside of the area are from New York, Chicago and Boston (in that order). And the most international readers are in the U.K. But, overwhelmingly, the readers are from the Washington area.
The most popular stories have been the "If Walls Could Talk" posts. I'm guessing these are easier to relate to because I've been focusing them on local establishments like Pearl Dive, Big Bear Cafe or Red Rocks Pizzeria. They spend time in these buildings and now they can share stories of what took place 50 or 100 years ago in that same location.
More recently, the "Three Things" posts have been quite popular, like the one about Dulles Airport. I try to pack as much "I had no idea" stuff into these.
I love when someone emails or tells me they learned something new by reading the blog. The more obscure the facts or random the story, the better that post will be.
HuffPost: What's next for Ghosts of DC?
Cochran: Take over the Internet. Although, I would consider this project a success if a handful of people read this and learn about their city. The goal really is to uncover the hidden history of the city and have people learn about Washington. It's about that "ah ha" moment or to connect with and have a picture of someone's life from a hundred years ago, like Annie O'Connell, Leopold Birkle or Officer Sprinkle. Regular people with regular lives just like us.
Maybe this could lead to a book with these lesser known stories of D.C. Who knows. I really didn't start this blog with an agenda other than to have a constructive hobby that married my love of D.C. and my fascination with history. If people read it, enjoy it and learn something new, that's a bonus.
HuffPost: Give me one great piece of D.C. trivia that I probably don't already know.
Cochran: I'll give you a few so you can pick the one that you actually don't know (because I would be embarrassed if I gave you trivia you already knew).
The first fatal airplane crash happened in 1908 at Fort Myer, Arlington (I know, not D.C., but Arlington used to be part of D.C.) Orville Wright crashed his plane and his passenger Lt. Thomas Selfridge died in the accident.
Columbia Heights received its name from Senator John Sherman (i.e., the guy behind the Sherman Antitrust Act). He purchased the bulk of the land in the 19th century and began developing it, naming it after the college at the top of Meridian Hill, Columbian College. The college stood primarily where Meridian Hill Park now sits, but moved in the early 20th century downtown and was renamed George Washington University.
There was a movement in the 1870s to relocate the nation's capital to St. Louis, spearheaded by Louis Reavis. He worked to convince President Grant that a centrally located capital would be beneficial to communication within the country, then just starting to really spread west. Instead, the Organic Act of 1871 was passed, unifying Georgetown, the City of Washington and the County of Washington under one central territorial government.
RELATED VIDEO: Ron Paul hits a home run.
Calling all HuffPost superfans!
Sign up for membership to become a founding member and help shape HuffPost's next chapter