"In reply to your recent communication, I would state that we have not now, have never had, and do not expect to have in the near future, any women students registered in our engineering department."
This was the contents of a letter written by an associate professor at The University of North Carolina in 1919. It was a response to two female University of Colorado engineering students who were trying to start the American Society of Women Engineers and Architects (ASWEA), and looking for potential members.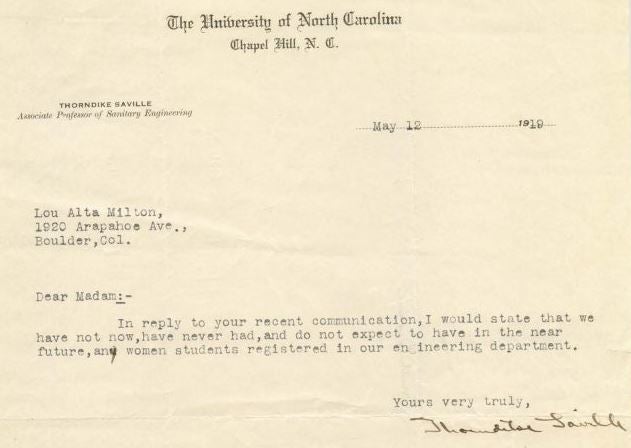 Lou Alta Melton and Hilda Counts reached out to every U.S. college engineering and architecture department they could find, asking for information about any women who had taken courses, past or present. The response they received from deans and professors is a reminder that while there is still work to do to close the gender gap in STEM, we've come a long way.
"Almost 100 years later now, women are certainly being accepted into engineering programs across the U.S., but we're still graduating in fewer numbers than our male counterparts," said Jessica Rannow, president of SWE and project manager at AmerisourceBergen.
Females were awarded 19.9 percent of all Bachelor's degrees awarded by an engineering program in 2015 and made up 21.4 percent of undergraduates enrolled in engineering.
"While few universities, such as Dartmouth, are leading the charge and starting to graduate more females than men, these numbers have remained relatively constant over the last decade or so as the national average," added Rannow.
The letters found in the SWE archives demonstrate the challenges women in engineering have overcome in education over the last 100 years.
Some letters in response to the Melton and Counts' ask cited the law and school policy against admitting women to engineering schools. (Click on the authors to see the original letters.)
"We do not permit women to register in the Engineering School under our present regulations."
"Under our State system of higher education, women are not admissible to the University of Florida, nor men to the Florida State College for Women at Tallahassee. While the State College at Tallahassee does not have any engineering departments, it does offer courses in applied science."
Some of those who replied expressed doubt in the ability for Melton and Counts to find enough women who were interested in engineering to form a society.
"You ask for information or suggestions. I have only this say, that I suspect the number of women who have undertaken general engineering courses is so few that you will hardly be able to form an organization. However, I may be mistaken.
"In reply to your recent communication, I would state that we have not now, have never had, and do not expect to have in the near future, any women students registered in our engineering department."
Some noted that times were changing.
"Up to the present, women students have not been admitted to GA Tech. Yesterday, the City of Atlanta conferred suffrage on women in City Affairs, so no knowing what may happen!"
"Replying to your letter of May 2, beg to say we have never had, in the University of Arkansas, a woman to register for a serious course in Engineering… I am aware that in the Northern and Eastern Colleges often girls register for Engineering work and make very excellent students."
One of the most hopeful letters sent to Melton and Counts came from a student at the University of Michigan who explained that the women engineering students there had formed their own organization called T-Square Society.
"The women students in Engineering and Architecture at the University of Michigan are pleased to hear from women studying the same things in Colorado. In 1914 we ascertained that there was then no society organized for women students in engineering and architecture, and at the time formed a society with the approval of the University authorities. The T-Square Society started with 14 charter members, one alumna resident member, and two honorary members."
A member of T-Square, Hazel Quick, worked with Melton and Counts to create society bylaws, membership application forms, and a logo for their new organization, but ASWEA never took off. Thirty years later, Counts became a founding member of the Society of Women Engineers, and Quick joined the SWE Detroit section in 1952.
A professor from Stanford also had a progressive outlook on admitting women into engineering societies.
"Now as regards the formation of a separate engineering organization which you contemplate, I must confess that I am not in favor of such a move if you can get the young men in your institution to take the proper step which, in my opinion, consists in admitting you to full membership in the existing organization. For years, I have favored the admission of women to membership in the American Society of Civil Engineers, and can see no reason why there should be any discrimination on account of sex."
Calling all HuffPost superfans!
Sign up for membership to become a founding member and help shape HuffPost's next chapter
This post was published on the now-closed HuffPost Contributor platform. Contributors control their own work and posted freely to our site. If you need to flag this entry as abusive,
send us an email
.