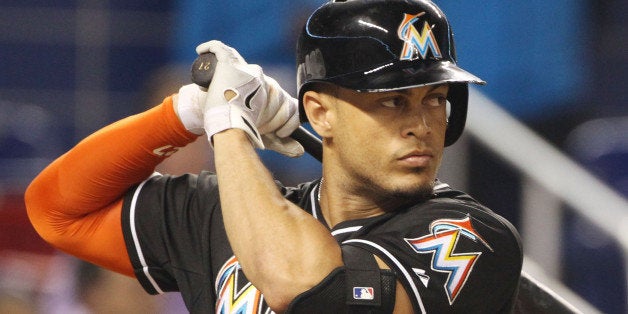 Giancarlo Stanton has signed the hugest contract in the history of baseball: 13 years and $325 million. The guy is only 25 years old and could easily make anyone his age really go through a "what the hell am I doing with my life" type of moment.
But then you soon realize you aren't 6'6" and built like a human freight train with jarring muscles popping out of your skull. When one looks at it from that perspective, it makes it a little easier to transcend back to your "same problems and same issues" LeBron James referenced in his infamous 2011 Finals press conference.
Sure it was narcissistic but some of it was true. As people, we love to pray on a figure's downfall and in Stanton's and the Miami Marlins case, the apple doesn't fall too far from the tree.
Many are going to look for the "I told you so" moment. The time where he is either lost to a season-ending injury, the relationship between him and the Miami Marlins goes south, or he never pans out as the superstar package his contract suggests.
Though we don't know what the outcome will be, what issue do people have with the contract in the first place? Yes, we know that owner Jeffrey Loria and President David Samson have failed miserably in the past. Before the start of the 2012 season, it looked like they had the best National League team on paper -- a true title contender with a new stadium.
Moreover, with the acquisition of José Reyes from the New York Mets and Hanley Ramirez agreeing to make the move to third base -- it appeared as if Miami would be a formidable left side of the infield for years to come.
However, injury and inconsistent play plagued Ramirez and he was soon shipped to Los Angeles. Reyes' story wasn't that much different either. He started the season slow but soon came on toward the end finishing with a .287 AVG and .347 OBP, but the Miami Marlins expected more from their star player. It wasn't long before he too followed suit and was traded to the Toronto Blue Jays at the end of the season.
For the city of Miami it was a blow to the stomach. A year that was considered to be "the year of redemption" for the Marlins ended up being the complete opposite.
According to Scott Miller of Bleacher Report, "From Opening Day 2012 to Opening Day 2013, the Marlins payroll melted from $118 million to less than $37 million. Their $47.6 million payroll in 2014 ranked 29th in the majors."
The fans felt as if they were lied to after being convinced all of spring training that this Marlins team would produce a winning DNA. And now, here was their owner and president giving up on the process and throwing in the towel too early.
Ever since that moment Loria and Samson have been walking around with a bulls-eye on their backs. Every move or deal they make they are reminded of how much they suck because of the previous ones.
Nonetheless, the Stanton deal is different. It involves an organization protecting its star player in hopes of building around him at some point. For Stanton, that's a deal you can't pass up and for the Marlins the same applies.
Lets be clear, the Miami Marlins aren't Cleveland sports. In fact, in the last 17 years they have two World Series titles. That is a feat the Detroit Tigers have failed to capture for 30 years, and in the tenure of Billy Beane and his Oakland Athletics, they have yet to come close to even sniffing the hardware.
Therefore this Marlins team isn't too estranged from winning. Paying your megastar shouldn't be something we criticize. Moreover, according to some reports per ESPN MLB, the deal is heavily backloaded.
He will receive $107 million over the first six years and if he chooses to opt out after that year he would be leaving the remaining $218 million on the table.
This gives the Marlins enough leverage to somewhat ensure that Stanton will remain in South Beach, but also give him the option of exploring if he chose to do so. It also gives them flexibility to get top flight free agents.
Baseball has always been a game of money and power. Loria and Samson rolled the dice again on this one, but so did Stanton.
It's a deal you have to make, and who knows, this could be a step in the right direction for Miami. Though if it isn't, at least Stanton and his agent Joel Wolfe will be living pretty comfortably.
CORRECTION: A previous version of this post incorrectly stated that infielder Hanley Ramirez was traded to the Toronto Blue Jays. He was traded to the Los Angeles Dodgers.
Calling all HuffPost superfans!
Sign up for membership to become a founding member and help shape HuffPost's next chapter