Looking back, the white cheeks might've been the first clue.
Even when Gianna Schupler danced -- sometimes going for three or four hours straight -- her cheeks never turned beet red. That happened to the other girls, but never Gianna.
If anything, her usually pale complexion became paler -- "white as a ghost," she called it.
Nobody thought anything of it.
Not after the first time she passed out, at age 11. Or even the second.
When Gianna awoke, her first words were, "Can I dance?"
And that's where the story of this teenager from Long Island, New York, really gets interesting.
As a first-grader, Gianna gave up soccer because it left her too dirty. Her mom suggested she try dancing. So Gianna tagged along to a friend's class.
Gianna had never been to that studio. The only person she knew there was her pal. Still, she felt right at home.
She tried all forms of dance -- lyrical, jazz, hip-hop -- yet tap became her thing. Others noticed how good she was, making Gianna like it even more.
Competitions began in fourth grade, solos in fifth grade. She loved it all.
Gianna switched studios in sixth grade, moving from an old-school, Broadway-esque style of tap to what she calls a hardcore percussion, "pure street" variety. She won her first crown that year, and that's when it dawned on her: "Wow, I could get somewhere with this if I keep practicing and pushing myself."
Gianna was in fifth grade the first time she passed out. It happened after a strenuous routine at the end of a 3-hour class.
Tests were inconclusive. Maybe she'd just been dehydrated.
It happened again in sixth grade, this time during a cardiovascular fitness test at school. Then again a few months later during a special performance: a duet with a 12th grader who'd spent her "senior wish" on dancing with Gianna.
She felt the telltale signs soon enough to avoid losing consciousness. Still, it was enough to crush her vow to "keep practicing and pushing myself."
For about two years, Gianna held back.
While she continued dancing and even added ballet, she never gave her all. And, sure enough, there were no more spells.
Were they connected? Or had she outgrown her problem?
She decided to find out on March 1, 2014.
"If you go full out today and it doesn't happen, it'll never happen again," she told herself.
She went so hard over 1.5 hours of ballet that she began to sweat -- something that almost never happened. Then she went to the dance studio and flung herself through an hour of tapping.
That's when the feeling hit. She stopped, walked to her water bottles, put her knees to her chest and passed out.
By this point, hospitals didn't faze Gianna.
Quite the opposite, she focused on the fun parts: the snacks, the big drinking jug she could take home and nurses so attentive that it was like flying in first class.
She went to a different hospital this time, and doctors took a different approach. They ran a new test that turned up something peculiar. They wouldn't let her check out until they resolved it.
They hooked her up to an IV that filled her veins with a liquid that would show up better on a CAT scan. Doctors then watched that liquid travel through her right coronary artery. On its way to her left coronary artery, the liquid made a wrong turn.
This explained why every time her heart rate went up, blood and oxygen became scarce.
That lack of blood and oxygen also explained her pale skin.
Gianna considered the diagnosis a relief.
"No more passing out, no more being scared to dance," she said. "No more blood tests and IVs to figure out what it is."
Yes, that was the plan. But first she had to endure open-heart surgery.
Gianna asked to wait a few months, until after school and competition season. She was overruled.
The surgery went well. She threw herself into recovery with the aim of getting back on the dance floor.
Then came even more motivation: Gianna's dance teacher reminded her that she'd already qualified for the Starbound National Dance Competition in mid-July.
That was still four months away.
In mid-May, Gianna underwent a stress test. Her mom was so sure she wouldn't pass it that she made a deal: If Gianna did pass, she could compete at Nationals.
Gianna passed all right, and the race was on.
Back in the studio, she remembered every step.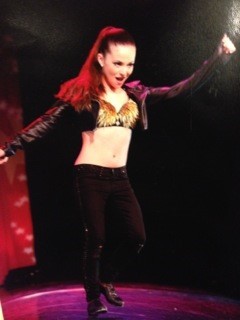 There were other challenges, though, such as regaining her stamina and rebuilding the core muscles surgeons had sliced through.
As she progressed, Gianna encountered some strange sensations.
The first was a thumping in her veins.
Healthy people know that happens when you work out. Gianna's unhealthy heart had never beat hard enough for her to feel that.
Then there was the time she finished dancing and looking in a mirror.
"My cheeks were all red and I started freaking out," she said. "Everyone else was like, `That's supposed to happen!' But it had never happened to me before.
"Little things like that make me happiest."
Gianna had been to nationals twice before. She'd never won, but always went home happy. She loved competing and the camaraderie of spending a week in Atlantic City, New Jersey, with her teammates and their families.
After all she'd been through, being there last July was a victory in itself.
Standing backstage before her tap solo, Gianna felt a burst of confidence knowing her heart could handle what she was about to do. To celebrate, she started a new pre-competition ritual: She kissed her right hand and ran it up her scar, then did it twice more.
What followed was the greatest performance of her life. That's no hyperbole. The first time she watched the video she thought, "Oh my gosh, I've never tapped like that before. I had a hunger for it. I was there to prove that I'm OK."
She won Miss Teen Starbound 2014.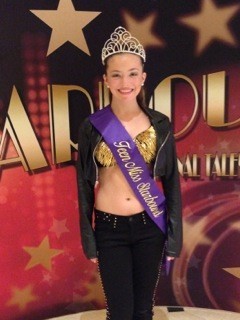 A few days later, she competed in another Nationals event, the Miss Star of Hope, which benefits a charity for children battling cancer. All the performers open their routines by explaining why they've entered this event.
So Gianna told her story.
"I saw the judges' jaws drop in their seats," she said. "They were like, `This girl already won a title and she just had open-heart surgery?!'"
While the audience buzzed over her revelation, Gianna remained focused on the suffering kids.
It may be anti-climactic to note she won that crown.
"Miss Star of Hope is not as big as Miss Teen Starbound, but it meant more to me," she said. "When I won that, it was like: `This is complete.' I felt pure pride."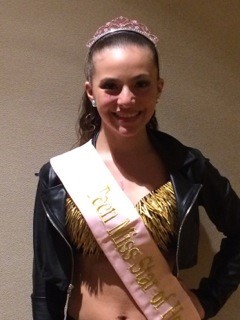 Over the last year, Gianna's health has continued to improve. She's also become more comfortable with her scar and the fact she's a survivor of a congenital heart defect.
In February, her story was featured at the American Heart Association's Go Red For Women Luncheon on Long Island. Her story has been told in her local media and she's had a surprise visit from Val Chmerkovskiy, the professional dancer who won the most recent "Dancing With the Stars" competition along with his partner Rumer Willis. Chmerkovskiy even talked of trying to get Gianna on the show.
This week, Gianna is back in Atlantic City defending her title as Miss Teen Starbound.
She qualified for Nationals using the same routine as last year's winner. It's retired now, replaced by a new routine. She learned it in June and after just two classes deemed it ready for the big stage.
She is not, however, competing again for Miss Star of Hope.
"I want to give someone else a chance to show why they are dancing," she said.
Still too young to drive a car, Gianna is a champion in so many ways. Part of that is being too humble to admit it.
Here's hoping the blush in her cheeks gives her away.