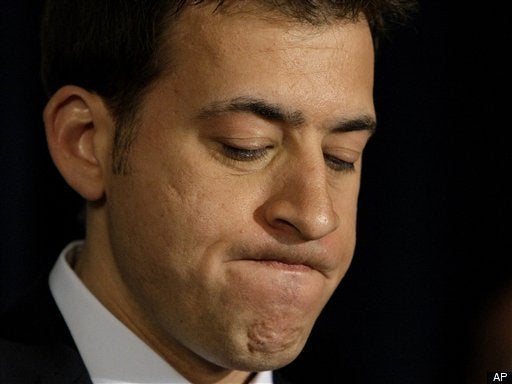 June should have been a great month for Illinois Senate candidate Alexi Giannoulias.
On May 31, footage surfaced of his opponent, Republican Mark Kirk, making the false claim that he won the Navy Intelligence Officer of the Year Award, an award that doesn't exist. Kirk spent much of the next month weathering a long string of revelations about exaggerations and embellishments of all kinds on his resume.
But despite the lambasting Kirk took in the media, the one thing in politics that talks louder than pundits is money--and the money had harsh words for the Giannoulias campaign this past quarter.
In the fundraising period from April 1 to June 30, Alexi Giannoulias took in just over $900,000, and he ended the period with over $1 million in hand. These numbers pale in comparison to Kirk's take, $2.3 million during the quarter, and his cash on hand, $3.9 million.
Giannoulias supporters might hope that the fundraising deficit for the quarter was due to the April collapse of his family's bank. But even in June, the month that Kirk was getting pummeled in the press, the Republican congressman out-raised Giannoulias; in fact, Kirk raised more in June than Giannoulias raised in the entire quarter.
Campaign spokeswoman Kathleen Strand told the Washington Post that Giannoulias' fundraising numbers were down because of his principles:
Strand said Giannoulias lagged behind in fundraising because of a self-imposed pledge to reject contributions from corporate political action committees and federal lobbyists.

"Alexi is running for Senate to stand up against powerful corporate special interests that contributed to our country's economic meltdown," she said.

She said Giannoulias supports the financial-regulation bill headed toward passage in Congress later this week while Kirk, 50, voted against the measure in the House.

But Rich Miller at the Capitol Fax blog, explained Thursday that the news is bad any way you spin it:
Giannoulias won't be able to sugar-coat this or excuse it. Kirk now has almost a four-to-one cash advantage over him, and there's no sign that Kirk has slowed down. He raised more than Giannoulias in June, which should've been a prime fundraising period for the Democrat since Kirk was getting bashed over not telling the truth about his military record. Time's running out to raise the big bucks necessary to compete in this state's expensive media markets. His supporters better hope he has a plan.

Indeed, the last quarter marked Kirk's best in fundraising to date, while Giannoulias collected more money in the first quarter of 2010 than the second.
While the cash may not be flowing in for his campaign, Giannoulias is closing the gap in the polls. At the beginning of the April-June quarter, polls showed Kirk consistently ahead by several points; now, as Lynn Sweet at the Chicago Sun-Times writes, "Most polls show the contest in a deadlock at this point."
Still, Giannoulias will need support from the national Democratic party -- including a President who is still quite popular in his adopted home state -- to get over the finish line in a race that continues to cause ulcers on both sides of the aisle.
REAL LIFE. REAL NEWS. REAL VOICES.
Help us tell more of the stories that matter from voices that too often remain unheard.