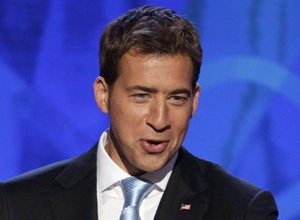 Democratic U.S. Senate candidate Alexi Giannoulias earned the endorsement of one of the state's largest unions Thursday, and a shot from a rival in return.
The Service Employees International Union announced it is putting its considerable political weight behind Giannoulias, the first-term state treasurer, in his bid for President Obama's former Senate seat.
"I am very proud that [SEIU] has joined the growing movement supporting this campaign," Giannoulias said at the announcement. "Their relentless pursuit of progressive polices, fair wages and holding our elected leaders accountable is a fight that I will take with me to Washington, D.C.."
The campaign of rival candidate David Hoffman lit into Giannoulias for the endorsement.
In a blog post on the campaign's web site Thursday, Daniel X. O'Neil, Hoffman's new media director, chastised Giannoulias for saying he was a candidate for change but who was "no doubt excited about stepping up to the same trough that netted Blagojevich more than a million dollars in campaign cash."
Accepting the SEIU endorsement plays right into the national GOP's strategy of making the race a referendum on the disgraced Blagojevich, O'Neil wrote, and Giannoulias is "serving them up a free punch ... This kind of merry-go-round involving the same cozy insiders doing the same political dance is what's wrong with Illinois politics."
The Hoffman camp tried to make clear that it has no problems with the SEIU's 170,000 Illinois members -- just with their head honcho, Tom Balanoff, who met with Blagojevich about the Senate vacancy but has not been charged with any crime or wrongdoing.
"David's beef is not with the rank and file members," campaign manager Michael Powell told the Huffington Post. "His beef is with Alexi. You can't run as the candidate of change and then be willing to accept the endorsement of the man who acted as Blagojevich's emissary to selling the very seat he's running for. The hypocrisy is breathtaking."
The Giannoulias campaign fired back its own statement back at Hoffman.
"It is not lost on us or progressives to see Hoffman, a guy who worked for ultra conservative Judges Rehnquist and Jacobs, echo a Republican smear campaign against working families," a campaign statement read.
Hoffman, a former federal prosecutor and until recently Chicago's inspector general, has made no secret of his clerkships for conservative judges and said that they don't mean that he shared their ideology. Hoffman has worked to cast himself as the reform-minded outsider in the race against Giannoulias and Cheryle Jackson, the former Chicago Urban League President and Blagojevich spokesperson.
The Hoffman campaign's prediction that the SEIU endorsement would make for a "good morning" for Republicans didn't exactly work out as planned.
A statement from the Illinois Republican Party noted that one of Hoffman's chief supporters has benefited from SEIU contributions and called on him to renounce that Senator's endorsement.
The Illinois Republican Party called on Illinois Senate candidate David Hoffman to renounce his endorsement by Illinois State Senator Jeff Schoenberg - a leading recipient of SEIU campaign contributions and the man who introduced Hoffman at his campaign kick-off event. [...] According to the Illinois State Board of Elections, Schoenberg accepted $13,400 in campaign contributions from SEIU. In addition, state records show Schoenberg also contributed $12,500 to Rod Blagojevich's campaign.
Calling all HuffPost superfans!
Sign up for membership to become a founding member and help shape HuffPost's next chapter