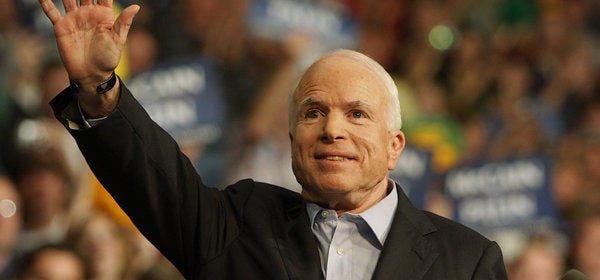 If you don't already do it, you really should be checking out the Anchorage Daily News site regularly, for local Palin news, editorials and op-eds, and its excellent Alaska Politics blog (special bonus Ted Stevens coverage there). Today, for example, the paper hits Palin hard in an editorial for abdicating to the McCain campaign on Troopergate.
And here's a brand-new gem on a stunning, overlooked McCain gaffe from David Hulen at the Alaska Politics blog:
Candidates spend a lot of time talking, and they all misspeak sometimes. But did anyone else notice this, from Wednesday's much-covered McCain-Palin Town Hall event in Grand Rapids, Mich., where Palin answered questions from people in the audience? McCain said this near the end of the clip below, as he's talking up Palin's foreign policy/national security credentials:

"I also know, if I might remind you, that she is commander of the Alaska National Guard. In fact, you may know that on Sept. 11 a large contingent of the Alaska Guard deployed to Iraq and her son happened to be one of them. So I think she understands our national security challenges..."

The ceremony Palin attended at Fort Wainwright last week didn't involve the Alaska National Guard. Palin's son is in the Army, and his unit - 1st Stryker Brigade Combat Team, 25th Infantry Division - deployed to Iraq.
More coverage on the media and the campaign here.
Greg Mitchell is editor of Editor & Publisher and author of the new book on Iraq and the media, "So Wrong for So Long."
Popular in the Community