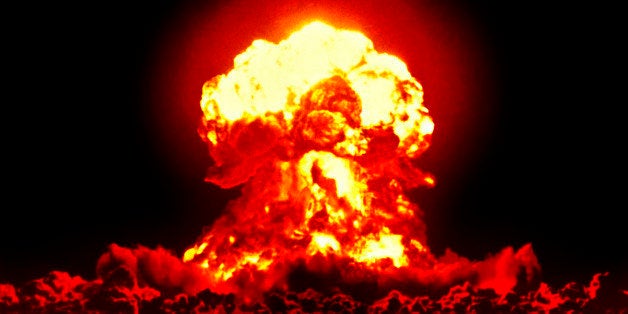 A very large gas pipeline will soon skirt the Indian Point Energy Center (IPEC), an aging nuclear power plant that stands in the town of Cortlandt in Westchester County, New York, 30 miles north of Manhattan. The federal agencies that have permitted the project have bowed to two corporations -- the pipeline's owner, Spectra Energy, and Entergy, which bought the Indian Point complex in 2001 from its former owner.
A hazards assessment by a former employee of one of the plant's prior owners, replete with errors, was the basis for the go-ahead. A dearth of mainstream press coverage leaves ignorant the New York metropolitan region's population of 20 million people, which stands to be impacted by a nuclear catastrophe. Experts say a disaster as great as or greater than Fukushima could be triggered by a potential gas explosion at the nuclear complex.
I urge readers of this blog to read the original report for Truthout on which it is based, "Doing the Unthinkable: A Giant Gas Pipeline to Flank a Nuclear Plant."
Since 2011, Spectra Corporation, owner of the 1,129-mile Algonquin Pipeline, which runs from Texas to Beverly, Massachusetts, where it connects with another pipeline running into Canada, has sought to expand the pipeline in order to transport fracked gas north from Pennsylvania. Spectra, one of the largest natural gas infrastructure companies in North America, calls the planned enlargements "The Algonquin Incremental Market Project" (AIM).
AIM includes a two-mile section of 42-inch pipe carrying gas under very high pressures. It is this pipeline segment that will flank IPEC, which stands in a seismic zone. The nuclear complex has a derelict history. In 2001, The New York Times reported that "the plant has encountered a string of accidents and mishaps since it went into operation on June 26, 1973." The IPEC has also been on the federal list of the nation's worst nuclear power plants.
Paul Blanch is a professional engineer with nearly five decades of experience in nuclear safety, engineering operations and federal regulatory requirements. He has security clearance for his work, and is a nuclear industry proponent. He has worked with the Nuclear Regulatory Commission since its inception and for utility corporations across the United States, including Entergy. He also works pro bono for nuclear safety and has been doing this for the town of Cortlandt and local organizations including the grassroots group, Stop the Algonquin Pipeline Extension (SAPE), which has been fighting AIM for the past year and a half.
"I've had over 45 years of nuclear experience and [experience in] safety issues," Blanch told me. "I have never seen [a situation] that essentially puts 20 million residents at risk, plus the entire economics of the United States by making a large area surrounding Indian Point uninhabitable for generations. I'm not an alarmist and haven't been known as an alarmist, but the possibility of a gas line interacting with a plant could easily cause a Fukushima type of release."
The potential hazards of the AIM construction near IPEC are no longer hypothetical. On March 3, 2015, the Federal Energy Regulatory Commission (FERC) approved the AIM project in its entirety, from New York to the Canadian border.
Pipeline ruptures are the commonest cause of gas explosions like the one that took place in March, 2014 in Manhattan's East Harlem, killing eight, injuring 70, and leveling two apartment buildings. Another erupted in 2010 in San Bruno, California, killing eight, and leveling 70 houses. There are far more, not amenable to short summary. The National Transportation Safety Board in January 2015 published a study according to which gas accidents in "high-consequence" areas -- areas where there are a lot of people and buildings -- have been rising. No place is of higher consequence than the New York metropolitan area, the region that would be devastated if a pipeline rupture and consequent gas explosion took place, triggering a nuclear catastrophe.
The process by which the Nuclear Regulatory Commission and the Federal Energy Regulatory Commission judged this lunatic "project" safe started when Spectra, owner of the pipeline, commissioned a hazards assessment by a former employee of one of Indian Point's prior owners before the corporation Entergy bought it in 2001. The assessment was replete with shocking errors. Paul Blanch submitted a petition to the NRC requesting it "take enforcement action" against Entergy "for providing inaccurate and incomplete information to the NRC" and requiring that the company explain itself. " Richard Kuprewicz, President of Accufacts, Inc., retained as a consultant by the town of Cortlandt where the nuclear plant stands, is quoted in Blanch's petition
Entergy's [document] contains numerous errors that are either an attempt to deceive decision makers, or reflect an incredible lack of pipeline experience, in appreciating the real risks associated with a large 42-inch gas transmission pipeline rupture in a very sensitive area.
The Nuclear Regulatory Commission ignored both experts' evaluations and judged the report adequate. On the basis of the NRC's evaluation FERC approved this "project," which places 20 million people at risk of nuclear peril. The whole business is not only a testimony to corporate recklessness and greed -- these are to be expected from the fossil fuel industry in general and the fracking industry in particular -- but to both FERC's and the NRC's prostration before corporations, and to their dereliction of responsibility to the safety of New York State's citizens.
On April 3, Senators Schumer and Gillibrand and Representative Lowey wrote a letter to the FERC chair, asking the commission to rehear the project. A lawyer for residents and municipalities affected by the AIM project, and a New York-New England grassroots coalition, No Pipeline Expansion (NOPE), which includes SAPE, mentioned above, has written a petition to the FERC requesting a rehearing. Ongoing information about what concerned citizens can do is at SAPE's website. I urge all New York State readers of this blog to call the Senators and Lowey, expressing their outrage. There cannot be enough phone calls to their offices.
Ellen Cantarow reported on Israel and the West Bank from 1979 to 2009 for the Village Voice, Mother Jones, Inquiry, and Grand Street, among other publications. Her book, Moving the Mountain: Women Working for Social Change (Feminist Press/McGraw Hill, 1981) is still in print and in wide classroom use. For the past four years she has been writing about the toll the oil and gas industries are taking on the environment for Tom Dispatch and Truthout. This blog condenses an April 15, 2015 report for Truthout.