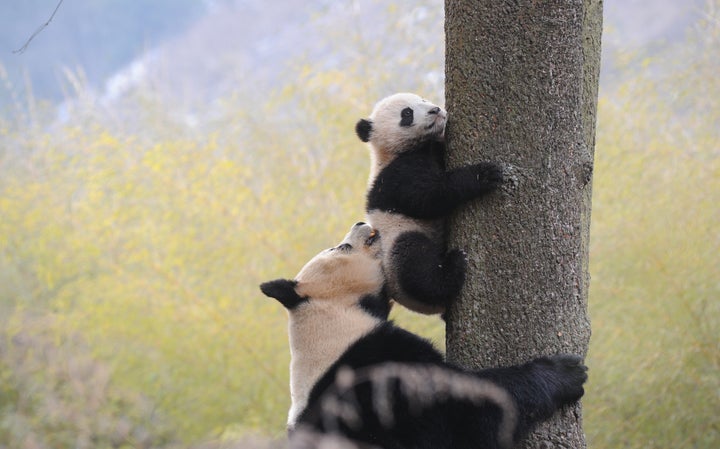 The giant panda, long a symbol of the conservation movement, is no longer listed as endangered, according to the International Union for Conservation of Nature.
The bamboo-loving bears have seen a 17 percent surge in population numbers in the decade ending in 2014, largely due to conservation efforts in their native China. The most recent panda census counted 1,864 of the animals, excluding those below a certain age threshold. If you include cubs, that number approaches 2,060.
"The decision to downlist the giant panda to 'vulnerable' is a positive sign confirming that the Chinese government's efforts to conserve this species are effective," the IUCN's latest assessment reads, before noting: "It is critically important that these protective measures are continued and that emerging threats are addressed."
The IUCN went on to warn that the decreasing availability of bamboo ― the prime source of nutrition for pandas ― due to climate change could further stress the animals. If the phenomenon continues unabated, nearly a third of the world's bamboo habitat could disappear in the next 80 years.
"The giant panda will remain a conservation-dependent species for the foreseeable future," the agency concluded.
The World Wildlife Fund, which has featured a panda in its logo since 1961 and long campaigned to raise awareness about the bears, praised the success of such conservation efforts.
"The recovery of the panda shows that when science, political will and engagement of local communities come together, we can save wildlife and also improve biodiversity," WWF director general Marco Lambertini said in a statement.
REAL LIFE. REAL NEWS. REAL VOICES.
Help us tell more of the stories that matter from voices that too often remain unheard.
BEFORE YOU GO
PHOTO GALLERY
Pandas Get to Know Their Wild Side