A gigantic, white rat was killed after being speared with a pitchfork at the Marcy Houses in the Bedford-Stuyvesant section of Brooklyn.
Jose Rivera, a Housing Authority worker, was clearing a rat hole last week when three of the mutants popped out, The New York Daily News reports, but he was only able to nab one. It appears to be almost three feet long, including the tail.
Naomi Colon, head of the Marcy Houses Tenant Association, told the News there have been sightings of the humongous rats for at least six years.
"In one day eight big size rats were killed," said a Marcy Houses resident who declined to be named for fear of reprisal from city or property management. They were found in and around the buildings of the Nostrand-Myrtle avenue section of the property and have been seen on the playground. "They come out at night and the daytime," said another resident who also did not want to provide a name.

Even before the mega-rats appeared, residents say the infestation of average rats was a problem. One resident recently described a frantic scene in which rats began scrambling across the nearby playground: "Adults had to grab children and run because a lot of rats came on the playground. The kids were screaming."
An expert at the Wildlife Conservation Society told the News the slain monster was likely a Gambian pouched rat, and was probably an escaped or discarded pet.
Importing Gambian pouched rats to the United States was banned almost a decade ago after they caused an outbreak of monkey-pox that sickened 100 people.
Pam Davis, 43, told the News, "They're here day and night. We don't dodge bullets. We dodge rats. They're so big, they should charge them rent."
Earlier this summer, pest control experts warned staff cuts to the Pest Control Bureau would cause a "rat epidemic" in the city.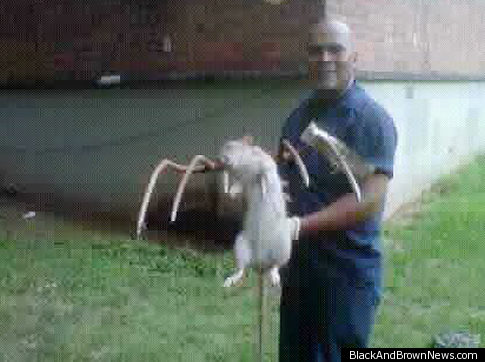 CORRECTION: An earlier version of this story reported that the giant rat was killed this week, when in fact it was killed last week.
Related
Popular in the Community