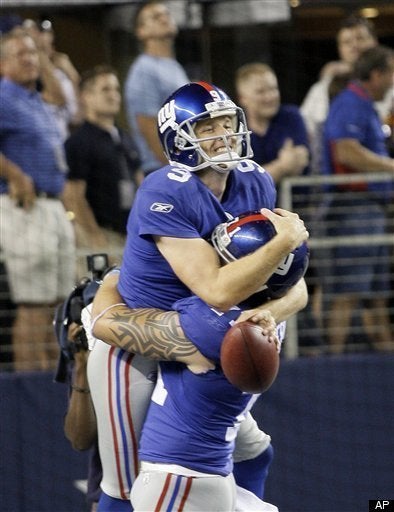 Football fans are well acquainted with the perils of "looking ahead" of an opponent. As the theory goes, a team that looks ahead to the future runs the risk of getting their asses kicked in the present. Paradoxically, the Giants might want to look ahead of Sunday's game with the inept Oakland Raiders, the better to lend this game a sense of urgency.
Beginning with a trip to New Orleans a week from Sunday, the Giants play six of their next eight games against teams that made the playoffs last year. The other two games - against Denver and Dallas - are against a currently undefeated team and one that outplayed them three weeks ago. Yikes. The Giants better take care of business against the Raiders.
Giants Offense vs. Raiders Defense:
The Raiders actually have a decent defense. Who knew?
They are particularly adequate against the pass. Last year, they ranked 13th in the league in pass defense according to DVOA, a stat developed by the smart folks at FootballOutsiders.com that measures each play of the NFL season and adjusts for game context and opponent. This year, they rank 11th.
Their competence owes largely to Nnamdi Asomugha, who is toiling in obscurity at a Hall of Fame level. Asomugha will probably line up opposite Steve Smith, the Giants newly anointed number one. This puts the onus on Mario Manningham and Hakeem Nicks to step up - despite Manningham's dropsies and Nicks' Week 1 injury, both have generally looked encouraging. Their task on Sunday is made all the more urgent by the probable absence of Kevin Boss, who is doubtful with an ankle injury.
The Raiders also do a good job getting to the quarterback. Last year, they ranked sixth in the league in Adjusted Sack Rate, a Football Outsiders stat that adjusts a team's raw sack total for pass attempts and situation. This year, led by new additions Richard Seymour and Greg Ellis - who have 2 and 4 sacks, respectively - the Raiders have registered 9 sacks and rank 12th in the league in this category.
While the Raiders are fine against the pass, they struggle to stop the run. This year, they rank 24th in DVOA after ranking 27th last year. Because of their deficiency against the run and the lockdown presence of Asomungha, expect them to stack the box against the Giants.
This means that this battle will hinge on the question of the week: Will Eli Manning play? All signs point to yes. After missing practice on Wednesday and Thursday, Eli got rave reviews for his performance in Friday's practice, with Tom Coughlin saying he was "absolutely encouraged" by what he saw. Eli is listed as questionable and will be a game-time decision, but Giants fans will be very surprised if he doesn't play.
Raiders Offense vs. Giants Defense:
The Raiders have always marched to the beat of their own drummer. That was a good thing in the 1970s, when Al Davis was ahead of the curve in embracing the vertical passing game and mining undervalued talent. But Davis' renegade approach has morphed into a detachment from reality. Davis once boasted that he only needed to watch a player for 10 seconds to size him up. These days, you get the sense that he is adhering - literally - to that 10-seconds-or-less philosophy.
For 10 seconds, Quarterback JaMarcus Russell, a physical specimen with a rocket-arm, might look like a Hall of Famer. But watching him through two disappointing years and a historically awful start to his fourth season - his completion percentage is an flabbergasting 39.8 percent - yields a different apprehension.
Davis didn't even need 10 seconds to fall in love with Darius Heyward-Bey, the latest Raiders first rounder on the fast-track to busthood. Rather, he only needed 4.2 seconds, the 40-time Heyward clocked at Maryland, to draft him ahead of Michael Crabtree, the consensus best receiver. This nonsensical pick not only indirectly touched off the Michael Crabtree holdout - Crabtree refused to take less money than Heyward-Bey on account of Al Davis' opinion - it has also contributed to Russell's historically bad completion percentage. Of the 83 players who have been targeted on a minimum of 13 passes, Heyward-Bey ranks dead last by a wide-margin, having pulled in a staggeringly low 11 percent of passes thrown in his direction.
The Raiders other starting wide receiver, rookie Louis Murphy, has fared much better than Heyward-Bey - but far worse than nearly every other NFL receiver - by catching 37 percent of the passes thrown to him. It's sad that a team once on the cutting edge of NFL passing is now a laughingstock in this regard. Not surprisingly, the Raiders' passing offense ranks last in the league by a wide margin. Last year, it ranked 30th, or third-to-last.
If anything, things will get even uglier this week because the Raiders are playing with a patchwork line. Their starting right tackle and left guard are both out, and the consequent mixing and matching means only two starters will be playing in their normal positions. The Giants pass rush came alive last week and should be in for another big game.
The line situation will also effect the Raiders running game, which ranks 28th in DVOA this year after ranking 31st last year. So too will the absence of Darren McFadden. The Raiders will rely instead on Michael Bush and Justin Fargas, two serviceable players who don't inspire fear.
A concern for the Giants is their lack of depth at linebacker. Both Michael Boley (out a few weeks) and Brian Kehl (week-to-week after finger surgery) will miss time, leaving the weakside duties in the hands of Chase Blackburn. Blackburn is capable, but the untested Brian Goff, Zak DeOssie, and Clint Sintim are the only linebackers off the bench if somebody goes down.
Prediction: With the Raiders offense as woeful as it is, it's hard to picture the Giants losing this game. Does the "Any Given Sunday" maxim apply when one of the teams' quarterback is completing fewer than 40 percent of his passes? Giants 24 - Raiders 7.
REAL LIFE. REAL NEWS. REAL VOICES.
Help us tell more of the stories that matter from voices that too often remain unheard.