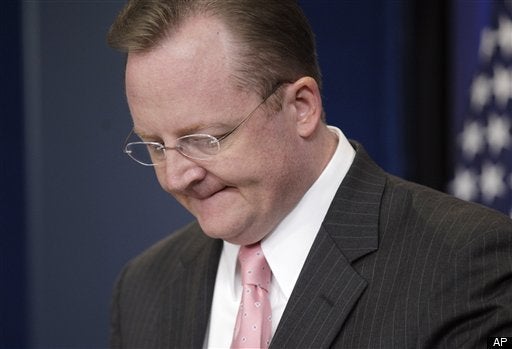 WASHINGTON -- White House Press Secretary Robert Gibbs on Wednesday both figuratively -- and somewhat literally -- brushed off Republican threats to filibuster any legislative measure prior to consideration of tax cuts and budget matters.
Speaking during his daily briefing, Gibbs took a disciplined route to the high road. Hours earlier, the entire GOP caucus in the Senate announced that it would not allow a debate on Don't Ask Don't Tell or the DREAM Act if it came before resolution of the Bush tax cut debate. Sen. Jon Kyl (R-Ariz.) insisted that if the latter issue isn't resolved by next Monday, a nuclear non-proliferation treaty with Russia would fall by the wayside (at least in this lame duck session) as well.
But the White House Press Secretary seemed unmoved. "I'm a hopeful man," he said at one point, sounding as if the administration had all along figured that a host of major legislative initiatives would come down to the closing weeks of the calendar year.
"I think there is -- with a willingness to find common ground -- plenty of time to solve the issue of taxes and do many things are back," he added. "I don't think there is anything that precludes a healthy legislative agenda... not at all... despite what is said on the Hill."
The press secretary was in such a mood of nonchalance that at one point, when he noticed a small spider crawling across his suit, he not only removed the critter but also drew symbolism from its presence on the podium.
Was he totally brushing off the filibuster threats from the GOP? "Mmm hmmm," he replied, dangling the insect from his finger, "much like this spider."
On the Hill, temperaments weren't quite as cool. One Democratic Senate aide called the idea that the White House wouldn't put up a more confrontational front "sad, but par for the course."
Earlier in the day, Senate Majority Leader Harry Reid (D-Nev.) took to the floor to criticize Minority Leader Mitch McConnell's antics. Gibbs not only wasn't exhibiting condemnation, he nearly adopted McConnell's preference for legislative scheduling.
"I think there is plenty of time to get plenty of work done. I think we all agree that we have to get the tax issue resolved by the end of the year. I think we can get an agreement at some point on that and then figure out a sequencing for the rest of this... I'm not hung up on their letter -- how about that?"
Calling all HuffPost superfans!
Sign up for membership to become a founding member and help shape HuffPost's next chapter