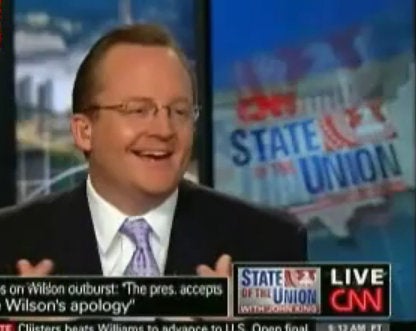 White House Press Secretary Robert Gibbs insisted on Sunday that the administration remains committed to trying Khalid Sheikh Mohammed and securing a death sentence. But for the first time in the lengthy debate over what judicial rights should be granted to terrorists, Gibbs hedged about whether the 9/11 planner and others will be tried in civilian or military court.
Pressed by CNN's John King on whether the White House remained committed to the civilian court route -- despite tough criticism from Republicans and concerns among Democrats over costs -- Gibbs initially dodged.
"He will be brought to justice and he is likely be executed for the heinous crimes he has committed in masterminding the killing of 3,000 Americans," he told on CNN's "State of the Union." "That you can be sure of."
Pressed further, Gibbs finally replied: "The Attorney General believes the best place to do this is in an American courtroom" -- hardly a definitive endorsement of the civilian system.
The hesitancy in Gibb's response comes as other administration officials have acknowledged that concerns over security and costs could make a trial of KSM in New York City improbable if not impossible.
As Gibbs noted, much of the Republican critique represents a double standard. The Bush administration held several high-profile terrorist trials in civilian courts. Nevertheless, appearing after him on CNN, Senate Minority Leader Mitch McConnell (R-KY) pledged to do everything in his power to stop the Obama administration from holding the KSM trials in New York, including efforts to block funds for the trial.
"Yes, absolutely," said the Kentucky Republican. "And I think that will be done on a bipartisan basis."
"The only time the administration ever cites the previous administration is to mention there was some terrorist tried in U.S. courts," McConnell said earlier. "We now know that was a mistake."

Popular in the Community