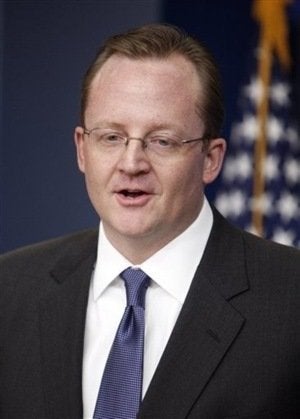 White House press secretary Robert Gibbs hinted on Tuesday that the administration and congressional lawmakers will relent to bipartisan pressure and allow C-SPAN cameras in the room during the final stages of health care negotiations.
Asked if President Obama will stay true to his campaign commitment to transparency as Senate and House lawmakers work to conclude health care reform's passage, Gibbs was coy. "Stay tuned," he told reporters in response to a question from liberal talk show host Bill Press.
Combined with the smirk on his face, the implication of Gibb's statement seemed to be that cameras will be allowed to capture future health care discussions (or, perhaps, other legislative negotiations).
On Monday, the president himself suggested as much. In a sit-down with ABC's Dianne Sawyer, Obama called the decision to hold negotiations on health care legislation without the cameras present a "legitimate mistake." Certainly, he broke a campaign pledge. Going forward, the president stressed a more open process:
"Part of what I had campaigned on was changing how Washington works, opening up transparency and I think it is -- I think the health care debate, as it unfolded, legitimately raised concerns not just among my opponents, but also amongst supporters that we just don't know what's going on. And it's an ugly process and it looks like there are a bunch of back-room deals.

Now I think it's my responsibility and I'll be speaking to this at the State of the Union, to own up to the fact that the process didn't run the way I ideally would like it to and that we have to move forward in a way that recaptures that sense of opening things up more."
Popular in the Community