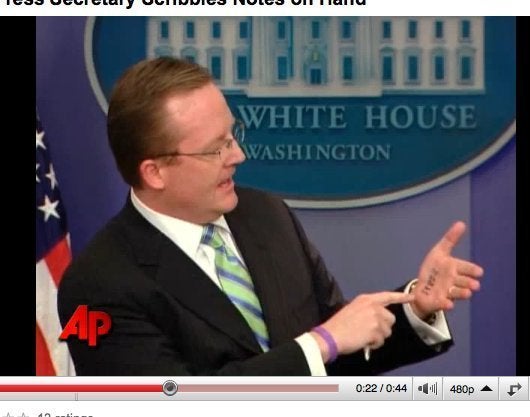 In a dig at former Alaska Gov. Sarah Palin, White House Press Secretary Robert Gibbs took time during Tuesday's briefing to read a mock grocery list that he had written in pen on his left hand.
"Eggs, milk and bread," Gibbs read from the black ink stains on his palm, claiming he was going to "make pancakes" for his son Ethan.
"But I crossed out bread," he added, pointing to the line that, indeed, x-ed bread off the list.
"Then I wrote down hope and change just in case I forgot them."
The obvious dig at Palin drew giggles from the press corp. The former vice presidential candidate turned darling of the far right has been getting ribbed for writing crib notes on her left hand before a question and answer session at the Tea Party convention on Saturday night.
Gibbs's comedy act was not entirely original, however. Huffington Post senior congressional correspondent Ryan Grim did his own "grocery-list-on-my-palm" routine on MSNBC the day before.
For her part, Palin poked a little fun at herself during an appearance on Sunday, writing "Hi Mom" on her palm.
Here is video of Gibbs from Tuesday's briefing:
Calling all HuffPost superfans!
Sign up for membership to become a founding member and help shape HuffPost's next chapter