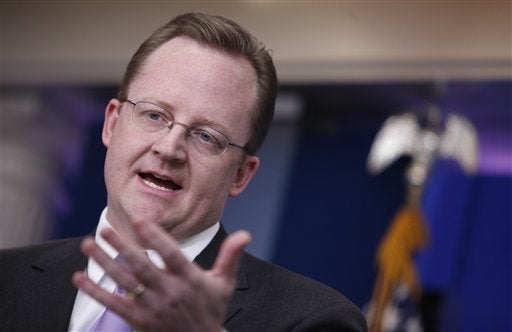 White House spokesman Robert Gibbs told reporters that, as far as he knows, there isn't a single official inside the White House who backs Sen. Joseph Lieberman's (I-Conn.) proposal to strip the citizenship of Americans linked to terrorist groups.
Asked about the controversial idea during Thursday's briefing, the press secretary didn't get too far in the weeds, save to say: "I have not heard anybody inside the administration who is supportive of that."
The comments came just hours after Lieberman unveiled a proposal that would allow the State Department to strip an American citizen of their citizenship should he or she have ties to a terrorist organizations or their affiliates. Legal experts have raised serious concerns with the constitutionality and message sent by the measure, with one former Bush administration State Department lawyer going so far as to call it "draconian."
But Lieberman does have bipartisan backing -- undoubtedly riding a wave of concern over the recent attempt by an American citizen to set off a car bomb in Times Square.
Asked by the Huffington Post to elaborate on the administration's opposition, Gibbs didn't provide many details. He relayed that no one in the White House thought the idea would be an "effective" counter-terrorism measure and noted that, despite the bipartisan rollout, "Democrats and Republicans alike [have] express[ed] concern."

Calling all HuffPost superfans!
Sign up for membership to become a founding member and help shape HuffPost's next chapter