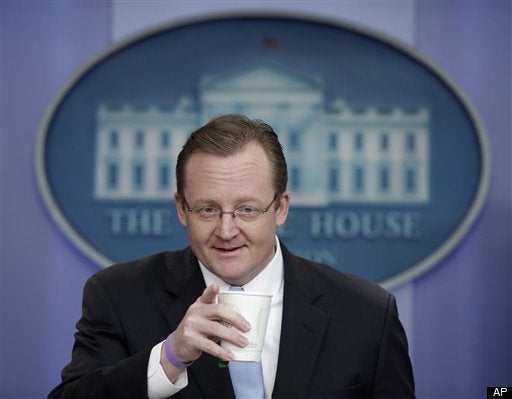 White House Press Secretary Robert Gibbs sought on Friday to put an amicable coda on his tussle with the "professional left," telling the Huffington Post that the President continues to welcome the pressure he gets from his progressive base.
Addressing the issue four days after he initially chastised liberal (cable news) critics for having demands of the White House that he deemed "crazy," Gibbs once again stood by those remarks.
"There are a small number of people on cable and elsewhere who will never be happy, who will never give the President credit for anything, and who will always look for some cardinal sin to be upset about," the press secretary said in an email to the Huffington Post.
But, from there, he offered a far more conciliatory if not diplomatic reflection on the riff that briefly dominated macro-political debate within the Democratic Party.
"I also stand by my statement... that the vast majority of progressives and those on the left, whether that's bloggers or groups or what have you, do not hold those beliefs and are pushing in good faith for a better country as they see it," Gibbs added. "The President has urged those who want change to push for it and hold him accountable, and that's how he feels."
The latter remarks are far more tempered than those Gibbs offered during his daily briefing on Wednesday. Pressed then to expand on why he had disparaged the "professional left" -- for demanding, among other things, the elimination of the Pentagon and Canadian style health care -- Gibbs declined to name names but did little backtracking. Not only did he stand by the criticism, he said, he fully expected progressive voters to go out to vote come November.
The entire episode was greeted with shrugs and jeers within the party, depending, of course, on who was asked. Several progressive lawmakers called for Gibbs' resignation. The more common reaction was offered by DNC Chair Tim Kaine.
"That was definitely one where, you know, it should have stayed in the thought bubble over his head than being spoken," Kaine said, during an appearance on "Morning Joe" on Wednesday. "Look, it's been a hot summer in Washington and I've said things like that too and my temper got the best of me... As Democrats, we tend to be an impatient party. This is something that I know and I kind of love about us. Edison said discontent is the first sign of progress. If you're complacent, you don't push."
On Wednesday, Gibbs gave off the impression that there was little concern inside the White House about the impact his remarks might have. In offering the final clarification to the Huffington Post it stands to reason that the press shop wasn't necessarily satisfied with the impression that had been left.
Popular in the Community