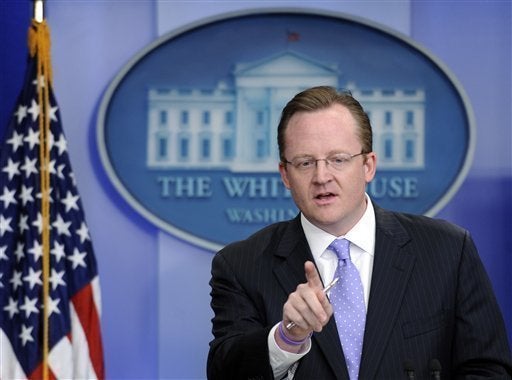 WASHINGTON -- White House Press Secretary Robert Gibbs reiterated on Thursday that the president will be open to extending the upper-end Bush tax cuts for one or two years as part of a broader compromise with Republicans.
"He would be open to having that discussion and open to listening to what the debate is on both sides of that," said Gibbs, during an off-camera gaggle with reporters. "Obviously... making those tax cuts for the upper end permanent is something the president does not believe is a good idea."
The issue, Gibbs said, will be a topic of discussion when the president convenes a bipartisan meeting of lawmakers at the White House in two weeks. Included in that meeting (and working dinner) will be Speaker Nancy Pelosi (D-Cali.), incoming Speaker John Boehner (R-Ohio), Majority Leader Steny Hoyer (D-MD), incoming Majority Leader Eric Cantor (R-Va.), Senate Majority Leader Harry Reid (D-Nev.), Majority Whip Dick Durbin (D-Ill.), Senate Minority Leader Mitch McConnell (R-Ky), and Minority Whip Jon Kyl (R-Ariz.).
At his press conference on Wednesday, the president expressed his first openness to date with the process of negotiating on the Bush tax cuts, which are set to expire at the end of the year. Earlier, the administration had insisted that extending those cuts for the wealthy (families making more than $250,000 a year) would be off the table -- wary that extending them temporarily would simply invite lawmakers to keep extending them indefinitely.
Tuesday's elections, undoubtedly, changed the dynamics and, in turn, has given Republicans little incentive to compromise. Appearing on MSNBC, Sen. Orinn Hatch (R-Utah) said he saw no room for negotiating on the Bush tax cuts. All of them, he argued, should be extended.
"He is certainly willing to listen to both sides," said Gibbs when press specifically on a one or two-year extension for the tax cuts for the wealthy.
"It is again, November 4. We know that, when this year ends, tax rates are going to go up for the middle class... So if we don't act on the expiring tax cuts by the end of this year, we know what's going to happen... We have both houses coming back and this is an issue that must and has to be dealt with."
Popular in the Community