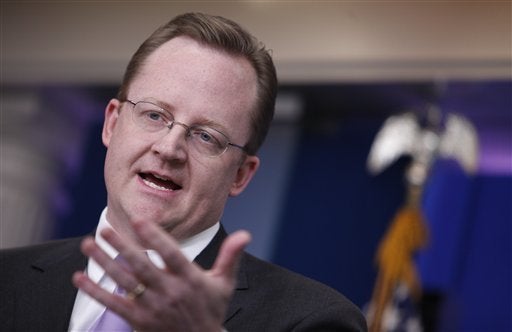 The Obama administration said on Tuesday that it expects financial regulatory reform to pass through the Senate -- maybe even through Congress -- by late May, establishing the type of timeline that frequently vexed the president during the health care debate.
"I don't think that is an unrealistic timetable at all," White House Press Secretary Robert Gibbs told reporters, when asked about "a push to get the bill to the president's desk by the end of May."
"Obviously we have had a bill through the House, a bill through the [Senate Banking] Committee, un-amended, nobody on the Republican side even offered an amendment. So I think the next piece of business that the Senate will take up will be financial reform," Gibbs added. "I don't think that [late May] is unrealistic. I think without a doubt the president would like to see, with his signature, sprawling rules in place, certainly prior to the two year anniversary of the collapse of our economy. So I think we are on a pace to make those changes quite quickly."
Following the briefing, a White House aide told the Huffington Post that the goal remains to have the Senate pass its bill by the end of May -- not necessarily to have both chambers get a merged bill to the president's desk (which is what the questioner asked).
Either way, the timeframes represent an accelerated push on the administration's behalf to push regulatory reform into law. On Tuesday, Obama aides and Treasury Secretary Timothy Geithner were scheduled to meet with Paul Volcker -- the influential presidential adviser who has forcefully argued that the administration should take a tough line with big banks -- to discuss reg reform matters.
The ultimate objective, as Obama spokesperson Jen Psaki told the Huffington Post, is to have new rules in place by "at least by the two-year anniversary of the crisis." The time certainly now looks ripe to push the bill over the finish line. The president appears ascendant following his health care reform victory last week. And several Senate Republicans -- namely Judd Gregg of New Hampshire and Bob Corker of Tennessee -- have conceded that some form of legislation will make it into law.
"This is an issue that almost every American wants to see passed,'' Corker said. "There will be a lot of pressure on every senator and every House member.''
Asked what the White House is preparing to do to obtain some Republican support for the enterprise, Gibbs suggested that there isn't a lot of legislative wiggle room.
"We are not going to compromise on what we believe represents a very strong piece of legislation," he said. "The president is going to outline the plan that he believes best puts those rules of the road in place, ensures a strong, independent Consumer Financial Protection Agency, provides the type of clarity and disclosure that the American people need to judge financial reform... I think we are on the path to do that."

Popular in the Community