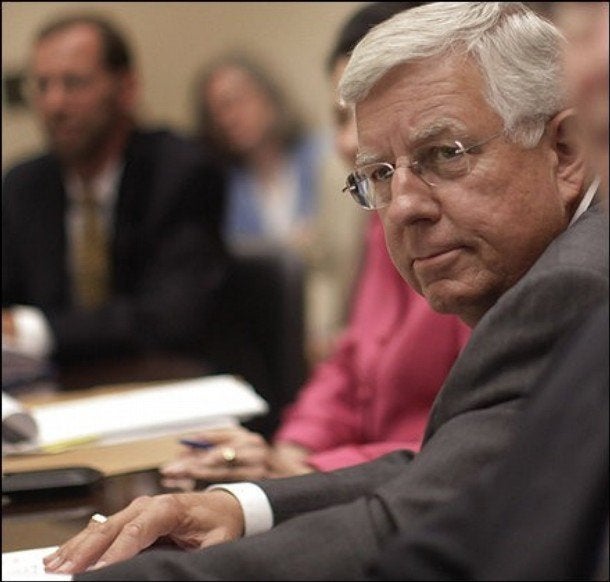 The White House on Monday accused one of the key Senate Republicans working on health care legislation of abandoning efforts at crafting a bipartisan bill.
While criticizing the GOP's overall approach to the debate, Press Secretary Robert Gibbs made a point of singling out Sen. Mike Enzi (R-Wyo.), one of the three Republicans in the Finance Committee's negotiating "Gang of Six."
"It appears that at least in Senator Enzi's case, he doesn't believe that there is a pathway to get bipartisan support, and the president thinks that is wrong," said Gibbs. "I think Senator Enzi has clearly turned over his cards on bipartisanship and decided it is time to walk away from the table."
Gibbs's comments came after Enzi told a Wyoming town hall audience last week that would not compromise with Democrats. And in a radio address on Saturday, Enzi accused Democrats of proposing health care reform that "will actually make our nation's finances sicker without saving you money."
"I think the radio address over the weekend by Senator Enzi, repeating many of the generic Republican talking points that Republicans are using, that have bragged about being opposed to health care, are tremendously unfortunate, but in some ways illuminating," said Gibbs.
In targeting Enzi, Gibbs offered the strongest hint to date that the White House is fed up with the process and progress of bipartisan negotiations in Congress. Asked whether he thought Republicans were negotiating in good faith, he shot back:
"That is a question you should ask them. I think, again, some of the comments that have been made certainly seem to suggest to anybody who reads them that they see to be less interested in the bipartisanship they talked about only a few weeks ago."
The press secretary called the recent slew of largely negative health care-related comments from Republican senators "tremendously unfortunate."
"It looks like Republicans are stepping away from seeking a bipartisan solution," said Gibbs. "It is bad for this town but it's worse for this country."
Sen. Chuck Grassley (R-Iowa) -- another key Republican negotiator in the Senate -- recently sent out a fundraising letter touting his work holding up the President's agenda.
"The simple truth is that I am and always have been opposed to the Obama administration's plan to nationalize health care," he wrote. "Period."
Popular in the Community