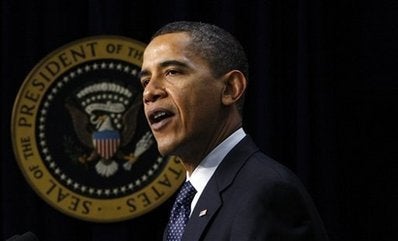 President Barack Obama has issued orders for the implementation of his Afghanistan strategy to military officials and cabinet members, spokesman Robert Gibbs said on Monday.
"The commander in chief delivered the orders," said Gibbs, adding that the calls went out from the Oval Office between 5 and 6 p.m on Sunday afternoon, communicating his strategy to allied world leaders. Obama is slated to meet with roughly 30 select members of Congress to discuss his plans on Tuesday. And the president is set to meet on Monday with Australian Prime Minister Kevin Rudd, in addition to hosting phone conversations with French President Nicholas Sarkozy, British Prime Minister Gordon Brown and Russian president Dmitry Medvedev.
Obama's strategy is believed to include an escalation of approximately 30,000 troops in the nine-year-long war. Gibbs added that in Obama's Tuesday night speech detailing the Afghanistan strategy to the American public, the president will stress that America's commitment to the war is not open-ended.
Gibbs did not get into specifics, including whether there will be timelines for removing U.S. troops, what will happen if benchmarks are not met by the Afghan government and how the war will be paid for.
"Obviously the president is going to reiterate a number of things that you have all had a chance to talk about: the limits on our resources, both from a manpower perspective as well as a budgetary perspective," said Gibbs. "And the president will talk about how... this is not an open-ended commitment. That the goal and the purpose of the strategy is to train an Afghan national security force comprised of an Afghan national army and a police that can fight an unpopular insurgency in Afghanistan."
Popular in the Community