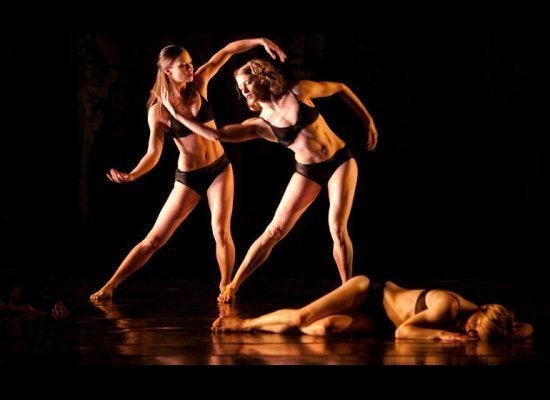 "New York City has long been central in the history and development of contemporary dance. If we value dance as an art form, we must commit to supporting the development of dance artists and their work, particularly with regard to workspace needs for creative growth, research and development".
Recently, when an additional 8,400 square feet of space adjacent to Gibney Dance Center (GDC) became available, Gina Gibney, founder of Gibney Dance, saw an opportunity to do something revolutionary. The space, located at 890 Broadway, a historic building in New York City, known for housing performing arts organizations, has been the home of her company for 20 years. In order to realize her dream of expansion, Gibney set to work developing a new model designed to leverage revenue generated from commercial space rentals to make GDC space more affordable to not-for-profit dance organizations. Funds will simultaneously underwrite the work and programs of her dance company.
GDC Studio 6, Image Property of Gibney Dance Center
The new model for space expansion is unique in that a dance company has seen it to fruition, rather than an organization geared toward studio classes or performances. Moreover, Gibney Dance is using the funds generated by this venture to do more than pay rent. In essence, revenue will subsidize their nonprofit colleagues by maintaining a space that is affordable, and focused on community building. The center will also provide services including showings of choreographers' work and the development of a small media center to support various aspects of the creative process.
GDC is fortunate to have the backing of their long-term landlord, Eliot Feld's Ballet Tech, who has enthusiastically given the endeavor his confidence and support. Even as the ink on the lease and paint on the walls dries, GDC opens five additional rehearsal studios, waiting areas, dressing rooms, and production offices.
In keeping with Gibney's vision, this space is artist-driven and focused: intended to be "neutral" -- a blank slate for choreographers to enter and work as they wish. GDC desires to support renters of space to the fullest extent, providing choreographers with what they need to work productively within the space.
Considered a pioneer in elevating the arts through broader community partnerships, Gibney has influenced the New York Dance / Community in numerous ways. In addition to Gibney's acclaimed choreography, she has been lauded for establishing Community Action Initiatives, which are designed to empower youth, survivors of domestic violence, and individuals affected by HIV/AIDS through dance and creative expression. Gibney Dance also shares their community-focused strategies with other dancers and organizations. This center aligns perfectly with the 20 years of service and creativity that Gibney Dance celebrated just last week.
In 1991, Gibney Dance (GD) founded Studio 5-2 at 890 Broadway as a home or the company and a center of activity for the dance community. In the fall of 2010, GD leased two additional spaces at 890 Broadway to form Gibney Dance Center (GDC), an integrated facility comprised of three spacious studios. The expansion has been a great success and the spaces are in constant use by a growing roster of artists. In six months of operation, GDC has succeeded not only in providing the valuable resource of space but also in generating adequate income to cover their operating expenses.
"You have to be willing to apply your creativity and resourcefulness not only to your work but to the business of your work. Economic challenges and the rapidly changing focus of funders require constant adaptation. Adaptation may sound healthy from a business perspective, but for an arts organization it zaps time and resources that would be better applied to making art or implementing programs. If you believe in your work, you can't stop - but you may have to constantly refocus and regroup in order to survive."
The dance and performing arts community have a significant unmet demand for suitable rehearsal space, and the GDC expansion will make high quality, affordable space more broadly available. In addition, the expanded Center will provide a "creative hub" of enhanced programs and services. Gibney Dance is ideally positioned not only to develop this concept but to create a new model for revenue generation for the arts.

Calling all HuffPost superfans!
Sign up for membership to become a founding member and help shape HuffPost's next chapter