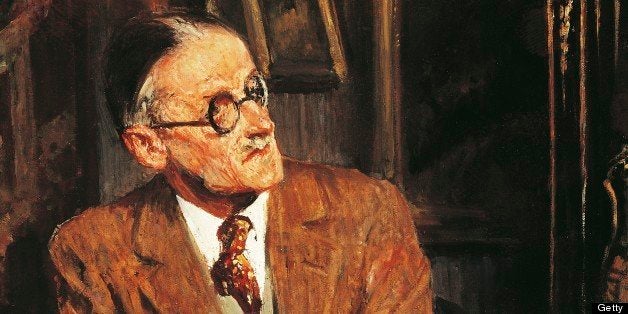 For James Joyce fans and scholars looking for a way to celebrate Bloomsday but haven't the time to attend a complete reading of Ulysses, the Irish Repertory Theatre has a worthy alternative in Gibraltar, a play by Patrick Fitzgerald adapted from Joyce's epic novel that boasts two knockout performances by Fitzgerald and Cara Seymour.
Arriving just before the 109th anniversary of one of English literature's most commemorated dates -- June 16 -- and directed by the estimable Terry Kinney, Gibraltar is a deftly edited account of the peregrinations of Leopold and Molly Bloom on that day in 1904 on which the entire novel takes place.
Fitzgerald clearly knows his Joyce and has a fine ear for the poetic imagery from one of the greatest masters of the English language. Fitzgerald opens Gibraltar with Part II of the novel, then takes the audience on an abbreviated two-hour tour of Bloom's day.
It begins with Bloom cooking his morning kidney and taking the tea and mail up to Molly, still in bed. We follow him into the outhouse, then out on the town in Dublin as he buys a paper, stops in the chemists, and attends poor Paddy Dignam's funeral. Then it's on to the bookseller, Davy Byrne's Bar, and finally Sandymount Strand.
Obviously, there must be omissions. We never meet Stephen Dedalus, for example, or Buck Mulligan or Kinch, that fearful jesuit. Blazes Boylan and Citizen are in Byrne's bar, however, and Gerty MacDowell is on the Strand for the fireworks. And there is the magnificent Joycean language casting its magic spell, even in the sort of highlight tour of Ulysses that Gibraltar offers.
Stream of consciousness is one of the most difficult narrative styles for an actor to perform. But Fitzgerald and Seymour are in and out of the minds of Bloom and Molly with clarity and understanding as thought by subconscious thought flows naturally. Each actor plays several parts. Fitzgerald is also Citizen and Seymour takes on their daughter Milly, Boylan, Gerty, even the Bloom cat, among others.
Fitzgerald also employs a couple of dramaturgic devices -- a Narrator and a Muse -- to move the action along and fill in some gaps. And in Molly's classic reverie at the end, he sits in his skivvies and socks, with a hole in one toe, and punctuates that famous monologue at several points with shorthand headings of the Beatitudes. In a program note, he explains that when Joyce began work on those last 40-odd pages, he wrote Harriet Weaver it would be 8 or 9 sentences long, and that a theological dispute of the time was over whether there were 8 or 9 Beatitudes.
Seymour is simply brilliant in that last section, from "Yes ..." to "...Yes," a remembrance of her things past, from that very morning all the way back to her native Gibraltar, with a twinkle and a melancholic smile. It's a real tour de force.
Kinney, who is also a splendid actor in his own right, moves the play along at a speed of thought, lingering slightly over the more pensive passages, revving up the pace in the bar, and making sure his cast gives every syllable of Joyce's words its just due.
Calling all HuffPost superfans!
Sign up for membership to become a founding member and help shape HuffPost's next chapter