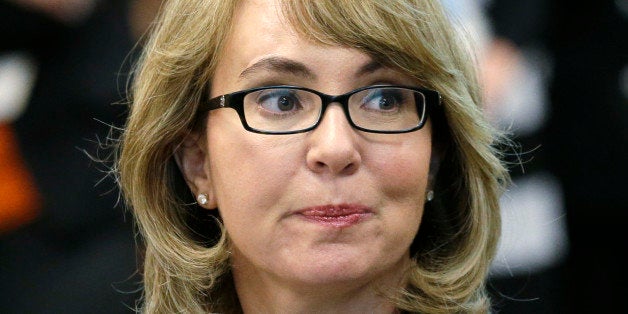 WASHINGTON -- Amid a high-profile fight with a leading gun-control group, a Republican congressional candidate in Arizona has come out in support of new gun restrictions for convicted stalkers.
Martha McSally, a retired Air Force combat pilot who is running to unseat Rep. Ron Barber (D-Ariz.), said for the first time on Tuesday that she supports a bill that would make it illegal for those convicted of misdemeanor stalking to purchase firearms.
"Martha supports the full enforcement of federal laws that are in place to keep guns out of the hands of prohibited persons, including convicted felons (including stalkers), domestic abusers, the mentally ill, and people in the country illegally," said Patrick Ptak, McSally's campaign spokesman. "On the issue of stalking, as a victim of stalking herself, Martha firmly believes convicted stalkers should be prohibited from obtaining firearms in all cases, and claims to the contrary are 100 percent false.
"Martha supports adding misdemeanor stalking to the list of criminal offenses that would keep dangerous individuals from obtaining guns in other states where stalking can also be a misdemeanor," Ptak added.
McSally's statement comes days after Americans For Responsible Solutions, the gun group started by former Rep. Gabby Giffords (D-Ariz.), ran a television ad in Arizona hitting McSally for being unwilling to limit stalkers' access to guns. The ad features a woman whose 19-year-old daughter was stalked and killed by her ex-boyfriend. "Martha McSally opposes making it harder for stalkers to get a gun," says the woman. "I don't think she really understands how important that is to a lot of women."
ARS said Tuesday that it will take down the ad, which has been running for seven days, in response to McSally's announcement. Pia Carusone, a spokeswoman for the group, told reporters that it's "great news" that McSally has "changed her view" on expanding background checks to include stalkers.
"This issue is not going to be effectively addressed in Congress unless there are Republicans who are willing to stand up to the gun lobby and do the right thing," Carusone said.
The ARS ad generated controversy after McSally called it "malicious" and revealed that she was a victim of stalking herself. "I've had threats made against me and wasn't even safe in my own home or my car where my stalker broke in and held me in a hostage-like situation," McSally said in a statement last week. "I'm not alone in having to defend myself against a stalker. Countless women go through the same suffering and intimidation, and for an outside group to tie me to the tragic occurrence of a stalker killing his victim, is not only personally offensive, it's degrading to all women and victims who have experienced this pain."
Media outlets piled on ARS over the weekend for airing the ad in the first place. The Arizona Republic called the spot "vile" and "a nasty piece of work" in a Friday editorial, and a Sunday Politico article said that Giffords has become a "mean" and "ruthless attack dog."
In response, Mark Kelly, Giffords' husband and the co-founder of ARS, stood by the ad.
"Our goal in founding this organization was to communicate directly, honestly and fairly with voters about where their candidates and elected officials stand on laws that reduce gun violence," Kelly said. "We won't be deterred, but will never attack character and we will never veer from fact."
The National Rifle Association opposes tightening gun restrictions on stalkers. The gun lobby wrote a letter to senators earlier this year urging them to oppose Klobuchar's bill because it "manipulates emotionally compelling issues such as 'domestic violence' and 'stalking' simply to cast as wide a net as possible for federal firearm prohibitions."
Calling all HuffPost superfans!
Sign up for membership to become a founding member and help shape HuffPost's next chapter
BEFORE YOU GO
PHOTO GALLERY
Gabrielle Giffords Shooting