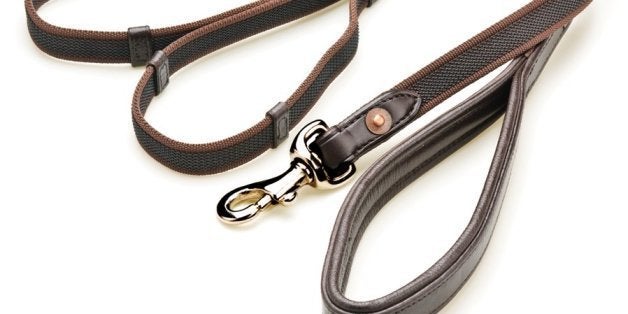 No, your 55-year-old Mom may not appreciate a gift card for Botox. Nor will Grandpa necessarily want the complete set of Lawrence Welk's music. We walk a fine line when it comes to giving gifts to those who are first receiving invitations in the mail to join AARP.
The trick to successful gift-giving to boomers comes with the subtle recognition of things they may need that allow them to continue doing what they've always done -- and often didn't know even existed, said Alexis Abramson, an award-winning author of books for post 50s. She has compiled a list of holiday gifts for the older adult in your life that incorporate the idea that we are living longer and healthier but sometimes need a little help. Here are some of her suggestions, plus a few of our own.
1) RuffGrip dog leashes
This leash makes walking a dog easier for people with gripping or dexterity problems due to arthritis in their hand joints, said Abramson. The extra padding and no-slip grip is lightweight and provides extra control, while the soft leather lining makes the leash comfortable to hold. Some RuffGrip leash fun facts: South African security teams in Iraq use the leash in 135-degree temperature and fine sand. Alaskan rescue teams use it in the coldest weather. Price range: $23 to $50, but the very helpful woman on the phone told us that in the spirit of the holidays, she discounts her prices right after Thanksgiving. So call and ask!
2) Two-handed mug
The site calls it the "Dignity Mug," and while we think that might be a major marketing misfire, the idea behind the product is sound. The eight-ounce mug is intended for those who no longer have the strength or dexterity to hold a mug with one hand. Two extra-large handles allow for multiple grip positions. "The ceramic mug has a curved rim that helps prevent drips," notes Abramson, and can be used with hot or cold beverages. "The mug was designed to provide drinking independence for those with limited strength or other challenges that might prevent them from holding a traditional mug." Under $10.
3) The Magellan SmartGPS
This portable GPS-based navigation system features a larger screen that's easier to read; need we say more? It also has spoken directions. You can't beat a simple "turn left" over squinting at your phone from behind bifocals and trying to figure out which way it's pointing while you keep just one hand on the wheel and the driver behind you is tooting his horn. You can use your smartphone (free iPhone and Android apps) to plan trips and send the destinations to the SmartGPS in your car. The system displays gas prices at nearby stations based on your location (there is something about aging that makes you compulsive about checking gas prices). The PhantomALERT feature also helps you avoid traffic tickets with audible and visual alerts for red light cameras and speed zones. About $250, or about the price of the ticket for texting while driving in California.
4) The Temperature Regulating Sheet Set
Hammacher Schlemmer may have nailed the No. 1 reason people are sent to sleep on the couch: Sheet temperature. Using a fabric developed for NASA to help astronauts adapt to extreme temperature fluctuations, these sheets prevent overheating or eliminate chills to create an optimal sleeping climate -- for everyone in the bed. Millions of invisible microcapsules that absorb excess heat when you are hot and release the stored heat when you are cold are embedded in the sheets. Unlike an electric blanket, the microcapsules adjust independently to allow two sleepers with different temperature preferences to remain comfortable. The 350-thread count blended cotton fabric sheet set is machine washable and includes one fitted sheet and one flat sheet, and two pillowcases. It comes in several colors and sells for about $250.
5) Lighted tweezers with or without magnifying glass
This is a "what comes first, the chicken or the egg?" problem. You can't wear your glasses when you tweeze your eyebrows and without your glasses, you can't see well enough to tweeze them either. And therein lies the beauty of these products. There is a little LED light attached to the tweezers which brightens up the tweezing surface (your eyebrows) and some come with a magnifying glass, eliminating the need for your glasses.
6) A cordless, tubeless vacuum cleaner that runs on a lithium ion battery and only weighs 7.5 pounds.
From our friends across the pond at GTEC comes the AirRAM -- a cordless and tubeless vacuum cleaner with just as much power as a Dyson or Bissel. No cord to trip over. Light enough to carry easily up and down steps. It's energy efficient and doesn't even use a bag. Dirt and dust are sucked-up and compressed into tidy bales that can be emptied right into the trash. The average four-bedroom home can be cleaned on a single battery charge. In addition, the AirRAM utilizes a Data Bridge that can calculate the electricity you save while vacuuming and even find out how many calories you burned when doing the job. Sold in the U.S. through Brookstone for $300.
Calling all HuffPost superfans!
Sign up for membership to become a founding member and help shape HuffPost's next chapter
BEFORE YOU GO
PHOTO GALLERY
5 Gifts I Really Want This Holiday Season