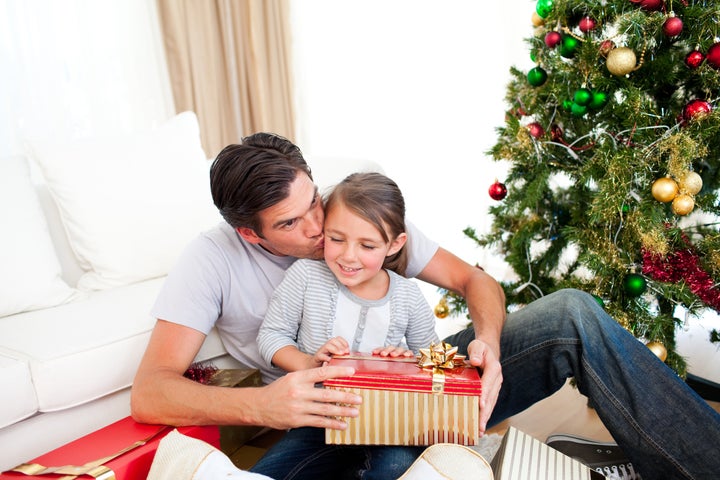 We've come a long way since my brother and I were kids and would give my dad clichéd holiday gifts like crafts made with Popsicle sticks or loud, crazy ties, destined never to leave his tie rack. While Dad appreciated those gifts because they came from his kids, nowadays it seems there are so many options. Kids can definitely do better -- with a little help from you. Here are some gift ideas for Dad that I think he'll not only appreciate, but he'll love and use!
For the Music Lover
Dads who play music will be thrilled to receive a pack of personalized guitar picks. This is an especially great gift for kids to give because they can be involved in the creation. In addition to choosing a favorite photo of themselves to go on the front of the pick, kids can compose a short message (like "Annie loves Dad!") to go on the back. For something a little fancier, kids can give a brass pick with a personalized message. These make for a beautiful keepsake regardless of whether he plays the guitar or not.
For the Sports Fan
Dads have long since bonded with their kids over sports, so why not have your kids give their dad a gift they can share? One adorable option is matching baseball jerseys personalized with their last name on the back and their first names on the front.
Another terrific option is for a child to give dad an adjustable basketball hoop. He'll love being able to lower the hoop to play with his kids, and then raise it to the regulation height to play with his buddies.
For the Outdoorsman
One of the sweetest gifts kids can give their dad is a tree-to-be kit. The kit comes with everything needed to grow a tree in your backyard, and it makes for a wonderful activity your kids can share with their dad as they nurture a seedling into their own tulip or apple tree.
For Dads Who Love Gifts Made by Their Kids
Homemade gifts are not only wonderful options when money is tight, but I also think they warm the heart more than any other. There are many great resources for homemade gift ideas to be found online, including these from Martha Stewart, but my favorite, from the blog eighteen25, is making a "Book For Dad." This instructional gives you a free download that asks kids to draw a picture of their dad and explain what they love most about him. These books look great when the pages are slid into a 4x6 photo book and finished off with washi tape, ribbon, or patterned paper.
About Women & Co.:
Women & Co.®, a service of Citibank, is the go-to personal finance source for women. Women & Co. delivers financial content with sharp, insightful commentary and a female point of view. Sign up for free at womenandco.com.