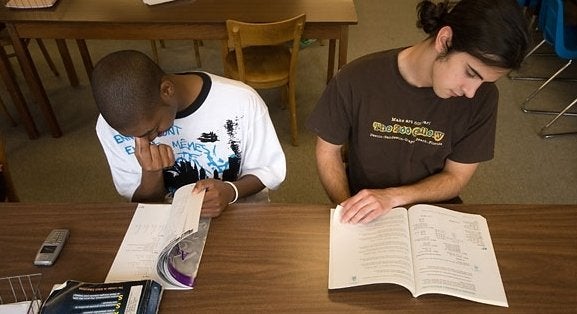 We hear every day about all the things wrong with our education system: the students who are not prepared for a college education and need remediation when they get there; the dilapidated school buildings and antiquated technology and textbooks; the overcrowded classrooms where students can't get adequate attention from their instructors.

The list goes on and on. It breaks my heart to think how society is failing our kids every day, despite the best intentions of many in the education-industrial complex.

But there is one silent problem that gets scant attention: the lack of programs and resources devoted to advanced learners, or in New York parlance, "gifted and talented" programs. Of course, every parent thinks their child is gifted and talented. And most are right on a macro level.

But from an early age, there are those advanced learners "whose brains are on fire" and who need the spark of specialized teachers and like-minded peers to keep that fire burning. As a society, and in New York particularly, we are failing those children and their parents, too.

According to a 2011 report from the New York City Department of Education, 4,000 children entering kindergarten qualified for a gifted and talented program and an additional 2,000 qualified in first grade. But there were only 300 kindergarten slots and many of those programs are unwisely being phased out.

More depressingly, in 1993, the U.S. Department of Education published "National Excellence: A Case for Developing America's Talent" and this report indicated that merely two cents of each $100 spent on elementary and secondary education was used for gifted and talented education.

Today, almost two decades later, our country has stood in place and failed to capitalize on our nation's brightest minds; last year, the federal government's investment in gifted and talented learners still was an appallingly low two cents per $100 spent on public education.

This is another educational crisis that is crying out for reform. Charter schools are trying to address these needs in some neighborhoods with their rigorous science and chess programs, like the ones at the Success Charter Schools in New York, but they are but a drop in the public education bucket.

So, while the public sector commits intellectual suicide with our young, the private sector is now beginning to step up. There is one green shoot in particular that is growing on the Upper West Side of Manhattan.

The Speyer Legacy School, a K-8 independent school founded in 2009 by two incredibly accomplished women, Dr. Kelly Posner Gerstenhaber and Jennifer Selendy, is thriving, while offering an incredible environment for high-achieving children who are capable of so much more than the public school system, at its very best, can offer.

Speyer asks more of its teachers -- specialized training and curriculum development and re-development to individualize learning at the pace of each crop of new scholars. The faculty is selected based on their own passion for learning and their ability to model high expectations for academic performance as well as integrity and respect for community.

While demanding more from faculty, the unique leadership team model at Speyer allows the school administrators to devote substantial time to mentoring and supporting the teachers to achieve true individualization for each student. Because of the accelerated pace of their learning, Speyer students are also actively engaged to study how and why learning takes place and how to employ a wide range of critical thinking skills and problem-solving strategies that will prepare them for the complexity of the 21st century. Walk into a classroom at Speyer and you behold what is possible in the American education system when we challenge ourselves and our children to "think big."

The students are engaged, their minds are "on fire" and their energetic teachers are there to excite their vivid brains and imaginations. Kindergarten students are immersed in Spanish and science, including as part of an award-winning health and nutrition curriculum taught, in part, at the school's organic farm in Westchester. After developing this innovative program, Speyer made it available at no cost to the students at Hunter Elementary School. Third and fourth graders at Speyer study the political, economic and technological forces that gave rise to the Age of Exploration before composing 20-page fictional narratives about a journey with a famous explorer. The students read excerpts of their narratives at a local Barnes & Noble, and raised money to fund the financial aid that goes to 43 percent of Speyer families.

Speyer Legacy School is an example of what our city can do when we try to offer parents options that fit the unique needs of their children. But this 350-child school just scratches the surface of the needs of our city's advanced learners.

We need to clone dozens of these schools in the five boroughs. We need to duplicate the successful programs at Hunter Elementary and High School and Stuyvesant High School so we can produce the next generation of Nobel Prize winners and cancer researchers and electrical engineers, so that we do not outsource these and other crucial careers to emerging countries as we have the past few decades. The founders of Speyer are establishing an institute in the hopes of leading the national conversation about best practices in gifted education and they are willing to leverage their success to benefit other schools in New York and beyond.

We must dedicate more federal and local resources to advanced learning education and find inspiring education thought leaders like Dr. Kelly Posner Gerstenhaber and Jennifer Selendy to join this important effort.

The minds we waste each day in substandard public education could be the next Albert Einstein or Steve Jobs or Mark Zuckerberg.

Our children can't wait.

Tom Allon, a liberal-backed and Democratic candidate for Mayor of New York in 2013, is a graduate and former teacher at Stuyvesant High School. He is one of the founders of two public high schools in New York City, Eleanor Roosevelt High School and Frank McCourt High School.
Popular in the Community