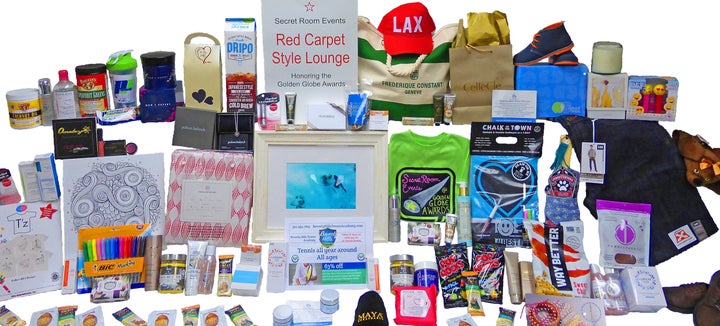 Gifting suites are a mainstay of the celebrity lifestyle. Enter the corridors of the fame and you will discover back door worlds that cater to luminaries free of charge, hoping to gain favor and influence the public merely by association with superstars. A restaurant becomes a hot spot when celebrities attend, products become posh when celebrities use them. It's advertising you can't buy and this 'influencer marketing', as it's called, is very effective if you're lucky enough to have a product adored by those in front of the camera.
Secret Rooms Gifting Suites have been doing gifting suites for years, offering a gauntlet of fascinating high end items in fashion, diet, jewelry, skin care, sports, pet care ad infinitum for the best and brightest red carpet recipients. I attended one of their gifting suites last Friday at the SLS Hotel in Beverly Hills on the eve of the Golden Globes which was filled with celebrity notables and some of the invited Golden Globe attendees.
A cavalcade of high end boutique items greeted each guest upon entering the main ballroom where more than 50 vendors are represented either in person offering samples, or gifted their treasures in hefty bags of swag.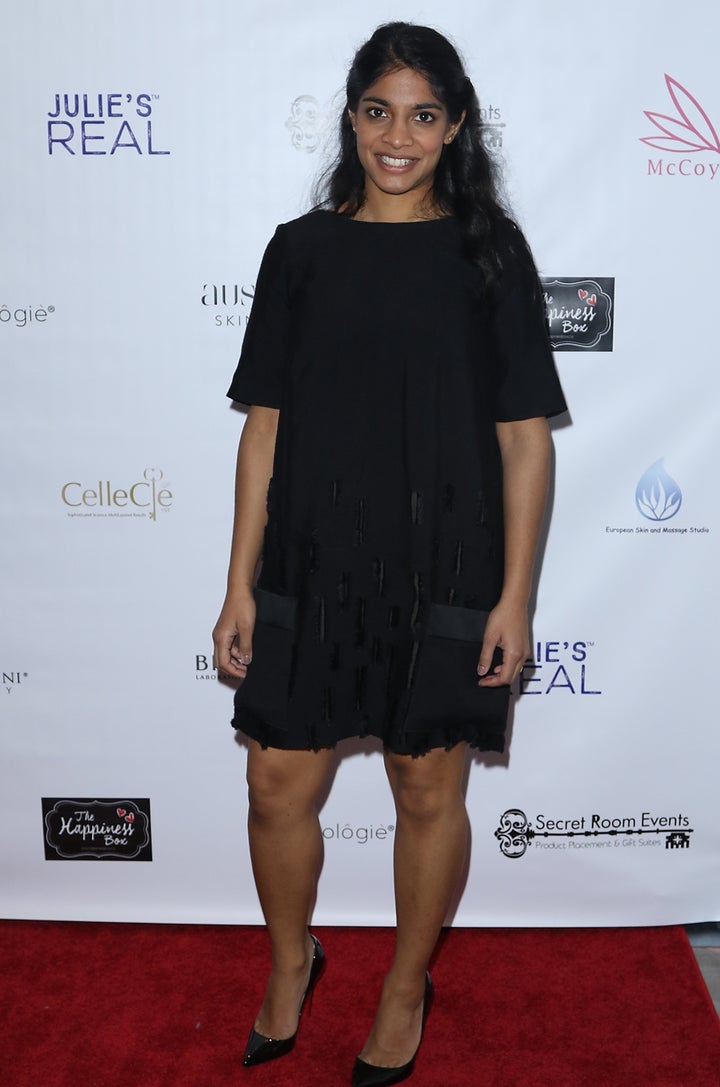 Amara Karan, who co-stars in "The Night Of" the HBO show nominated for three Golden Globes, and came to fame in Wes Anderson's "The Darjeeling limited", was seen at designer Anne Neilson's booth talking to the designer/artist famous for her line of angel art and luxury home products.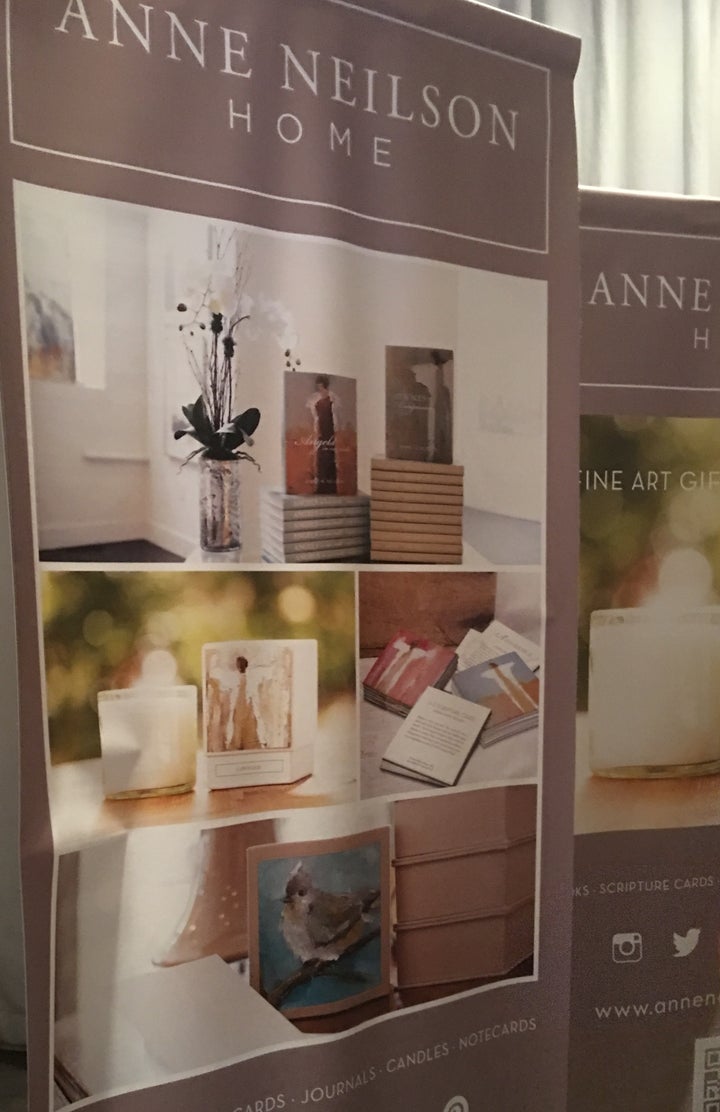 Her Luminous Candle designed and gifted for the Golden Globes event has its proceeds going to charity researching Parkinson's disease.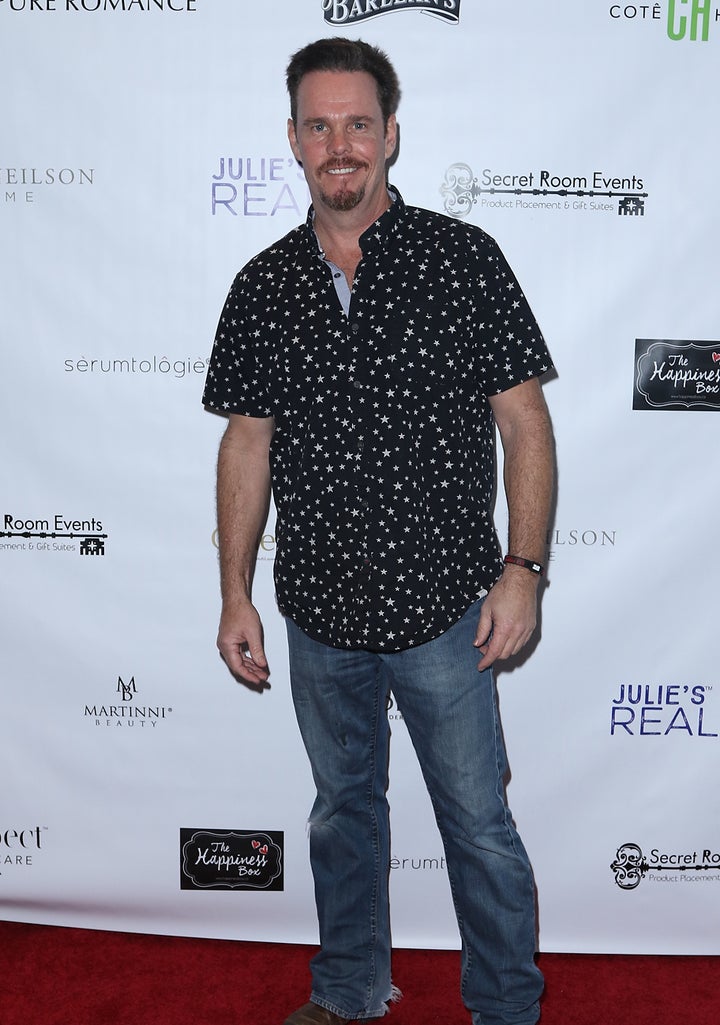 Kevin Dillon, best known for playing "Johnny Drama' in HBO's long running series Entourage as well as the motion picture, was on hand admiring health products brought by Barlean's whose line of health and supplement products, protein powders, omega oils and others are well known.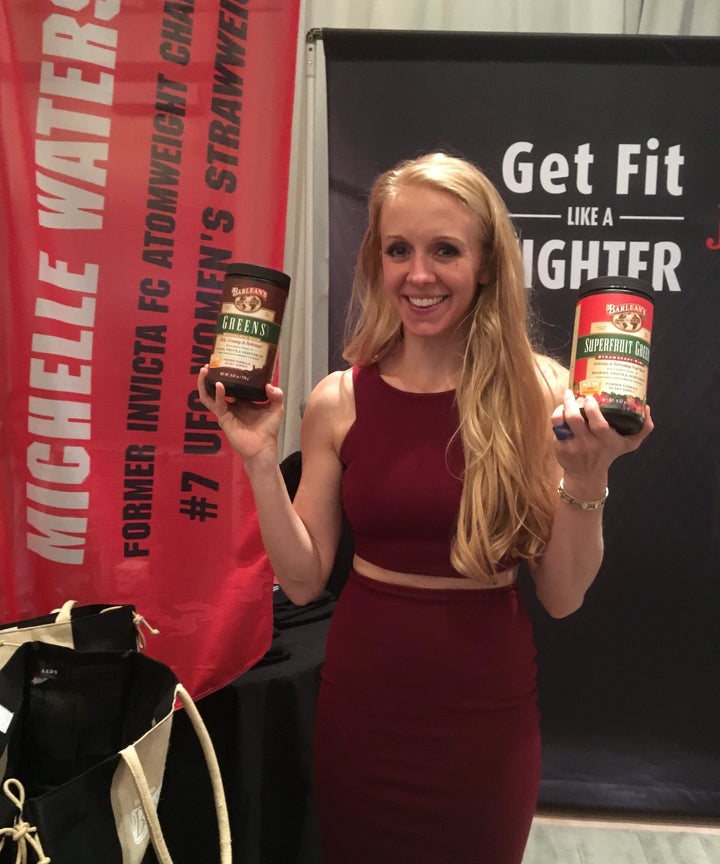 Their butter flavored coconut oil they were sampling was pretty impressive, for all you health fadders out there who know the healing power of coconut oil, but are tired of the taste, it tasted like real butter and their reps were offering it on popcorn to all the passing guests.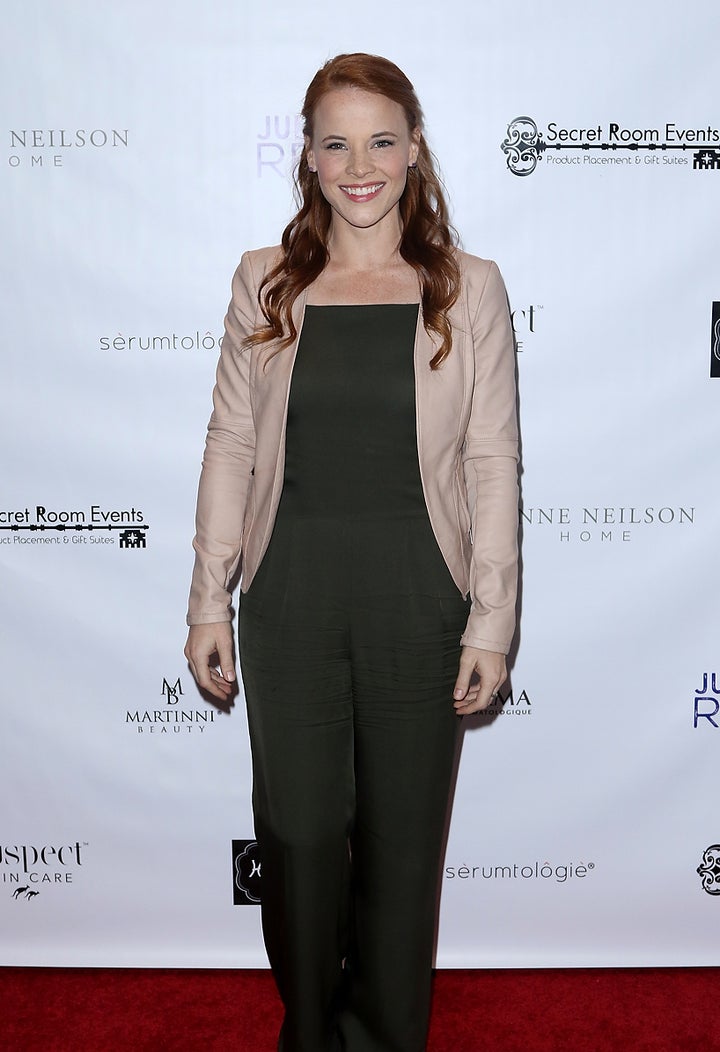 Katie Leclerc, from "Switched at Birth", the final season premiering this Jan 31st, and who was nominated in 2014 for her role as Daphne Vasquez, was checking out , the high end beauty and skin care products. Forty Two years in the business, they have spent the last two years in research on this new line that targets not only anti-aging, but pollution as well, especially caused by electronic radiation as from cell phones. Their new products are designed to target DNA damage. I can tell you that my wife, a long time user of beauty products reported to me immediately how delighted she was with this line's feel and effect on her skin.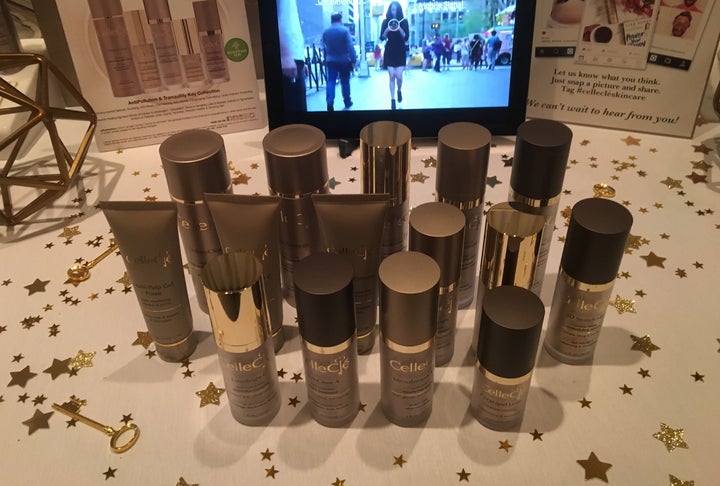 Serumtologie's owner, Rick Powers was on site to explain how his line not only uses safe and clinically proven ingredients, but is one of the few beauty product lines that lists concentration levels of their ingredients, not just in descending order. A product line home grown in Beverly Hills, there is no brick and mortar store, they are on-line and therefore 'not obnoxiously priced' for high end skin care, he pointed out. They have many excellent products, their pure whipped chiffon moisturizer, which I have now been using, I can report is fantastic and I am possibly addicted to it.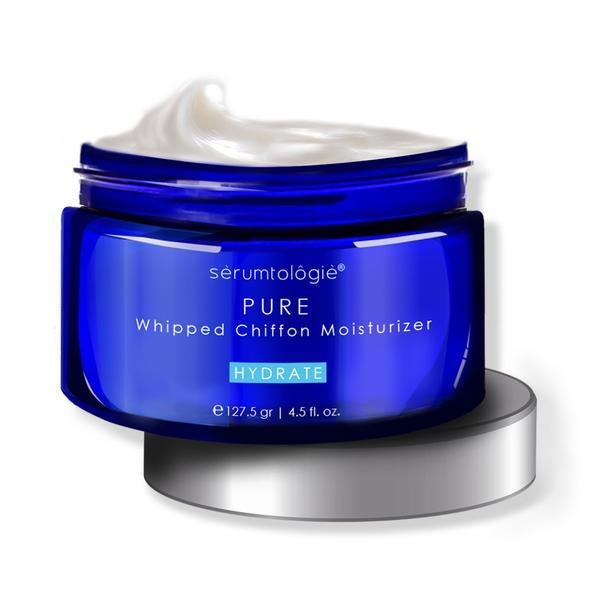 Nancy Couture, the owner/creator of the "Happiness Box" was on site from her town of Montreal to explain that her product, 365 cards to promote happiness and positive thinking, sort of 'angel cards' for happiness, is selling out across Canada after only two years. A product she invented at home because she was upset at all the 'bad news' that comes through our screen every day, she wanted to make a counter balance, and she has. And now her company is entering the US market.
Splat, a Russian product invented by a husband wife team in Russia 16 years ago, has had huge success at their home and abroad as they've branched out to the CIS countries (the Commonwealth of independent states that formed when the Soviet Union dissolved), then Europe and China and now they're coming to America. Flap is an all natural products to brush your teach without water, or a toothbrush aimed at the traveler or busy professional who spends many hours in transit or on a work site and needs to refresh. A foam dispenser gives you one blast, you swish, spit and viola, refreshed!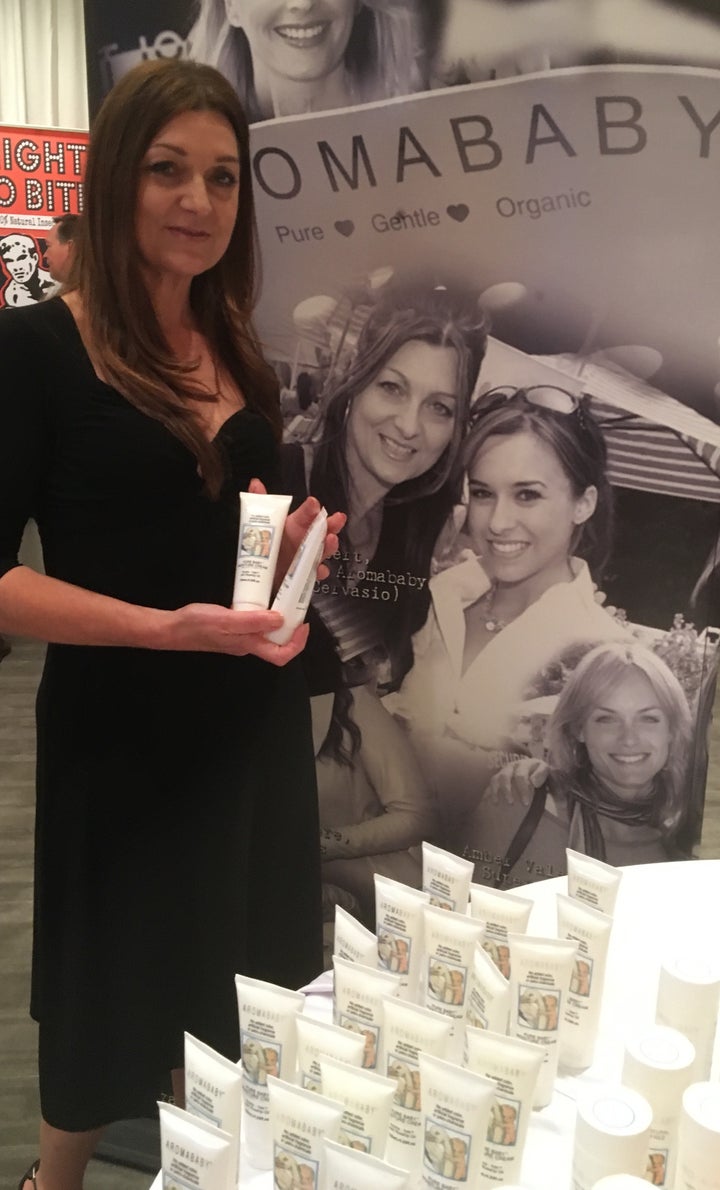 Catherine Cervasio was a fierce tiger mom in Australia 22 years ago when her own children were born, and she discovered 33% of babies got rashes and eczema from the few baby soaps and shampoos available on the market. So she did what any super human and incredibly motivated person would do, she started making her own baby soaps and shampoos in her own kitchen leaving out all the allergic ingredients. After satisfying herself that her kids had the best, she gave her new product to hospitals so the newborns there had the best as well. 22 years later her products are a huge success in her own country and China and Asia as well. In fact she's the only foreign skin care product in China as they have such strict guidelines, but with 16 million babies born every year it's a market that she knows her end users will be well protected: babies. Her visit in the states is part of her very successful company now breaking into the America market as well.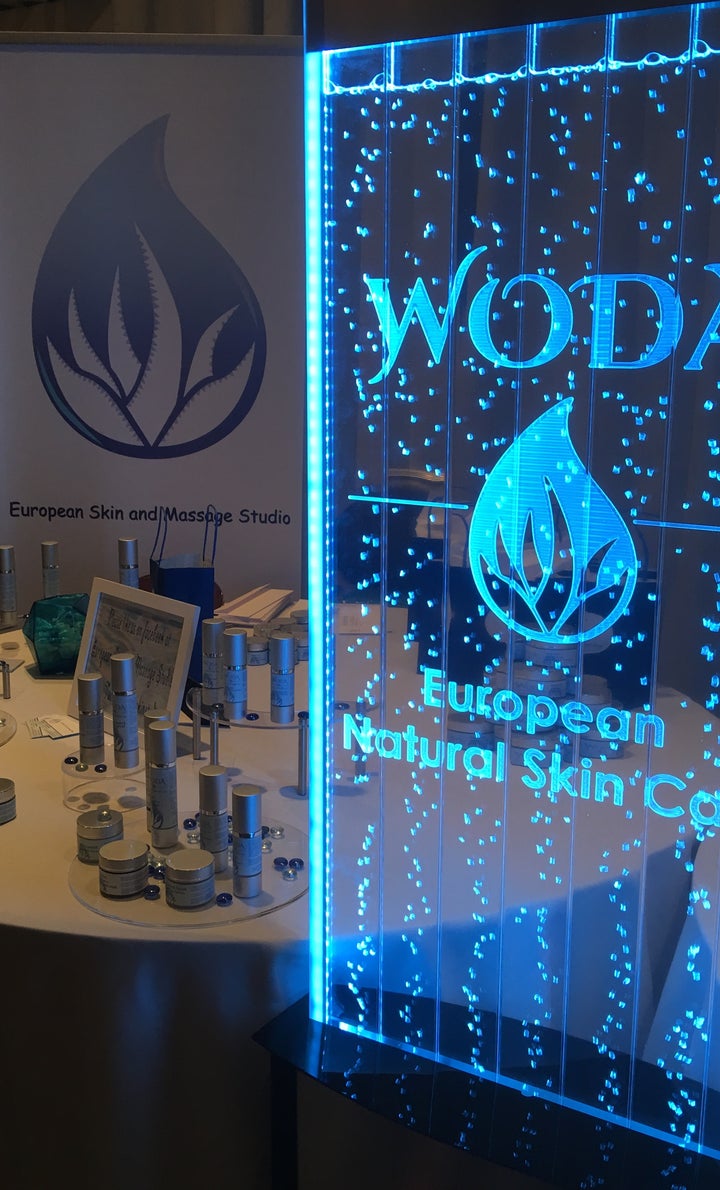 Woda – the new all natural organic line of beauty products started by esthetician Margaret Tomaszewicz, who has her own skin care studio in Santa Monica for many years, had it's launch – the day of the gifting suite! She and her daughter were on site explaining how their product line of her personal formulations has come together after Margaret's 20 plus years working at Burke Williams and other top spas before her own, and how she used her experience working on skin care product development teams.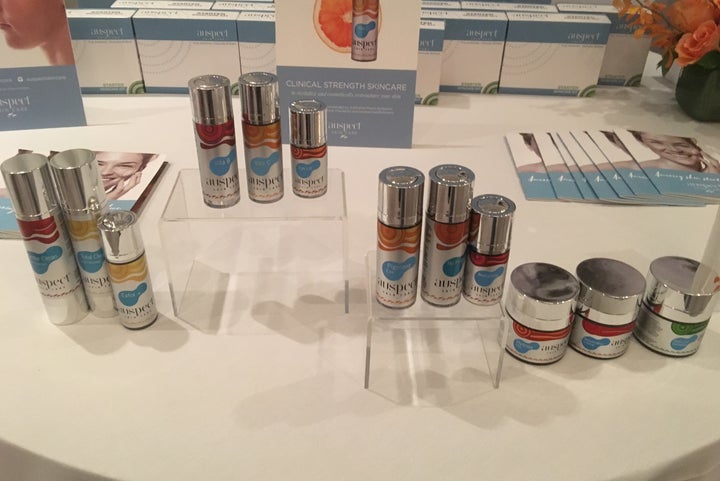 Auspect, an Australian skin care and anti-aging skin care regimen has been successful 25 years in Australia, and owned by the largest medical machine industry the makers of the DaVinci heart surgery robot. Auspect has no 'nasties' in their products said Amanda, one of their sales representative, pointing out that the long success of their lines come from all their ingredients being clinically tested and approved. After such success back home they are now entering the America market.
Storm "Instant Wrinkle Lift serum" was a fascinating product. Karen Sinclair, the chemist who helped design it and was on site explaining the product, said:"It's like spanks for your eye skin," Just a small dab under the eye where tired skin or bags may form literally tighten up the surface back to smooth. No joke, I tried it and it works. It launched in Asia to huge success, and is manufactured on two farms in England using a unique manufacturing process where they can control the product's quality. They are launching in America this year.
There were many more amazing products, skin masks from Martinni Beauty, Inc, and Cote Hair the shampoo/conditioners from two young entrepreneurs Ira Pope Sage and Butch Cote out of Las Vegas who made a healthy and efficient shampoo and conditioner with all natural ingredients, free of paraben and sulfates to make it color safe without detergents. They reduced packaging to prevent pollution and have no gmo's to protect the environment. You've got to love that dedication not just to making a great product, but to the environment as well. They launched just last March backed by some heavy weights in the industry.
There was Bioderma skin care, Forever in My Heart Jewelry by Mira who crafted small works of art that would contain the ashes of a departed loved one, Furrfighters by one of my favorite personalities who I've met at previous gifting suites Jim Rimoshytus, a fireman with 30 years on the job, who's still on the job, and who started his company Furrfighters Gear, which removes per hair from clothes. He's been editor's choice from several Pet magazines. Speaking of which, there was Mighty No Bitey the home grown, home designed 100% all natural bug spray for people - and their dogs! Working in conjunction with Elaine Boozler's pet rescue organization "Tales of Joy' and donating to that charity with every sale, and ...Gosh! DRIPO – the cold coffee maker, takes the normal 16-24 hour cold brew process and lets you do it in 1 ½ to 2 ½ hours, takes out the acidity and bitterness.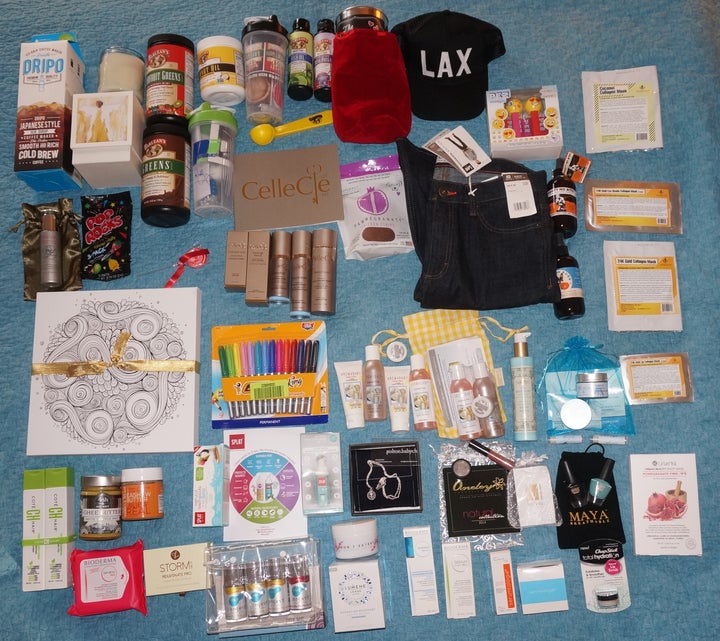 An LL Bean designer bag was gifted to all visitors who left with even more goodies, Maya Breathable nair polish, Aviate designer baseball caps which use only the airport codes from cities across the nation and are pretty hip, Kolton Babych fine jewelry from Vancouver presented sterling silver necklaces that were fine elegant pieces and I urge you to look them up on the web, Lee Jeans, Forever In My Heart jewelry by Mira, beautifully designed jewelry that contain the ashes of the dearly departed as an incredible keepsake, Laura Geller Make Up, 4th and Heart Ghee Butter with white truffle.
Secret Room Event's charity this year was Paw Works-Paw Works is a nonprofit animal rescue organization. It was quite a haul, swag delight and the time spent was never better at a Secret Room Event.
Popular in the Community