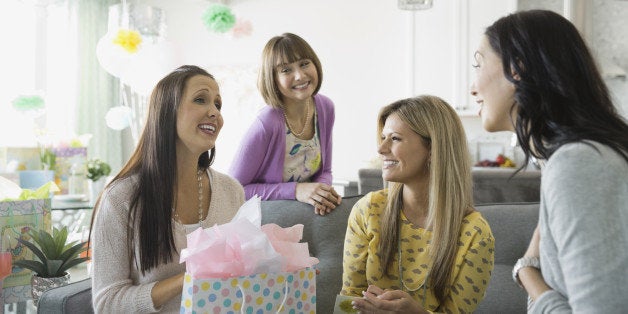 It's thrilling to share the joy of a newborn baby, and even more royal when the baby's mother is Kate Middleton. What are a few things you can gift to show your love and support when the parents clearly have a well-appointed nursery? Perhaps not to the Royal Family, but here are a few gift ideas for mannerly inspiration:

A library of classics. Get together with friends and create a mini-library in honor of the new bundle of joy. Coordinate a list of baby books, or a group of classics that will become a keepsake. Some of my favorites are Good Night Moon, Love You Forever, The Giving Tree, and Five Little Monkeys.
A DIY project. If you enjoy sewing, mom will surely be grateful for your efforts in putting together a special basket of handmade bibs or a beautiful blanket. There are countless free patterns and ideas on Pinterest, and a monogram adds a graceful touch. I received a grouping of hand painted plates for an occasion that has become one of my most cherished possessions. Every time I use them, I am reminded of friends who took the time to create something especially for me.
A magazine subscription. One for mom, and one for the baby. Select a magazine that focuses on mom's interests, such as decorating, food, and entertaining, and another magazine that is all about baby. It will be a monthly reminder of your friendship.
Meal delivery. Chances are, you would love to prepare and take over a weekly meal for a few weeks or a couple of months. But time is limited, and your motivation will most likely wane as your own family commitments take priority. Find out mom's favorite restaurant and set up a delivery - what a welcome surprise to have a hot meal for her family delivered to her door with little effort except for her to send you a thank you note. Don't forget to include gratuity when you prepay for the delivery.
An extra stroller. One of my favorite baby gifts was a trim, inexpensive, collapsible stroller that I could use in the house when my arms were worn out from carrying a heavy, growing baby (not a newborn, of course). The movement from traveling from one room to another kept my growing baby happy and content for short periods of time. It is also useful for grandparents and family members when they offer to take the baby on a quick stroll to give mom a rest. Three kids, and three collapsible strollers later, I wonder what I would have done without the extra wheels.
Use your imagination and give a gift from the heart - cost is not the objective, but the thought and love you personally put into the gift.