Raise your hand if you have ever purchased the wrong gift. The $60 billion annually spent in the United States on unwanted presents is a frustrating problem that can be solved, Fligoo CEO and startup co-founder Lucas Olmedo says. "We created an algorithm capable of ...interpreting peoples' behavior on social networks."
The Fligoo algorithm, Olmedo says, is powerful because it translates social behavior into specific product recommendations. The round-named Fligoo (following Steve Jobs' ideas) was piloted in Córdoba, Argentina and moved to Silicon Valley last year, seeking another $500 thousand investment in their platform that leverages Facebook friends.
Users log onto Fligoo by connecting to Facebook, and it creates a page of friends' upcoming birthdays and anniversaries. Click on your friend, and a Pinterest-like page appears that suggests a variety of potential gifts for the Facebook friend. "We analyze all of his data and personality traits he left in the social network, and we analyze that and make a gift recommendation according to his profile," Olmedo told me.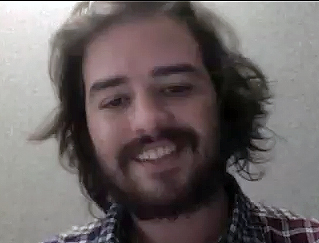 This algorithm has a lot of interpretation of social interaction and social activity... We analyze all your data... for example, of what topics you talk about, who do you talk about those topics, if you upload a video, what kind of video that is... what are you trying to say with your social activity.
Olmedo says Fligoo developed "more than 50 predetermined profiles" grounded in psychology and consumer behavior and picks the top five for product recommendations.
"Every person is a unique combination of these profiles," Olmedo says. He invited me to try it. When I logged into the system, it said my mix was:
• 24% Vintage Lover
• 22% Activist
• 20% Sports Fan
• 18% Intellectual
• 14% Trend-setter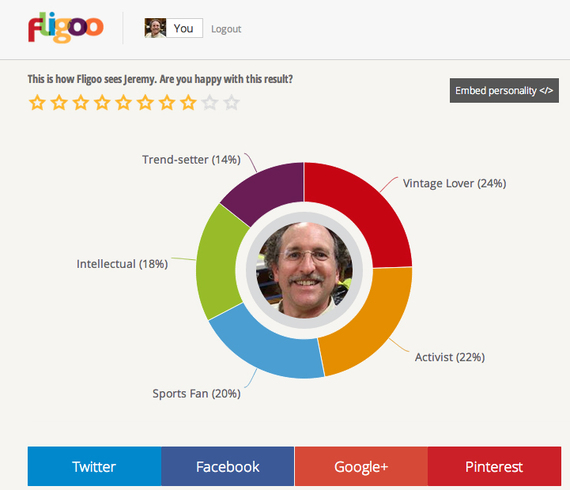 Users also are allowed to look at profiles for two friends, and more if you recommend additional friends use Fligoo. Social media are very important to company strategy to acquire new users. "We gave a chance for users to see how their friends look on social networks," Olmedo says.
"We can tell exactly how you show yourself on social networks," Olmedo claims.
From this profile, Fligoo tried to sell me a $5.41 beard and moustache comb from Amazon, as well as many other items. I've never had a moustache comb, but this item was tempting.
By clicking on a product, Fligoo takes some of the more than 10,000 monthly users directly to Amazon, Barnes & Noble, ThinkGeek and other e-commerce partners. Olmedo says the conversion to sales rate in the first five months since launching is many times higher than traditional search, and Fligoo earns a share of the sale by generating a qualified lead.
Olmedo told me that 83% of Fligoo users click on at least one item, and 2.87% of all users have purchased a product on Fligoo. This should increase, after they launch a mobile app - "fligoo world" -- expected in about one month.
Rather than selling advertising, Fligoo works with referrals. "We just charge our partners, our clients with a commission per sale," Olmedo says. "That's the way of keeping our algorithm pure."
The systematic examination of Facebook profiles, including those of friends, has raised privacy issues that were not obvious to the team from Argentina, where the culture is less concerned with this. At first, U.S. users tended to cancel logging in because of the Facebook connection, Olmedo says. "We don't save your information, we don't do anything with your information, we just use it at that moment in order to give you the solution to know what to give as a gift, and that's all."
The U.S. Federal Trade Commission (FTC), which has pushed for Facebook third-party app privacy protection and disclosure, noted that the "entire business model
rests on collecting, maintaining, and sharing people's information..." But, it is not clear if Facebook could be held liable for allowing users to share their friends' data, even temporarily, with Fligoo.
In response to user concerns, Fligoo now tells them that it will not post anything in their names, it works through secure sites and reputable companies, and "we wouldn't do anything with your data," Olmedo says. "They don't care if they are giving their information, if they know you are giving them a good value - a good promise of a good product... that they couldn't receive anywhere else."
Paid search and search engine optimization (SEO) teams influencing traditional Google and Yahoo searching, Olmedo says, do not generate relevant results. Fligoo users also can add products to a wish list, which increases chances that the gift will be the right one without further searching. "We know what you want, and you don't," Olmedo says.
The Fligoo algorithm in the future will be applied to problems beyond gifts. Olmedo says the personalized search engine will have four verticals: activities (date ideas), entertainment (games, music and videos), updates (relevant news and information), along with products and services (gifts).
Time will tell if Fligoo can defeat the giant search engines at their game and navigate choppy U.S. waters of social media data privacy.
REAL LIFE. REAL NEWS. REAL VOICES.
Help us tell more of the stories that matter from voices that too often remain unheard.