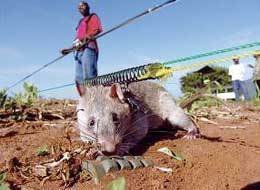 This gift guide was originally published in NEED magazine. (Full disclosure: We're kind of obsessed with this magazine at the Living section. Check out the website for subscription info!)
With the "season of giving" in our midst, many of us are swept away in a whirlwind of holiday rituals and rhetoric. Around this time of year we plan for gatherings, prepare traditional meals and venture out on an enduring quest to find the perfect gift for friends and family members. This season serves as a time for reflection, a time for seeing the "big picture" and thinking about those in need. Read on for unique ways to combine your humanitarian and charitable intentions with your gift giving this season and year-round.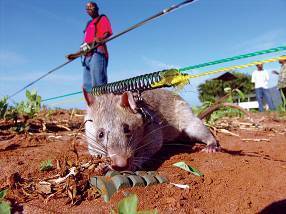 Using its sense of smell, a HeroRAT discovers an explosive device. Photo | Courtesy of HeroRAT
Move over Mighty Mouse, there is a new heroic rodent in town -- the rat. There are more landmines in Africa than in any other continent and their threat is very real: every hour a person is maimed or killed by one. Through a program aptly titled HeroRAT, the African giant pouched rat is trained to exercise its powerful sense of smell to detect landmines and other dangerous explosives. If this scenario seems far-fetched, consider this, in Mozambique de-mining rats have cleared more than 400,000 square meters of land. Moreover, communities of Tanzania, Burundi and Angola have welcomed this landmine detection program. HeroRAT has also been endorsed by the 11 Great Lakes Region countries of Africa to de-mine their common borders.
The HeroRAT program was created by the nonprofit Apopo and its team of Belgian researchers in 1997. The organization's founder, Bart Weetjens, has always had a strong interest in rodents. When his project was in its initial stage, many people he approached for funding doubted the rats' potential. However, once examined, the trained rats' abilities proved how well-suited they are for de-mining.
Why rats? For one, rats have an incredible sense of smell -- about one million times better than a human's. The rats' training builds on this ability by teaching them to identify the smell of chemical vapors present in explosives. While metal detectors pick up activity from any metal (including nails, cans and other non-explosives), rats distinguish between explosive metals and non-explosive metals. They can also detect explosives encased in plastic. Unlike dogs and humans, rats are too light to accidentally set off a mine. This breed of rats has the advantage over dogs in Africa because it is native to the area; therefore, less susceptible to tropical diseases. Rats are relatively inexpensive to feed, breed and transport. They have an affinity for performing repetitive tasks and a life span of almost eight years in captivity.
Training rats to de-mine is a process using Pavlovian techniques that starts shortly after birth. Working through a series of exercises with human trainers, the rats become tame and social. Before they are allowed to perform in the field, the rats must pass a training test in which they identify each explosive item in the testing area without any mistakes. For fundraising purposes, HeroRAT has an adoption program where individuals can adopt a rat for roughly $7 USD per month. Donors receive an official adoption certificate, pictures of the rat "in action," email correspondence with the rat, regular updates from trainers on its individual progress and updates from Tanzania about the project. According to Weetjens, the organization is preparing rats for new tasks that include identifying tuberculosis cases and entering rubble at disaster sites to seek out victims. It looks as though there is much more in store for these courageous creatures.


Children play in their new TOMS Shoes. Photo | Courtesy of TOMS Shoes
A trip to Argentina inspired Blake Mycoskie to create a new company committed to giving back. The poverty and health issues of the country left a lasting impression on Mycoskie, as did the spirit of the South American people. He felt a responsibility to do something positive for those who had so little. These factors spurred him to create TOMS Shoes for Tomorrow with the goal "to make life more comfortable for those without shoes." The company produces shoes that are styled after a traditional Argentine rope-sole known as the "alpargata." For each pair of TOMS shoes purchased, the company donates a pair to needy children on the buyer's behalf.
Orchestrating what are known as "shoe drops," TOMS delivers shoes to communities in need in Argentina and South Africa. The company plans to hold a shoe drop in the US in the summer of 2008.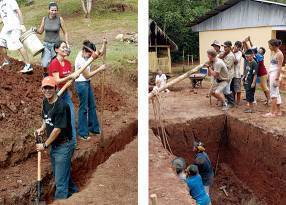 GCN's volunteers work with the residents of Polaponta, Peru to build a student-designed school. Photo | Courtesy of Global Citizens Network
Looking for a meaningful travel experience? The Global Citizens Network (GCN) organizes volunteer excursions that immerse travelers in the culture and daily life of the communities they visit. Short-term volunteer teams are partnered with local organizations to participate in projects aimed at meeting the community's needs. In addition to brick-and-mortar projects, volunteers have assisted in several agriculture initiatives including shade grown coffee, rice harvesting, irrigation plans and community beautification and restoration. Participants pay a program fee of $800 USD to $2,200 USD -- depending on the site and trip length. Fees cover transportation within the country/state, accommodation, meals, training materials and a modest donation to the community project at hand. Trip destinations include Arizona, Kentucky, Washington, Brazil, Canada, Nepal, Mexico, Peru, Guatemala, Ecuador, Thailand, Tanzania and Kenya. Summing up the experience, past participant Ted says, "It has become the most meaningful thing I've experienced in my life. It was more than a casual cultural exchange. I never felt like a tourist, I felt like I was coming home."
For more holiday season tips, click here for more from Huffington Post's Living!