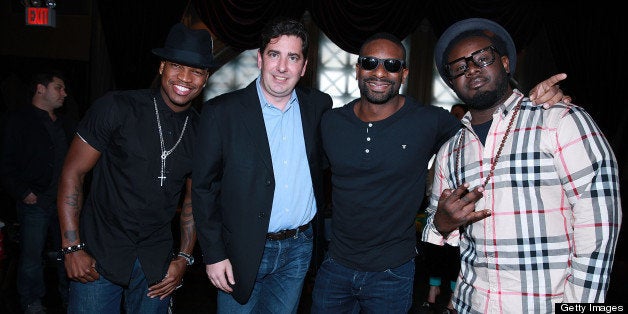 Product launches are usually pretty tepid affairs. There's often a self-congratulatory speech by the founder or CEO of the company, an open bar of varying quality and a performance by someone famous enough to get attendees to tweet excitedly about the event.
The coming out party for Gig-It, a Facebook music game that allows fans to throw virtual concerts featuring real-life artists, followed that same formula on Tuesday night in New York, but triumphed by doing so in such a full-throated manner that some attendees actually started screaming repeatedly throughout the night. Hosts DJ Khaled and La La Vazquez Anthony played affable hams at Capitale in New York, introducing a litany of performers including superstars Miguel, Fabolous, 2 Chainz, Nas alongside newcomers like Elle Varner, Allison Park, French Montana (Busta Rhymes also came out on stage to say a word or two).
DJ Khaled was also very interested in making sure attendees knew that other famous people were "in the building," including Jamie Foxx, Pusha-T, T-Pain, Raekwon and Rick Ross. He also said Eminem was at Capitale, but we're not holding our breath for photos of Slim Shady.
Founder John Acunto gave a humble speech about the origins of the company, which has snagged an impressive number of artists for its launch. Randi Zuckerberg, a tech entrepreneur and Facebook founder Mark Zuckerberg's sister, offered an emphatic endorsement of Gig-It. Both speakers framed the venture as a combination Facebook, YouTube "and music," a somewhat curious description given that "concerts" in the game appear to be animations.
The hashtag for the evening (because those are required now) was #ThisAintAFarm, a not-oblique reference to Farmville, another Facebook game. It was a noticeably antagonistic start, but fit in with the evenings stunt-worthy performances. Farmville has been an extremely lucrative product for Zynga, so it makes sense that the Gig-It team would set their sights high. What remains to be seen, of course, is whether Gig-It can climb to its Farmville-level aspirations.
A compilation of the night's performances is available below, via MissInfo.
PHOTO GALLERY
Celebrity News & Photos
BEFORE YOU GO