In 2012, Anne-Marie Slaughter made waves with her article published in the Atlantic titled, "Why Women Still Can't Have It All." The subtitle read, "It's time to stop fooling ourselves, says a woman who left a position of power: the women who have managed to be both mothers and top professionals are superhuman, rich or self-employed." In it she mentioned a conversation with a co-worker who proclaimed that the title alone was a terrible idea, "Such a statement, coming from a high-profile career woman--a role model--would be a terrible signal to younger generations of women." She wrote it anyway, trying to take an honest look at what still is creating inequality. That post remains one of the most read articles in the history of the Atlantic with an estimated 2.7 million views. In September 2015, she went on to publish the book, Unfinished Business: Women, Men, Work, Family to further explore the topic and push the issues. The book was named one of the best books of the year by the Washington Post, NPR, and The Economist.
Sheryl Sandberg often is coupled into the women and work discussion with Slaughter after her 2013 book: Lean In: Women, Work, and the Will to Lead came out and quickly topped the New York Times and Amazon's bestseller lists. In it, she quotes that 43 percent of highly qualified women with children are leaving careers or off-ramping for a period of time. However, while it's an information rich book for those who want to stay the corporate track, for those who have left or want to leave the traditional workforce, Sandberg provides little advice. But this book spurred a lot of conversation, and a lot of action. Today, there are now more than 27,000 "lean in circles" -small groups who meet regularly to learn and grow together, and leverage the power of peer support, implying that these topics remain important to many. Women are asking for more and stepping outside their comfort zones, and women and men are talking openly about gender issues for the first time.
While these two women took different approaches: Sandberg coaching women through their own workplace hesitations; Slaughter advocating for women, men, and workplace change; the response to the discussion is palpable. Both of these publications point to this: it's incredibly difficult to manage both career and motherhood. Many mothers, no matter how career driven, ultimately hit what feels like a fork in the road. Go right, and you become a "stay-at-home-mom." Go left, and you remain a "working mom." For some, neither path feels like the right choice.
Because of this, women still are leaving the workforce in droves. While rates of employment for women have been rising in other countries, they have declined in the US, falling to 69 percent in 2013 from 74 percent in 2000. (Source: NY Times, 2014) Despite being one of the most developed nations in the world, US maternity leave laws are among the worst in the world.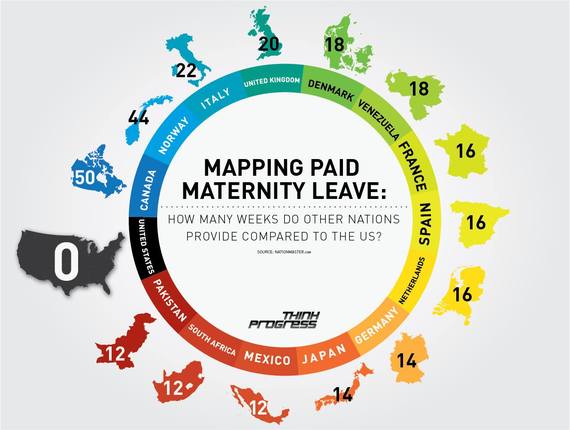 Still, there is hope for new employment options. For those not interested in "leaning in" in traditional work roles, or patient enough to advocate and wait for policy change, the "Gig Economy" is on the rise, which is creating new employment opportunities for all. The "Gig Economy" is defined as an emerging economic environment in which temporary positions are common and organizations contract with independent workers for short-term engagements. This trend toward a gig economy has begun, and it is opening up entrepreneurial opportunities with very low initial investments. With basic skills and a laptop, any knowledge worker can launch a career as a freelancer.
The Intuit 2020 Report predicts that by 2020, 40 percent of American workers will be independent contractors. Corporations will continue reducing benefits and increasing their use of contingent workers and 80 percent of large corporations plan to substantially increase their use of the flexible workforce. Small businesses will respond to new market opportunities by creating new niches that can be served through variable-cost business plans. The oldest of Gen Y will turn 40 in 2020, with many of them beginning families over the next decade.
Additionally, according to new insights published by Kelley Services, "The best talent is looking for greater control and ownership over worklife design, and seeking out the organizations that will partner with them to achieve this. For the companies that do, engagement will rise in the form of loyalty, discretionary effort, and commitment. But organizations that don't recalibrate their internal policies risk the high turnover of top, engaged critical workers--which could narrow the range of talent they can attract, and compromise business performance."
In a 2015 speech laying out her economic plan, Hillary Clinton stated: "This on-demand, or so-called 'Gig Economy' is creating exciting economies and unleashing innovation." It also is unleashing a third path for moms -and others- who want to "have it all." The gig economy gives ambitious, career-driven mothers a new path to sidestep the fork in the road and blaze their own trail; a trail that can lead to professional fulfillment, personal satisfaction, and work-life balance created on one's own terms.
Are you a GigaMom, or do you strive to be? I'd love to hear your story. I am currently chronicling inspirational stories of other women who are blazing their own trails, and how. I look forward to hearing from you. Please contact me or join the conversation.
Does your company hire flexible workers? Connect freelancers with new opportunities? Support the "Gig Economy" in other ways? I'd love to hear from you, too.
About the author: Amanda Schneider is a workplace trends researcher, blogger, and the founder of Contract Consulting Group, a strategic consulting practice serving the Contract Interiors Industry. She is also the mother to three little boys, blazing her own trail as a GigaMom.


Support HuffPost
The Stakes Have Never Been Higher
Related
Popular in the Community