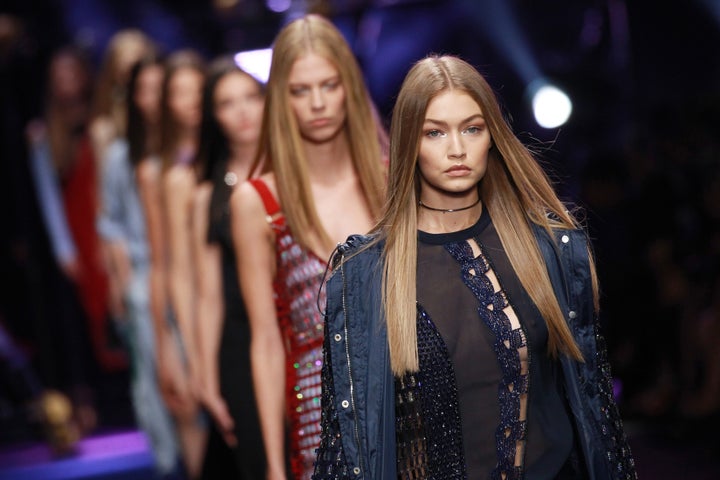 Last Wednesday, /www.huffingtonpost.com/news/gigi-hadid/"}}">Gigi Hadid was assaulted in the streets by a stranger after a fashion show in Milan. Grabbed from behind and lifted off her feet, the supermodel fought off her attacker with fists and fighting words before leaving the chaotic scene with sister Bella. 
There's no need for Gigi to defend herself further ― something she shouldn't have had to do in the first place ― but the altercation sparked a necessary conversation about an experience far too many women have in common with the supermodel. 
Hadid thought it best to start such a dialogue in this week's edition of Lenny Letter, Lena Dunham and Jenni Konner's feminist newsletter, where she took readers through the assault and further explained her frustrations why she chose to fight back. 
"Honestly, I felt I was in danger, and I had every right to react the way I did. If anything, I want girls to see the video and know that they have the right to fight back, too, if put in a similar situation," she said. "Confidence in your own ability to defend yourself comes with educating yourself about it, and is a massive advantage when in an unsafe situation."
The incident was reported in a bevy of troubling ways with some publications labelling Gigi as "aggressive" and describing the perpetrator, who was later identified as serial celebrity prankster Vitalii Sediuk, as a "fan." In response to the frustrating headlines, including one from The Sun that originally read "Not Model Behaviour" before being changed, Hadid took to Twitter to remind everyone that she's a "human being" who has every right to protect herself.
"That's when I really got pissed," Hadid said of the media response. "First of all, it was a woman who wrote the story with that headline. What would you tell your daughter to do? If my behavior isn't model behavior, then what is? What would you have told your daughter to do in that situation?" 
That being said, Hadid has been moved by the response to the attack, especially considering how these kinds of violations occur on a daily basis to women around the world who aren't fortunate enough to receive the same attention. 
"It's very touching to me that people see it that way. I know people are put in much worse situations every day and don't have the cameras around that provoke social-media support," she added. "I just want to use what happened to me to show that it's everyone's right, and it can be empowering, to be able to defend yourself."
To read the full interview with Hadid, head over to Lenny Letter.  
REAL LIFE. REAL NEWS. REAL VOICES.
Help us tell more of the stories that matter from voices that too often remain unheard.
BEFORE YOU GO