Gigi Hadid was chosen to replace Chrissy Teigen as the narrator/inner voice of a character in Season 2 of Netflix's "Never Have I Ever."
Last month, a spokesperson for the show told Entertainment Weekly in a statement that Teigen had "decided to step away from a guest voiceover role in one episode of the upcoming second season" after the model and cookbook author had been embroiled in a bullying controversy stemming from her behavior on Twitter.
The second season of the show, by executive producer Mindy Kaling, dropped on Thursday and featured Hadid as the inner voice of Paxton, played by Darren Barnet. Notably, the show's main character ― Indian American teenager Devi, played by Maitreyi Ramakrishnan ― has been narrated by tennis great John McEnroe while actor-comedian Andy Samberg is the inner voice of Ben, played by Jaren Lewison.
"When scientists declare your face to be perfectly symmetrical, that's all everyone thinks you have to offer the world. But we've got brains, too, and feelings and ― Paxton, dude, put a shirt on! I'm trying to make a point here," says Hadid-as-Paxton at one point in the show.
The 26-year-old Hadid is best known for her career as a model, but she's also a mom of one and partner to former One Direction member Zayn Malik. In addition to appearing on the cover of nearly every fashion magazine around the globe, she's previously walked in the now-defunct Victoria's Secret Fashion Show and had bit parts in the film "Ocean's 8" and the TV show "Scooby-Doo and Guess Who?"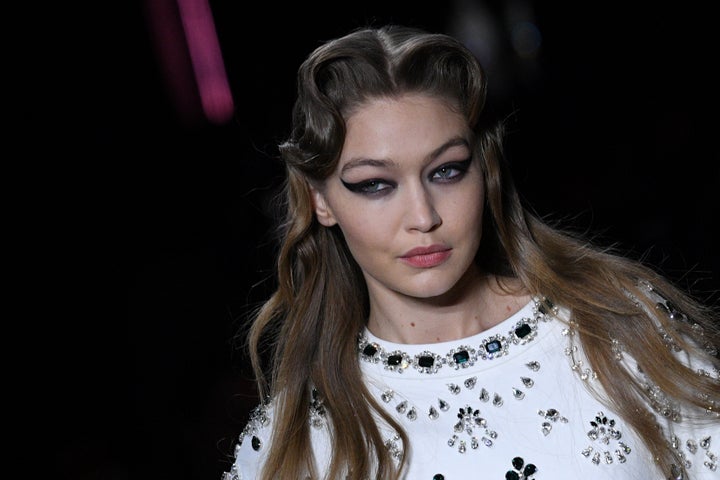 Of the experience, Hadid tweeted on Thursday that she "had the best time getting to narrate a new episode" and implored fans to watch.
Showrunner Lang Fisher told ET Online of the search for a narrator that "because Paxton's character is so aloof and he's kind of mysterious, we wanted to make sure that we know what's going on with him."
"He's another character who outwardly seems perfect and happy and chill, and we wanted to show that he has insecurities and has these dreams that people may not know about. When we were trying to think of who his narrator should be, we wanted it to be someone who maybe has the same struggles, who is someone who maybe people don't think of as anything but a pretty face. So that was kind of the criteria for this. And then obviously we wanted someone who'd be funny. So that's sort of where we were focused on," she said.
All 10 episodes of Season 2 of "Never Have I Ever" are streaming on Netflix now.