TEL NOF AIR BASE, Israel (AP) – Looking thin, weary and dazed, an Israeli soldier returned home Tuesday from more than five years of captivity in the Gaza Strip in exchange for hundreds of Palestinian prisoners whose joyful families greeted them with massive celebrations.
Sgt. Gilad Shalit, in a brief but controversial interview with Egyptian TV before being transferred to Israel, said he was "very excited to taste freedom and had missed his family and friends." He said he feared he would remain in captivity "many more years" and worried since being told of the deal last week that last-minute hitches might cause it to collapse.
"Of course I missed my family. I missed friends, meeting people to talk to people, and not to sit all day, to do the same things," he said.
In a press conference at the Tel Nof airbase in Israel, Prime Minister Benjamin Netanyahu greeted Gilad Shalit with "Shalom Gilad. Welcome back to Israel. How good to have you back home," the BBC reports.
Shalit was later flown to his home in Mitzpe Hila, in the north of Israel, where thousands were waiting to welcome him. According to the BBC, Shalit told his grandfather that he is really tired and wants to sleep.
Shalit's father told reporters outside the family's home in Mitzpe Hila that his son will need time to recover from psychological and physical wounds after five years in Hamas captivity. Shalit's father also said his son is still suffering from shrapnel wounds he suffered during his 2006 abduction by Hamas militants. He says his son is struggling with all the attention after spending the last few years in "isolation."
In Gaza, tens of thousands of flag-waving Palestinians celebrated the homecoming Tuesday of hundreds of prisoners swapped for an Israeli soldier, as political leaders jockeyed for credit for the most significant prisoner release by Israel in nearly three decades.
In Gaza City, a large crowd crammed into a sandy lot, where a huge stage was set up, decorated with a mural depicting Israeli soldier Gilad Shalit's capture in a June 2006 at an army base near the Gaza border. Thousands hoisted green Hamas flags.
Many in the crowd were overcome with joy.
Azhar Abu Jawad, 30, celebrated the return of a brother who had been sentenced to life for killing an Israeli in 1992. She said she last saw him eight years ago, before Israel banned visits by Gazans.
"My happiness is indescribable," she said. "We'll get him a bride and everything. I just spoke to him. He's so happy. This is a reminder, God doesn't forget anyone."
In the West Bank, released prisoners were taken to the grave of iconic Palestinian leader Yasser Arafat. Palestinian President Mahmoud Abbas greeted them, and several thousand people filled the courtyard outside his headquarters to celebrate.
Abbas addressed jubilant crowds from his compound, Ma'an News Agency reports: "We pray that God enables us to see the rest of our sisters and brothers freed in this yard. Your sacrifices, and efforts and work were not in vain. You worked and struggled and sacrificed. You will see the results of your sacrifices in the independent Palestinian state."
Israeli Sgt. Gilad Shalit was kidnapped in June 2006 by Hamas militants and held captive in the Gaza strip. The most recent video message shows the soldier in September 2009, saying he had been "waiting and yearning" a long time for his release, according to a BBC translation.
Last week, Israel and the Palestinian organization Hamas reached an agreement on Shalit's release, exchanging over a thousand Palestinian prisoners for the soldier. Israel released 477 Palestinian prisoners on Tuesday. 550 other Palestinians will be freed in the next two months. The majority of those released today will return to the Gaza Strip. Some 30 of them will be deported to countries such as Jordan, Turkey and Qatar. About a hundred will go to the West Bank. The deal is perceived as an important political victory for Hamas, despite the fact that the organization was unable to include the release of prominent Palestinian Marwan Barghouti in the negotiations.
The deal that arranged for Shalit's release sparked controversy in Israel, as the list of Palestinians who will be released includes some convicted of killing Israelis in the past. According to the Associated Press, the deal was the most lopsided prisoner swap in Israel's history. Families of terror victims petitioned against the deal before the Israeli High Court on Monday, hoping to delay the prisoners' swap.
Last week, 27-year-old Shvuel Schijvenschuurder, whose parents and siblings were killed in a suicide bombing, defaced a memorial for former president Rabin to protest the agreement.
However, according to Haaretz, Israeli president Shimon Peres said in a meeting with the victims' families on Monday that he understood the families' pain, yet that it was his duty to save Shalit's life.
In his press conference at Tel Nof airbase, Netanyahu reiterated this sentiment. "Today is a happy day and a sad day for Israel. When I returned to the position of Prime Minister in 2009, I had a important task waiting for me: to return our soldier Gilad Shalit home," he said, according to Haaretz.
Netanyahu also issued a staunch warning to the freed Palestinian militants. "We will continue to fight terror and every released terrorist who returns to terror will be held accountable," he said.
Those concerns were underscored with comments by one of the freed prisoners, Hamas militant leader Yehia Sinwar, who called on the movement to kidnap more soldiers.
In the video above, watch footage of Gilad Shalit posted by the Israel Defense Forces.
Below, Netanyahu's address:
Before You Go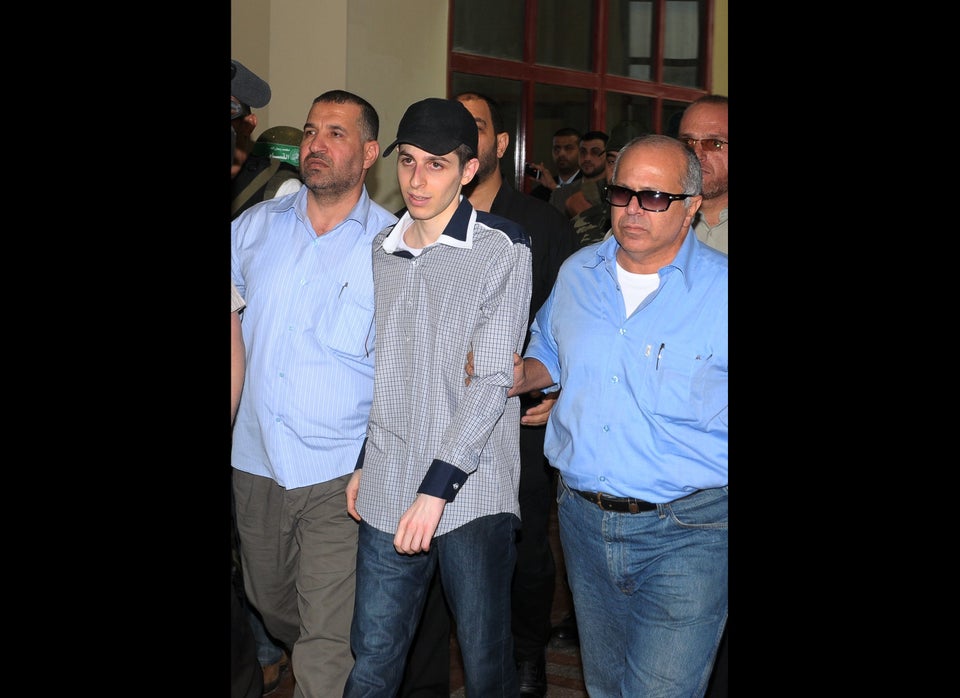 Prisoner Swap(CLONED)
Popular in the Community