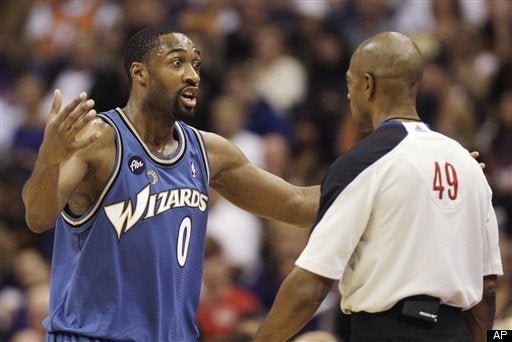 Over the holidays, the troubled Washington Times began laying off staff by the metric ton and among the victims of the Moonie-family-gone-King Lear purge was the paper's entire sports section. This represents a tremendous opportunity for the Washington Post. First, there will be reduced competition for local sports stories. Second, now there are all these unemployed reporters who might do a better job at obtaining those stories -- and whom the Post can hire, if it wants!
Guess they're still the Bullets at heart.

NBA all-star Gilbert Arenas and his Washing ton Wizards teammate Javaris Crittenton drew guns on each other in the team's locker room during a Christmas Eve dispute over a gambling debt, The Post has learned.

League sources say the pistol-packing point guards had heaters at the ready inside the Verizon Center, the Washington, DC, home of the Wizards -- whose name was changed from the Bullets over gun- violence concerns.
Jeez. They even got to make the requisite "Washington Bullets" joke! Meanwhile, over at WaPo's ironically-named "Wizards Insider" blog, Michael Lee credits the New York Post as a source, but does not link to their story, which, at this point, is a little bush league.
Popular in the Community