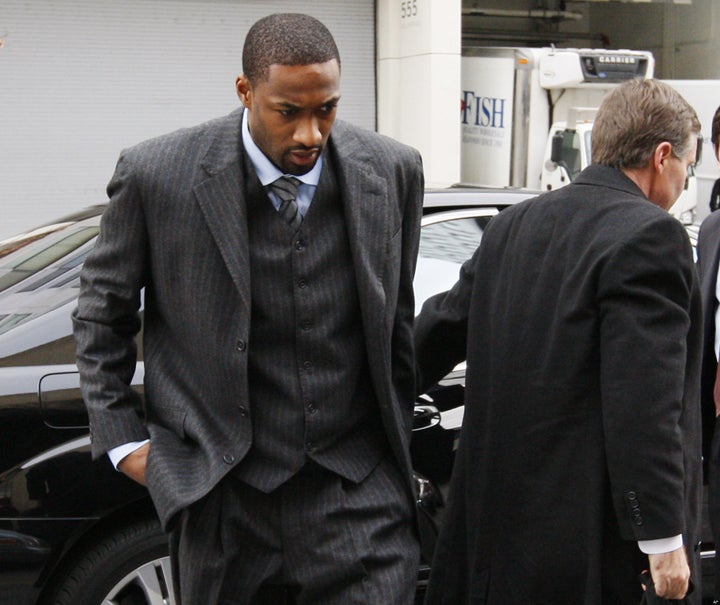 Gilbert Arenas has pleaded guilty to a felony gun charge. According to the Washington Post, "prosecutors agreed that Arenas would serve no more than the low end of sentencing guidelines -- in this case, six months in jail." Arenas was charged yesterday with carrying a pistol without a license. Scroll down for photos of Arenas going to court.
The NBA suspended Arenas indefinitely on January 6. At the time, NBA commissioner David Stern said Arenas "is not currently fit to take the court in an NBA game."
Arenas has drawn support from at least one teammate. Before a game last Sunday, DeShawn Stevenson took to the court with "Agent Zero" written on his shins, a reference to his embattled teammate.
WASHINGTON -- Straight-faced and subdued, Washington Wizards star Gilbert Arenas pleaded guilty Friday to a felony gun charge connected to a locker-room argument, leaving his All-Star career in limbo and his freedom in doubt.

Arenas won't know whether he must serve jail time until his March 26 sentencing and remains free until then. The government indicated it will not seek more than six months, although the judge can give Arenas anywhere from probation to the charge's maximum term of five years. Guidelines call for six to 12 months.

Arenas did not speak to reporters on the way into D.C. Superior Court - only shaking his head when asked if he wanted to tell fans anything - or when he walked down the block to police headquarters after his 20-minute hearing.

In court, Arenas was barely audible, offering mostly terse answers such as "Yes, your honor" or "No, sir." Those hands that have made so many shots and earned Arenas millions of dollars were shoved into the pockets of his gray, pinstriped suit. His demeanor stood in stark contrast to the gregarious, blog-writing, jersey-tossing persona that made the player known as "Agent Zero" a fan favorite. It also contrasted with the player who cracked jokes with reporters and on Twitter in the immediate aftermath of the Dec. 21 confrontation with a teammate that ended with guns being displayed.

Indeed, the loudest words Friday came in a statement issued by the Wizards about 2 1/2 hours after the hearing ended.

"Gilbert Arenas has been a cornerstone of the Washington Wizards for six years. We are deeply saddened and disappointed in his actions that have led to the events of this afternoon," the team said. "Gilbert used extremely poor judgment and is ultimately responsible for his own actions."

The NBA didn't comment Friday, while the players' union offered support, with executive director Billy Hunter saying: "The Players Association will continue to make all of its resources available to Gilbert. We remain committed to aggressively representing him in the same fashion that we represent every player in the league."

Story continues below

Arenas was averaging team highs of 22.6 points and 7.2 assists this season for a team in last place in the NBA's Southeast Division. The Wizards have removed nearly all traces of the once-marketable player from their home arena, including Arenas merchandise with his jersey No. 0 and a huge banner with his photo that used to hang outside.

"He said to me he messed up and he needs to be responsible," Wizards coach Flip Saunders said before a game against the Bulls Friday night in Chicago. "He needs to accept his actions."

Possession of a gun at an NBA arena is a violation of the league's collective bargaining agreement. Last week, commissioner David Stern suspended the 28-year-old Arenas indefinitely, without pay, pending the outcome of the investigation, a move supported by the Wizards. Arenas is in the second season of a six-year, $111 million contract.

Arenas' NBA future could hinge on the league's own ongoing investigation, and it's possible Stern will wait until the sentence is issued before deciding how to punish the three-time All-Star. Arenas' lawyer, Kenneth Wainstein, asked Judge Robert E. Morin for an earlier sentencing date but was denied.

Assistant U.S. Attorney Chris Kavanaugh said the charge stemmed from a Dec. 19 dispute between Arenas and another Wizards player over a card game on a team flight back from a game in Phoenix. Kavanaugh did not identify the other player, but authorities searched the home of Wizards guard Javaris Crittenton for a gun on Thursday. Crittenton has not been charged, and his agent denied wrongdoing.

Kavanaugh said "the other player" offered to settle matters with a fist fight, but Arenas said he was too old for that and would instead burn the other player's car or shoot him in the face. The teammate replied he would shoot Arenas in the knee. Arenas missed most of the past two seasons after having a series of operations on his left knee.

Two days later, Kavanaugh said, Arenas brought at least one gun - a .500 Magnum revolver - to the Wizards' arena in a black backpack, then put four guns on a chair in front of the teammate's locker with a sign saying, "Pick 1." Court documents do not specify when Arenas brought the other three guns to the locker room, including a gold-plated Desert Eagle .50-caliber semi-automatic.

According to Kavanaugh, when the other player asked something along the lines of, "What is this?," Arenas responded with words to the effect of: "You said you were going to shoot me, so pick one." The other player said he had his own gun, threw one of Arenas' weapons across the room and then displayed his own firearm, Kavanaugh said.

Arenas had acknowledged keeping guns in his locker - but claimed he wasn't aware of the law and meant no harm in what he viewed as a "misguided effort to play a joke." Stern suspended him the day after Arenas pretended to "shoot" teammates by pointing his index fingers at them during a pregame huddle.

In a statement issued by Wainstein after Friday's hearing, Arenas "accepted full responsibility for his actions, acknowledged that those actions were wrong and against the law, and has apologized to all who have been affected by his conduct."

When the proceedings were done, when Arenas had finished affixing his signature to documents - the words "United States of America v. Gilbert Arenas" printed in bold on top - he stepped into an adjacent waiting room.

As the door shut, Arenas sat in a chair, lowered his head, and covered his face with his hands.
Popular in the Community